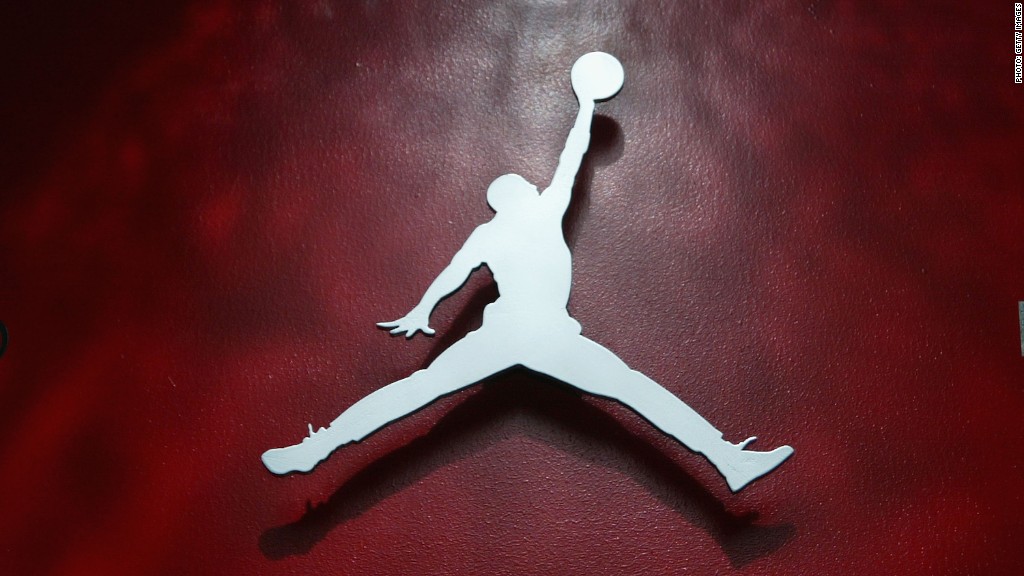 Just do it? Or protect this house? Nike or Under Armour? Investors can't decide.
It's like the end of "Trading Places" -- when someone asks if they should have the lobster or cracked crab for lunch. The classic response: Can't we have both?
Although Nike (NKE) and Under Armour (UA) are in a heated battle for sneaker market share and star endorsers, each athletic apparel maker is a big winner on Wall Street.
Nike's stock is up 27% this year. That makes it the best performer in the Dow Jones Industrial Average by far. The next closest is UnitedHealth (UNH), with just a 13% gain.
Shares of Nike soared 9% on Friday after the company reported earnings and sales that blew past analysts' forecasts and also issued a healthy outlook.
Related: Jordan Spieth is a big winner with sponsors
But Under Armour, which is still the David to Nike's Goliath, has been an even better stock in 2015. The stock has surged 50%.
Under Armour is arguably the cooler company now. Its top two celebrity spokespeople have had amazing years.
Golfer Jordan Spieth won two Grand Slam events -- the Masters and U.S. Open. And he was in contention in the other two -- the Open Championship (aka The British Open) and PGA Championship.
Spieth topped off his insane 2015 on Sunday by winning the Tour Championship, a victory that gave him the FedEx Cup title as well. Under Armour's home page on Monday has a photo of Spieth with a congratulatory message.
Related: Under Armour ups its game with Stephen Curry
And Under Armour also has Stephen Curry, the star guard of the Golden State Warriors basketball team as an endorser as well. The Curry One sneaker was released in February.
All Curry did since then was win the 3-Point Contest at All-Star Weekend, capture the NBA's Most Valuable Player award and help lead the Warriors to its first championship in 40 years. Curry just extended his deal with Under Armour until 2024 as well.
It must sting Nike a little that Spieth passed Swoosh endorser Rory McIlroy as the world's top golfer. What's more, Curry defeated Nike spokesman LeBron James and his Cleveland Cavaliers in the NBA Finals.
But Nike doesn't have to be too bummed. The company's latest earnings show that increased competition from Under Armour -- as well as Germany's Adidas (ADDYY) --- isn't hurting it.
Nike's sales in North America rose 8%. So the athletic apparel market is still growing rapidly and seems big enough for multiple champs.
And Nike put fears about how the turmoil in China would hurt it to rest. Sales from China surged 30%. Nike also said that future orders from China, an indication of how sales may shape up for the next few quarters, rose 22%.
Related: Nike lands huge deal with the University of Michigan
Still, it's going to be tougher for Nike and Under Armour to keep wowing Wall Street. Investors now expect perfection pretty much every time they report earnings and sales.
Nike is trading at nearly 30 times earnings estimates for next year while Under Armour is valued at more than 70 times 2016 profit forecasts.
They both have momentum on their side though. The last time that Nike missed earnings forecasts was back in June 2012, according to FactSet Research. That's a streak of 13 consecutive quarters.
And Under Armour has reported year-over-year sales growth of more than 25% for the past eight quarters.
Nike is clearly the safer stock. In addition to being a much larger company -- estimated revenue next year of $32.7 billion versus $4.8 billion for Under Armour -- the company also pays a small dividend.
But neither stock is a screaming bargain right now. So investors have to tread carefully.
If you look hard enough in the literature for any funds you own, you'll find the following legalese buried in there: Past performance is not an indicator of future returns.
It's hard to stay on top forever. Just ask Nike endorser Tiger Woods.