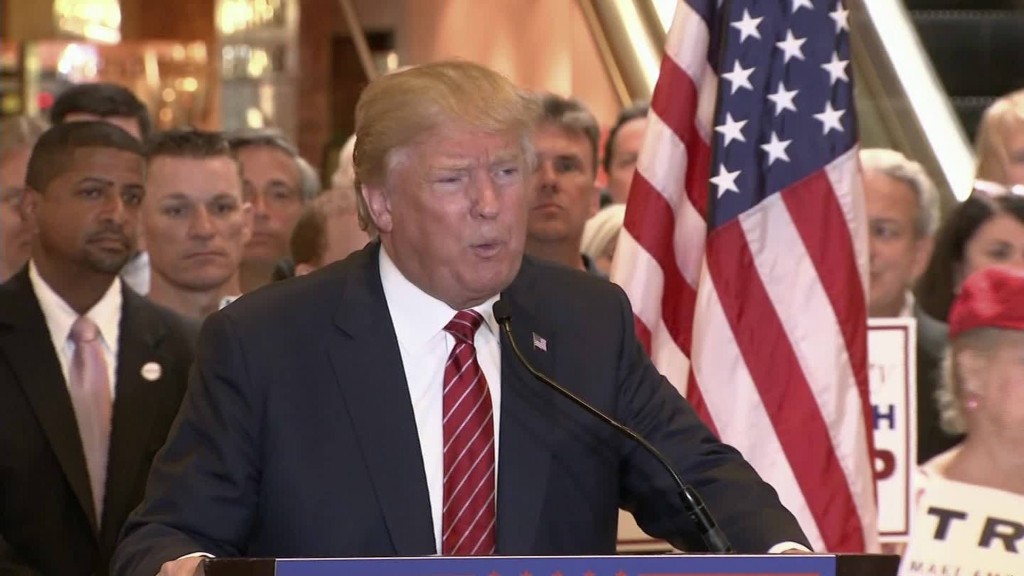 Donald Trump's interview with Bill O'Reilly, which was scheduled for last Thursday and then canceled, is now slated for Tuesday night.
A Fox News spokeswoman confirmed Monday night that the GOP frontrunner is booked on Tuesday's edition of "The O'Reilly Factor."
The booking suggests that the battle between Trump and Fox has calmed once again.
Trump was last interviewed on Fox last Monday. That interview was with Greta Van Susteren. The same night, he assailed other Fox shows, including "The O'Reilly Factor" and "The Kelly File," in a storm of tweets, and kept going on Tuesday. On Wednesday morning, according to Fox, the network canceled his upcoming appearance with O'Reilly.
Related: The war between Donald Trump and Fox News is back on
Trump, however, said that's not what happened. He suggested in a tweet that he initiated a boycott. "Fox News has been treating me very unfairly & I have therefore decided that I won't be doing any more Fox shows for the foreseeable future," he wrote.
This was just the latest in a series of tiffs between Trump and Fox.
The day after Trump's "boycott" tweet, Trump and Fox News chairman Roger Ailes spoke by phone. Fox said afterward that they "plan to have a meeting" to "discuss their differences of opinion regarding Fox's coverage of Mr. Trump's presidential campaign."
Related: Donald Trump and Roger Ailes to meet to hash out dispute
The meeting is expected to take place sometime this week; the date and time have not been confirmed.
Fox is calling it an editorial meeting, involving not just Ailes but other senior news executives as well. Such meetings between sources and journalists are common in the news business.
But Trump is an exceedingly uncommon source who has proven to be combative with media outlets.
While in a standoff with Fox in recent days, Trump has said yes to a myriad of other interview requests. On Sunday he was on NBC's "Meet the Press" and CBS's "60 Minutes." On Monday he was on CNN's "Erin Burnett OutFront." On Tuesday he called into NBC's "Today" show.
Fox, though, is unique in that it has a core audience of loyal conservative viewers. With Tuesday's scheduled O'Reilly appearance, Trump has a chance to pitch his tax plan and other policy ideas directly to them.