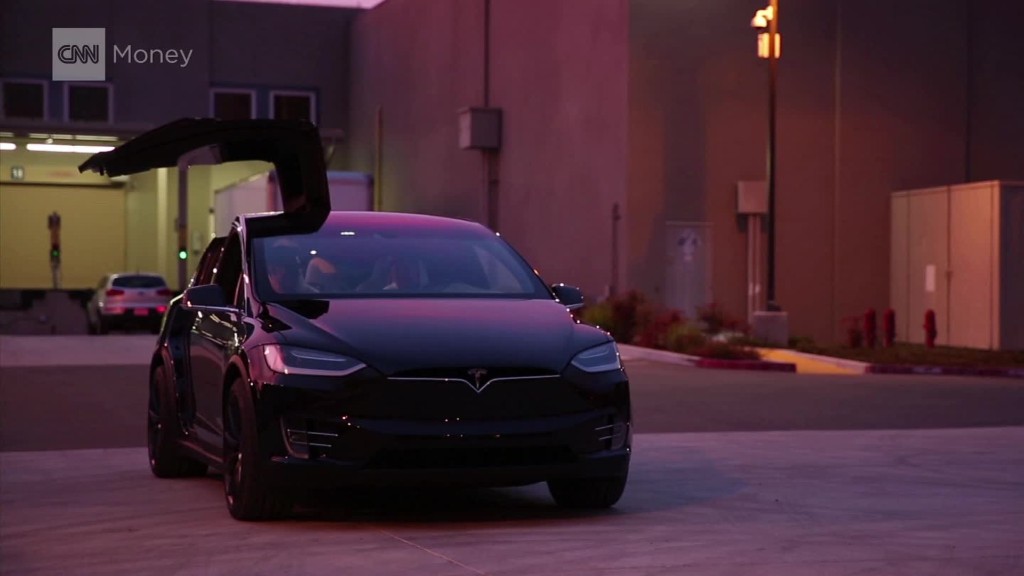 The first Tesla Model X SUVs have been delivered to six lucky customers.
Elon Musk handed over the keys Tuesday during an event near the automaker's factory in northern California. The CEO said that the new all-electric SUV has so many new features, that if he could start over, he would have produced a simpler design.
"I think we got a little carried away with the X," Musk told reporters.
The biggest engineering challenge was the Model X's "falcon wing" doors. They're hinged at the top, so they open upwards, but they also have an "elbow" that bends in the center. The extra joint allows the doors to swing out as little as possible while opening.
The doors have sensors to detect nearby objects, which should keep them from striking objects or limbs that might be in the way. If that's not cool enough, the driver's-side door can open and close for the approaching driver without a single human touch.
There's even more innovation packed into the new model: The Model X's air conditioning system has a "Bio-weapon Defense" mode that prevents any bacteria or viruses from entering the vehicle. The SUV's windshield curves up past the front of the roof-line, creating a sort of sunroof over the front seats.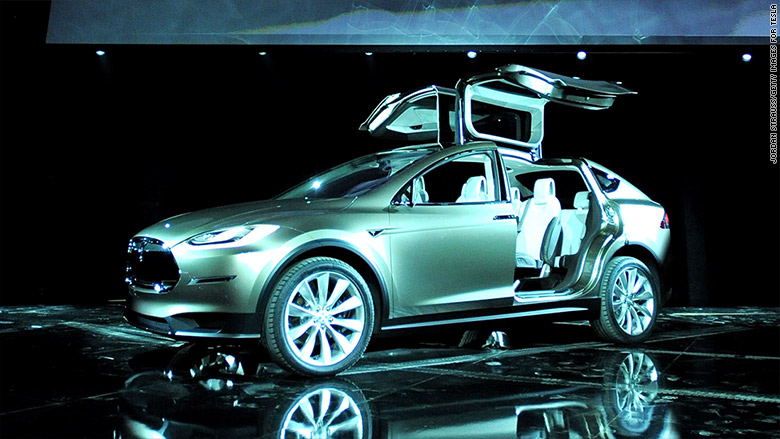 All these features added complexity to the car's development, Musk said, and slowed down the process of getting the Model X ready for production.
The Model X is expected to get 5-star NHTSA crash safety ratings in all categories, Musk said, including rollover avoidance. It would be the first SUV or minivan to do so.
The first time Tesla (TSLA) did a side impact crash test, in which the vehicle is slid sideways into a pole, the pole broke, Musk said.
The Model X will be available with the same battery and electric motor options as all-wheel-drive versions of the Model S sedan. It will be able to tow up to 5,000 pounds, according to Tesla.
The high-performance P90D version, with Ludicrous Mode -- even faster than Insane Mode -- can go from zero to 60 miles an hour in 3.2 seconds, according to Tesla. It has a 259 horsepower electric motor in the front and a 503 horsepower motor powering the rear wheels, and a driving range on a full charge of about 250 miles.
If you decide now that you want a Model X, you're not too late -- but you'll have to wait a while. Cars ordered now will be delivered in about a year or so.