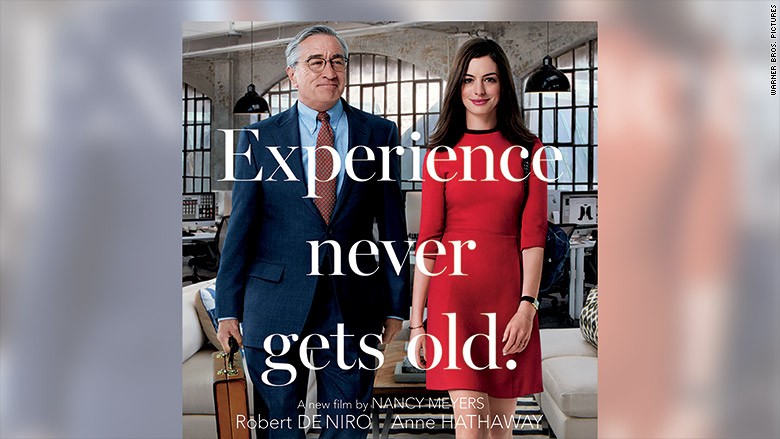 Robert De Niro's latest role is a bit of a shocker: He plays a 70-year-old intern. It's a long way from his days playing mob bosses.
De Niro is one of the leads in "The Intern," a comedy that opened over the weekend.
From the moment he shows up in a suit and tie at a hip fashion startup that's full of Millennial workers, De Niro's character -- Ben Whittaker -- looks terribly out of place.
"How old are you?" The 24-year-old receptionist asks in disbelief, warning him that life in the office "ages you" and that probably won't be good for him.
Whittaker just isn't happy gardening and attempting yoga in retirement. He's willing to do whatever he must to get back into the modern work world, even if that means starting at the bottom.
"I just know there's a hole in my life and I need to fill it soon," Whittaker says in the film.
De Niro's character is indicative of a much larger trend in the American workplace. There are now more than 3.4 million workers 70 or older -- almost double the number from the late 1990s.
De Niro himself is one of them. At age 72, he is still working a full schedule with several films out this year and next.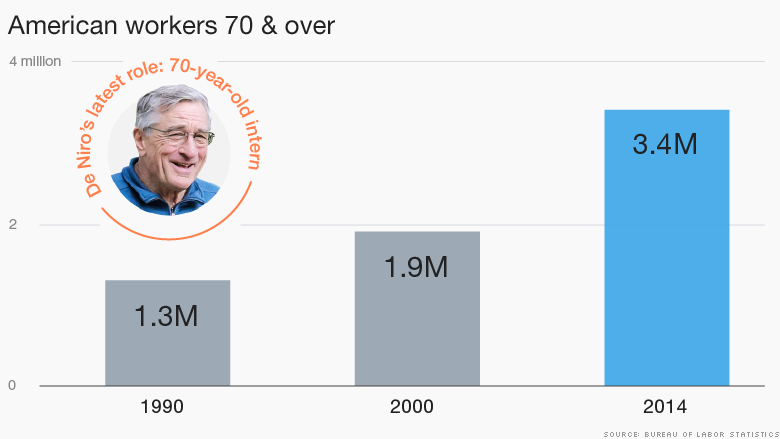 Related: 20 jobs with the biggest pay raises
The Labor Department doesn't track how many older American workers are interns, but it's telling that the number of mature workers is on the rise -- as well the number of mature job seekers. About 160,000 Americans over 70 sought a job but couldn't find one last year, according to the Labor Department. They're a potential resource -- as the film humorously illustrates.
By the end of "The Intern," Whittaker has become a critical team player, especially for the company's young CEO, played by Anne Hathaway. She turns to him for business -- and life -- advice. "Experience never gets old," the film's tagline says.
Overall, 2.3% of the current U.S. workforce is 70 or older. That figure is expected to rise as Americans live longer and more Baby Boomers age.
One of Whittaker's young male colleagues perhaps says it best: "You're not as old as I thought you were."