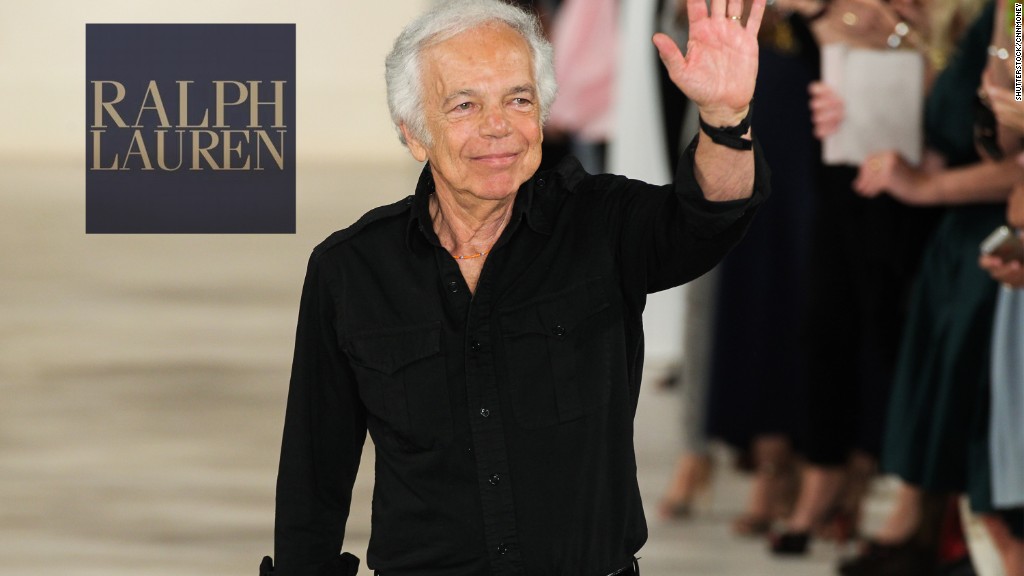 Old Navy has been the one bright spot at Gap Inc. for awhile now. So it's really bad news that Old Navy president Stefan Larsson is leaving to become the CEO of Ralph Lauren.
Shares of Gap Inc. (GPS), which also owns Banana Republic, plunged 6% Wednesday while Ralph Lauren (RL) soared 12%.
Larsson had been with Old Navy since October 2012. Prior to that, he was an executive at Swedish fast fashion giant H&M.
During Larsson's tenure, sales at Old Navy have consistently been better than those for the Gap and Banana Republic brands.
"Old Navy has largely been viewed as the 'crown jewel' of Gap and any management transition will likely spur fears around a potential disruption in the business," wrote Kelly Halsor, an analyst with The Buckingham Research Group in a report Wednesday.
Last year, Old Navy reported same-store sales growth of 5% while Banana Republic's sales were flat and Gap's fell 5%.
Related: Ralph Lauren steps down as CEO of fashion empire
Things have gotten even worse for Gap and Banana Republic this year.
Gap sales have plunged 8% in the first seven months of fiscal 2015. Banana Republic's sales were down 7%. But Old Navy continued to grow, reporting a sales increase of 3%.
So can Gap recover from the loss of Larsson?
FBR & Co. retail analyst Susan Anderson thinks there is some hope. She believes Gap made the right call to name Jill Stanton, Old Navy's global product chief, as the successor to Larsson on an interim basis.
Stanton has been with Old Navy since February 2012. So she arguably deserves as much credit for Old Navy's recent success as Larsson.
Before joining Old Navy, Stanton worked for Nike (NKE). Anderson thinks that her experience there has helped make Old Navy's own athletic apparel more competitive in the marketplace.
Still, Anderson conceded that Gap has big shoes to fill ... and understands why investors are nervous.
Anderson said there already was added pressure on Old Navy to have a blockbuster holiday quarter to help compensate for expected weakness at Gap and Banana Republic.
She also noted that Larsson is widely known for his expertise in managing retail supply chains ... and that the hope was Larsson would eventually help make supply chain management more efficient at Gap and Banana Republic as well.
Related: What the heck happened to Ralph Lauren?
Both Anderson and Halsor also pointed out in their reports that Larsson might be leaving at a time when things may get tougher for Old Navy.
Sales were so strong at the end of last year that it may be tough for Old Navy to top them in the fourth quarter of this year.
What's more, Anderson and Halsor each noted that Old Navy has been running more promotional sales lately. That could be a bad sign. Old Navy could get stuck with more inventory on its clearance racks, which it eventually may have to mark down.
Losing Larsson is also a blow to new Gap CEO Art Peck, who has been in the top spot for less than a year. He took over for retiring CEO Glenn Murphy in February.
Anderson doesn't think that Larsson left due to any internal strife though. Instead, the chance to be CEO of an iconic fashion company -- even one that has also been struggling -- was just too good to pass up.
But don't tell that to Wall Street. Shares of Gap are down 33% this year.