Meet some of the companies the Better Business Bureau rates among the best in the country.
A mortgage broker charged by federal regulators with discriminating against minority borrowers. A financial firm accused in an ongoing federal lawsuit of preying on seniors. A medical testing company that settled charges of paying kickbacks to doctors. And a vitamin maker that allegedly misled parents with claims that its supplements could treat symptoms of autism.
All of these companies boasted the BBB's coveted A+ rating when CNNMoney started investigating the BBB's rating system earlier this year. (Soon after CNNMoney inquired about these grades to the BBB, all but one were changed).
And this group is joined by other questionable businesses, many of which pay thousands of dollars to the BBB each year for membership. Some even have founders or former CEOs facing years behind bars. Meanwhile, respected Fortune 500 companies, like Microsoft and Starbucks, don't pay the organization's membership fees and are among the BBB's lowest-rated companies.
Through its investigation, CNNMoney found a sampling of more than 100 businesses that had ratings of A- or higher despite having serious actions taken against them by government regulators in the past year. Some have been ruled flat-out scams and were shut down, but still kept their high BBB grade. Some have already been required to pay multimillion dollar penalties. And others have recently been rocked by big government lawsuits.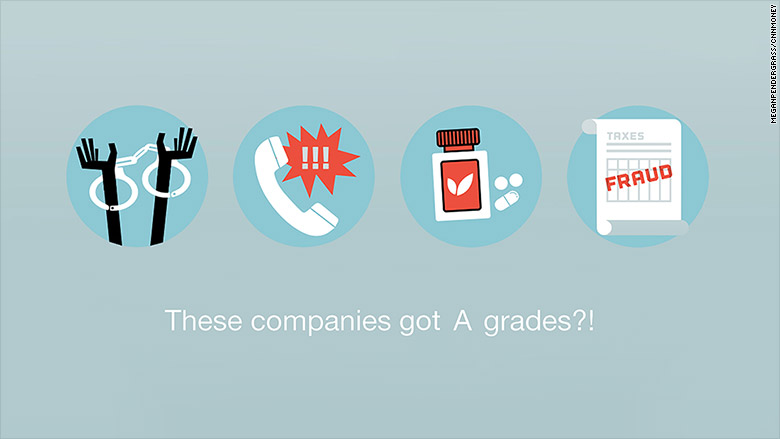 Take HCR Manorcare, a paying BBB member which operates hundreds of nursing homes across the country, and has an A+ rating. Federal prosecutors claim the company bilked Medicare out of millions of dollars by repeatedly providing therapy to patients that wasn't medically necessary -- and in some cases, potentially harmful to patients.
One of the patients highlighted in the government lawsuit: an 84-year-old man who was immediately subjected to intensive physical, occupational and speech therapy upon being admitted to one of the company's Illinois facilities.
After a month, he was barely eating and told the nurses that he "hurt all over." Even when his doctor ordered the therapy to stop, he was put into a group session the same day -- where therapists noted in his chart that he wasn't breathing properly and wasn't speaking.
He died approximately five days later.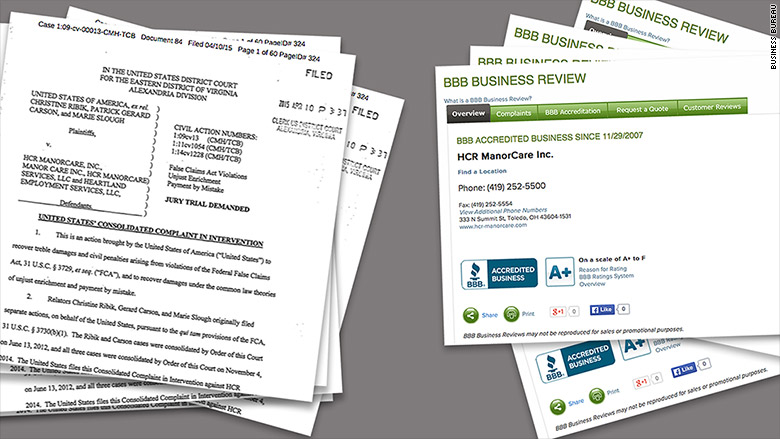 The government lawsuit is ongoing, and HCR Manorcare denies the allegations. When asked about its BBB rating, HCR Manorcare said that "the BBB has set criteria that our facilities have met."
But meeting these "criteria" doesn't always mean much.
Through its investigation into the organization and its practices, CNNMoney found that the BBB's rating system is seriously flawed -- resulting in grades that appear to be arbitrary and change erratically.
And it's not just paying members that receive high ratings even though they are facing government actions -- non-member businesses were also on CNNMoney's list. But the BBB claims to keep a closer eye on its paying members, holding them to a higher standard.
In many cases, more weight is placed on companies addressing complaints through the BBB's own system than any other factor -- even government lawsuits alleging practices that directly violate the BBB's principles of membership like misleading advertising.
Meanwhile, consumer lawsuits aren't factored into grades at all, no matter how many there are against a single company.
And when it comes to government actions, the BBB sometimes deems a penalty so minor that a company can still maintain its A rating.
Military Credit Services of Norfolk, Virginia, for example, recently settled government charges that it went after service members with illegal debt collection lawsuits. The BBB clearly acknowledges on its website that the company's settlement -- which required Military Credit Services and two other companies to refund $2.7 million to thousands of borrowers hit with these lawsuits -- has been factored into the company's grade.
But even with this black mark Military Credit Services, a paying BBB member, still boasts an A-.
Virginia Attorney General Mark Herring, who prosecuted the case against Military Credit Services along with federal regulators, told CNN that he thinks the BBB "may want to take a second look" at the company's high rating.
In other cases, government actions don't appear to be factored into the grade at all -- possibly because the BBB isn't aware of them. And in cases where the action is still pending, the BBB often leaves the grade untouched and notes that no wrongdoing has been proven. The organization also acknowledges that grades are based on the information it has at the time -- making it extremely difficult to provide accurate ratings for more than 4 million companies nationwide.
Related: How the Better Business Bureau rakes in millions
Here's how this massive ratings machine works: The BBB rates companies ranging from small town plumbers to Wall Street banks. Nearly 400,000 of these businesses are paying members -- which the BBB relies on for the majority of its revenue. In 2013, the organization's revenue totaled nearly $200 million among all of its bureaus, according to tax forms analyzed by CNNMoney.
The organization says that trustworthy companies can become BBB "accredited," which can cost anywhere from hundreds to more than $10,000 in membership fees each year. But not every business is eligible -- before granting membership, the BBB says it does extensive research and has a laundry list of requirements that prospective members must meet, like responding to all consumer complaints, advertising honestly and maintaining at least a B rating.
It says that grades are calculated using more than a dozen factors, including the type of company, length of time in business and complaint volume in relation to its size.
"Accredited Businesses have a special responsibility to maintain the ratings they've earned," BBB Council President Mary Power said in a written statement, after declining to be interviewed in person. "This ensures that BBB ratings are consistent with our goals as an organization: to flag substandard behavior, but also to encourage businesses to adopt best practices and earn better grades."
In return, members get to flaunt their membership with the BBB, use its name and logo in advertising and gain access to free dispute resolution services.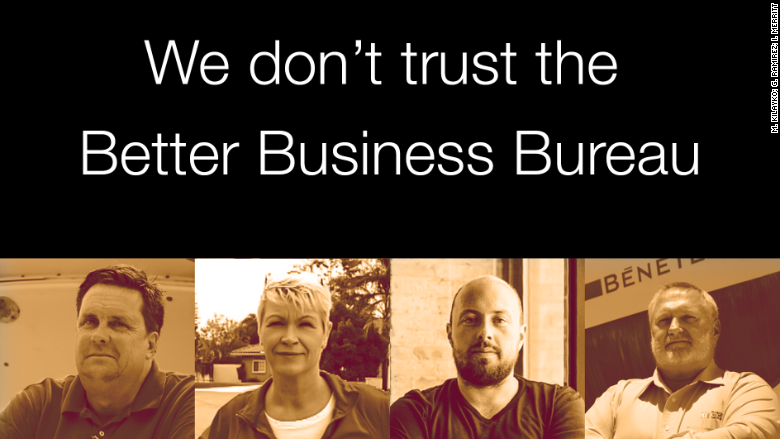 While many people view the BBB as a consumer watchdog or even a government agency, the BBB itself says this is a misconception. Instead, it views itself as a mediator between frustrated consumers and the companies they do business with, receiving nearly 1 million complaints each year from consumers hoping to achieve resolutions like refunds and repairs.
These complaints are handled by more than 100 independent bureaus across the country, which are overseen by the national Council of Better Business Bureaus. The BBB touts its work with law enforcement agencies to shut down fraudulent companies and insists that money has nothing to do with the grades it gives to paying members. It says that both paying and non-paying companies can and do earn A+ ratings. It is also proud of the complex algorithm it uses to grade companies -- the inner workings of which it closely guards.
While some businesses likely deserve their bad ratings and others are worthy of their A grades, even the BBB will admit its rating process isn't perfect.
It says that its ratings are not endorsements and that they don't mean that a business' products or services have been evaluated. Instead, the organization told CNNMoney in a written statement that the ratings represent the "BBB's opinion about a business's trustworthiness and how it is likely to interact with its customers."
Yet, millions of American consumers are counting on them to be reliable and reputations of businesses all over the country are depending on them. Last year alone, company ratings were viewed on the BBB website more than 165 million times -- a 25% jump from 2013.
Online ratings, real-life consequences
Michigan resident Christopher DiPiero says he chose Jack's Wholesale Windows & Design to replace the windows in his Michigan home five years ago based on its A rating from the BBB. But he claims the $5,000 job turned into a nightmare when the new windows he ordered were too small and improperly installed.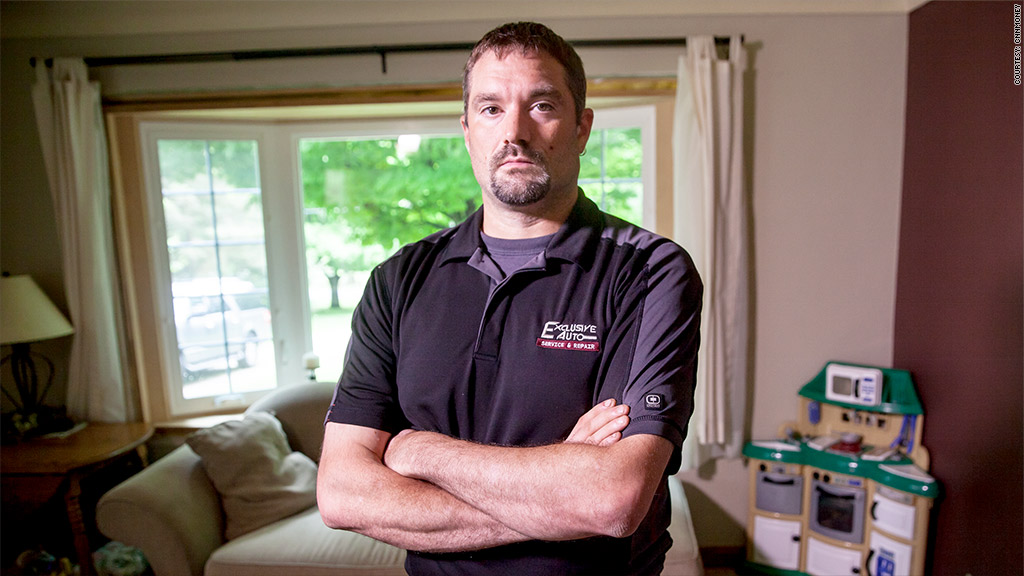 DiPiero says Jack's refused to replace them so he turned to the BBB. After months of asking for help through the BBB's online complaint process with no success, he sued the company and ended up winning a more than $20,000 judgment (including attorney's fees), in part because the judge found that Jack's had broken a federal warranty law. He notified the BBB about the ruling but says the organization still did nothing to help or warn other consumers by including the ruling against Jack's on its website or factoring it into its grade.
So DiPiero turned around and sued the BBB itself, alleging that the nonprofit violated consumer protection laws by allowing paying members to retain membership and high grades even when they broke the organization's own rules. But judges threw out his case because no consumer transaction took place between DiPiero and the BBB, and the state supreme court declined to hear the case.
"The Better Business Bureau is 100% a fraud," said DiPiero. "They're not doing what they're saying they're doing in terms of making sure these businesses are credible."
The owner of Jack's, Jack Tilka, blamed a personnel issue and said he regrets that Jack's didn't do more to resolve DiPiero's grievances sooner. But he says he tried to offer DiPiero a full refund during court proceedings.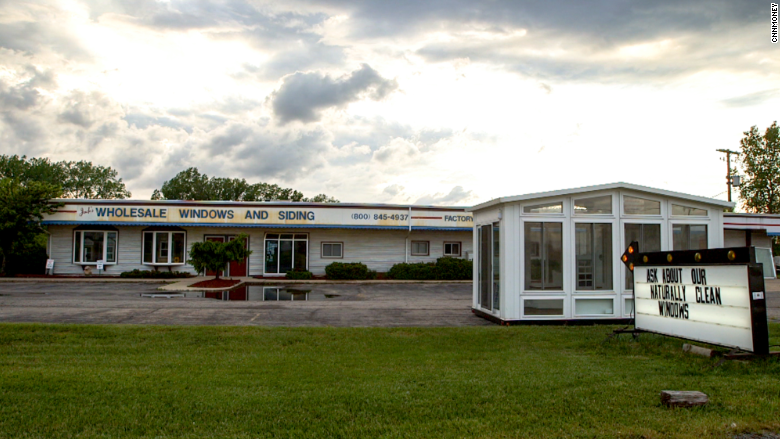 The BBB has come under fire for allegations of unfair ratings and unethical practices in the past. In 2010, the Connecticut Attorney General likened its membership program to a "pay to play" scheme after a local bureau gave an annual award for business ethics to a company that was under investigation by his office. When the organization vowed to address the issues, which included eliminating a policy that barred non-members from earning A+ ratings, he backed down.
Around the same time, the BBB's biggest bureau in Los Angeles was accused of selling its top ratings. A 20/20 investigation documented how a group of business owners who were convinced the BBB's rating system was unfair was able to secure an A- rating for a phony business named after the militant group Hamas. Nearly three years later, the national council shut down the L.A. bureau entirely, and called it an isolated incident. The bureau has not been reopened.
Most recently, the Tulsa BBB fired its chief operating officer and is currently suing him over allegations he embezzled more than $1 million from the organization during his 16-year tenure, which included more than a decade as CEO. In the lawsuit it filed in June, the BBB claims he illegally used the nonprofit's funds to pay for personal expenses -- including his mortgage, pool cleaner, credit card bills and "to support a hidden gambling habit."
While not all bureaus have had such scandals, CNNMoney analyzed hundreds of complaints filed with state attorneys general across the country and interviewed dozens of consumers and business owners who have their own problems with the organization.
Like the pinball machine salesman who says his rating fell to an F after he canceled his BBB membership and says the organization is like "a mobster telling me to pay." Or the California homeowner who says that he's complained about nightmare experiences with two contractors to the BBB, but in both cases the organization sided with the companies, which were paying members.
"Consumers should not trust a high grade from the BBB," Joseph Ridout a spokesperson for watchdog group Consumer Action, told CNN. "There are too many examples of companies that have been investigated or sued by government entities that nonetheless can maintain ratings of a high A or A+."
Even if the BBB wants it to be fair, the ratings system is broken.
It's easier for paying members to resolve complaints
In order to keep their BBB accreditation and stamp of approval, paying companies must resolve all complaints -- one of the most heavily-weighted factors that goes into a company's rating.
The BBB says complaints are deemed resolved if a company addresses the issue or makes a "good faith" effort. Yet many member businesses are able to close complaints with generic letters and responses that consumers say clearly don't address their problem, while some non-members struggle to resolve complaints at all, CNNMoney found.
For businesses with thousands of employees, basic BBB membership can cost more than $10,000 a year, according to BBB fee schedules. This is often just a drop in the bucket for a major national company.
It's an entirely different story for small businesses, for whom membership fees start at around $400 a year and can climb into the thousands for companies with more than 100 employees.
Sheri Kok, the owner of a small family pest control business in San Diego, says her company's A+ rating plummeted to an F all because of a single customer complaint about her gopher extermination services, which she says she was never notified about. While there's no way to know whether she lost business due to the F rating, she believes it cost her customers and hurt her reputation.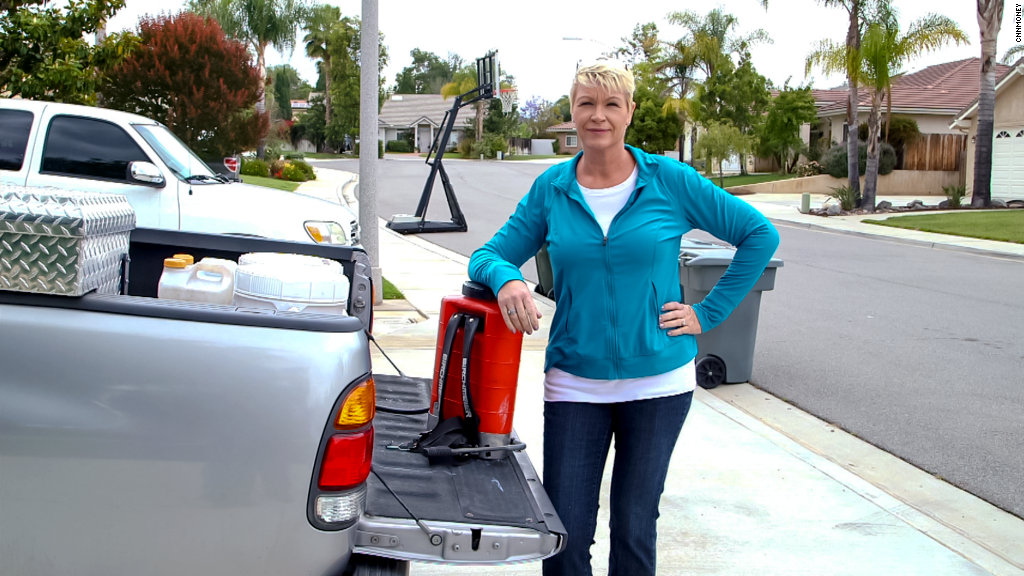 The BBB says that they always attempt to notify all businesses of complaints. But Kok says the complaint about her company was sent to an old address and nearly three years passed before she learned of it and realized her rating had dropped. "I was thoroughly disgusted with them," said Kok.
In contrast, CNNMoney found multiple examples of the BBB taking extra steps to notify its paying members of complaints --- sending multiple letters, calling the businesses and even using certified mail to ensure they were received.
Even for non-members who are notified of complaints, it can be nearly impossible to get them resolved -- which is a major factor affecting a company's BBB rating.
One business complained to the Florida attorney general that he repeatedly tried to resolve a few complaints but couldn't even log into the BBB's computer system -- despite notifying the BBB about the issue. Meanwhile, a yacht salesman said his company's rating was destroyed by a complaint against a completely different company. And a marine surveyor, whose business was plagued by an unresolved complaint, says BBB salespeople told him it would be easier to address the issue if he was a paying member.
Ratings fluctuate constantly
Grades on the BBB's website can fluctuate wildly on a regular basis, making it impossible for consumers to get a reliable reading on a company.
When CNNMoney started looking into the BBB earlier this year, for example, Pepsi had a D. Weeks later, its grade had jumped to an A+. Google's grade, meanwhile, has been on a rollercoaster -- changing from a C- to an A- within weeks, and plummeting to an F by the time of publishing.
And a couple of weeks after CNNMoney asked both the BBB and HSBC about the bank's F rating, the grade was removed and changed to a "no rating." At the time of publishing, the grade had jumped to an A+.
A number of factors can cause big changes in grades, according to the organization. If a company quickly resolves a pile of complaints, its rating can improve immediately. If a government action is taken against a business that the BBB deems serious enough, a rating can plummet. The BBB told CNNMoney that its rating system is "dynamic" and that newer complaints and recent government actions have a bigger impact on a grade and these black marks drop off entirely after three years -- which can also suddenly boost a grade.
But some swings in ratings are more questionable than others.
The BBB wouldn't comment on CNNMoney's findings and a spokeswoman noted that the more than 100 A-rated companies slammed by government regulators represent a fraction of the millions that the organization rates. Yet many of these companies had their A ratings changed soon after CNNMoney asked the BBB about them.
Of the roughly 30 companies the BBB was asked by CNNMoney to comment on, the vast majority have since had their pages altered: Some have had alerts about government actions added, and more than a dozen had their grade lowered or removed entirely.
AmeriFreight, for example, had an A+ grade despite being charged by the FTC with allegedly failing to disclose to customers that it was paying for positive online reviews. At the time of publishing, the car shipment company had an A- and a red alert on its page warning of the government settlement.
Meanwhile consumer manufacturing company Fiskars Brands had its grade slashed from an A+ to a C+ (at the time of publishing, it had risen to a B-). Last year, the company settled charges that it failed to alert government regulators when axes sold by one of its divisions malfunctioned, causing serious injuries including lacerations that required stitches and caused permanent nerve damage. But the BBB only updated its grade and added a notice about the government action after CNNMoney questioned its high grade.
And when you visit the BBB's web site and try to look up Rapid Tax 1, a tax firm that was shut down by the DOJ this year for preying on low-income taxpayers and filing fraudulent tax returns, a "404 page not found" message appears. A page for the tax firm's other location has fluctuated between a B+ and an A-.
Even more confusing: One of the companies that many BBB offices have hired for marketing services, Bold Staffing, had an F rating up until CNNMoney inquired about it to both Bold and the BBB. That grade then disappeared and was replaced with a "No Rating."
Consumer lawsuits mean nothing
You might think it would matter to the BBB that a customer has filed a lawsuit against a company alleging wrongdoing.
But that's actually not the case.
If a consumer filing a complaint with the BBB has also sued the company, the BBB completely backs off -- even if the lawsuit is decided in the consumer's favor. And no matter how many lawsuits customers have filed against a company, it will have no bearing on its letter grade.
This may sound crazy since legal judgments against a company can be a sign of serious trouble. But the BBB tells consumers it can't help them hash out a problem once it has been escalated to court and that the grade may be negatively affected by the same issues. "Business behavior that prompts a lawsuit is often evident in a pattern of BBB complaints, which would impact the rating," the BBB said in a statement.
But the policy leaves many consumers frustrated and confused.
"[The BBB isn't] here to protect the consumer," said Missouri resident Joel Brotherton, whose complaint about an electrical company was thrown out after the business told the BBB it was planning to sue Brotherton over their payment dispute. "They're here to protect the businesses who pay their dues."
For CNNMoney's full investigation, click here.
What do you think? Send us your reactions, experiences or other story ideas to investigate here or email us at CNNMoneyInvestigates@cnn.com.