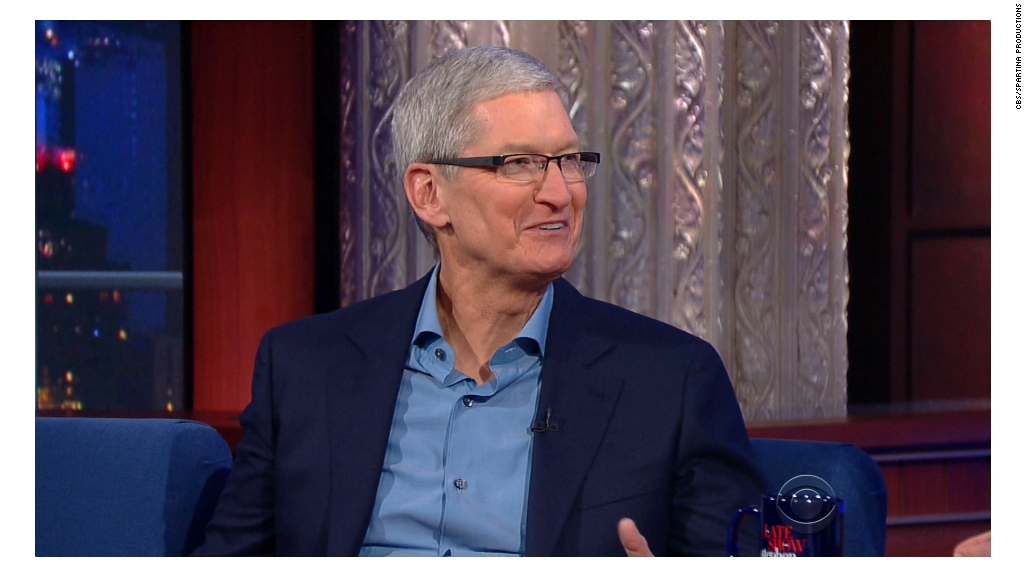 There's plenty of evidence that Apple is working on something car-related, even if Apple hasn't said anything publicly about it yet.
Since Apple is being typically tight-lipped about the project ( it declined to comment on "rumors and speculation"), it's hard to know exactly what the company is working on. The rumors range from an electric car to a operating system for vehicles to a self-driving car that will launch in 2019.
Here's what CNNMoney knows for sure so far.
1. Apple has been hiring a ton of car battery and auto engineers
Over the past few years, Apple has hired engineers who built prototypes at Bentley, made vehicles quieter at Chrysler and Hyundai, and managed crash dummy tests.
The company's hiring spree has even spurred legal action.
A123, an electric car battery maker, sued Apple for poaching its staff earlier this year. The Massachusetts company claimed that Apple has hired away five high-tech PhD and engineering employees, causing "irreparable harm."
A123 also said it has had to "effectively shut down" certain projects.
"Apple is currently developing a large scale battery division to compete in the very same field as A123," the lawsuit says.
Apple has also been hiring from Tesla Motors (TSLA), and vice versa, according to Tesla CEO Elon Musk. In fact, Musk said that Tesla has hired about five times as many people from Apple as Apple has recruited from Tesla over the last 12 months.
2. The company has also been hiring automotive executives
Doug Betts, a longtime auto industry executive, moved to Apple from Fiat Chrysler earlier this summer.
Betts had previously been Fiat's quality chief. Before that, Betts worked at Michelin, Toyota, and Nissan. Currently, he works in Apple's Operations unit according to his LinkedIn profile.
In 2014, Apple hired Johann Jungwirth, who led research and development for Mercedes-Benz in North America. He specializes in Internet-connected cars and autonomous driving. Now, Jungwirth is "director of Mac Systems Engineering."
And, according to publicly available employment records, Apple has also hired a number of recruiters from Tesla.
3. An Apple-leased van filled with sensors has been driving around a San Francisco suburb
Unmarked vans loaded with cameras and sensors have been spotted driving around Brooklyn and a suburb of San Francisco.
The car in California is leased to Apple, CNNMoney has confirmed with California state records. The sensors indicate the car is conducting more than just Google-style street mapping, according to engineers familiar with self-driving cars.
4. Competitors are already welcoming the challenge
"I certainly hope Apple gets into the car business," Elon Musk said during an earnings call earlier this year. "That would be great."
But Musk has previously said he'd like to see as many electric car competitors as possible.
Investors have also speculated for some time that cash-rich Apple would be well positioned to buy Tesla and its high-flying stock.
5. Car makers welcome the idea too
Sergio Marchionne, CEO of Fiat Chrysler Automobile, (FCAU) has said he's open to partnering with Apple. "I think we should encourage that dialogue," Marchionne said this spring. "All of us should encourage it."
On the other hand, Marchionne also added that Apple and other tech companies would pose a tremendous threat to the auto industry if it moves into the sector.
"If they show up and they are truly successful, with their cash piles and know-how, they could fundamentally hurt this industry," he said.
6. Investors believe it would be a good move for Apple and the car industry
Most of Apple's revenue comes from one product -- the iPhone. Even as the company expands into wearables with the Apple Watch, and enterprise business with bigger iPads and an IBM partnership, Apple still hasn't found another blockbuster product. A bold new idea that consumers can already relate to may help over the long term.
"A car would provide much-needed diversification away from the iPhone," analysts from Jeffries said in a report this month, "But the earnings per share contributions from the car may not become meaningful before the iPhone decelerates."
A potential Apple car would have a bigger impact on the automotive industry, which is "ripe for disruption," the analysts said.
Other investors have said that Apple's entry into the market could push "broader consumer acceptance of electric vehicles."