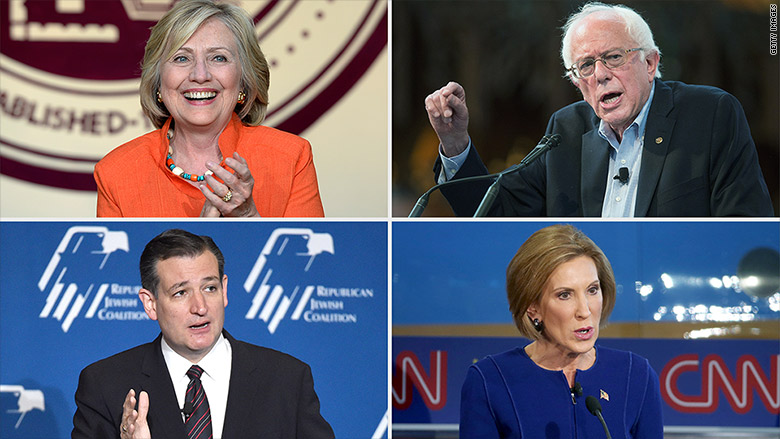 On their websites, U.S. presidential candidates ask for your personal details -- but most of them do a terrible job at keeping that private.
That's according to a recent study from the Online Trust Alliance, a non-political group that advocates privacy in technology. The group quietly scanned the websites of every major presidential candidate.
It found that 17 candidates (of all parties) failed a basic privacy test. The good news is that making political donations appears to be safe. But there are other issues.
Politicians are using invasive Web advertisement trackers that fully record everything you buy online, news stories you read, and people you connect with on social media. Then they keep crummy privacy policies that let them do all sorts of nefarious things with your data.
For example, Carly Fiorina, the former Hewlett-Packard (HPQ) CEO, uses three different ad trackers on her website. Meanwhile, the Republican's campaign grants itself permission to profit from all the information it records from visitors. This is typical for companies -- but not politicians.
"It's striking," said Craig Spiezle, the privacy group's executive director. "Carly comes from the business community. Whoever put together her policy recognizes that data is valuable. It's an asset."

The worst data gobbler was George Pataki, a former Republican governor of New York. His website ran 18 trackers. Next up was U.S. Senator Bernie Sanders of Vermont, a Democrat whose website ran 16 trackers.
It's unclear why these politicians need to know what you've been buying, reading and seeing online -- other than building details profiles of potential supporters.
"You don't think of these sites running ads, but they're tracking you and feeding data to brokers that make money off of it," Spiezle told CNNMoney.
Then there's the miserable privacy policies.
Every candidate is willing to share your data with "like-minded" groups or "third parties." Some promise not to sell it -- just share it. But it gets worse.
The most stark is former U.S. Secretary of State Hillary Clinton, a Democrat. It claims that your personal information is "one of the assets of Hillary for America" that can be sold or transferred.
Two of them are totally silent on whether they'll share your data or sell it: U.S. Senator Lindsey Graham, a Republican from South Carolina, and Mike Huckabee, a former Republican governor of Arkansas.
Four don't even have privacy policies at all -- even though it's standard online (and California state law requires it): Republican ex-governor of Virginia Jim Gilmore; current Ohio Governor John Kasich, a Republican; Massachusetts physician Jill Stein of the Green party; and former U.S. senator Jim Webb of Virginia, a Democrat.
A frequent criticism of privacy policies is that they're long -- and stuff is buried in the fine print. In that sense, the worst one belongs to Jeb Bush, the Republican former Florida governor. It's 6,952 words -- longer than Google's (GOOGL) privacy policy, the king of data collection.
Bush's policy even has an awkward mention of "contests, sweepstakes and other promotions." If it sounds out of context, it's because that language was directly pulled from the National Republican Senatorial Committee's privacy policy, CNNMoney found.
The only decent privacy policy? New Jersey Governor Chris Christie, a Republican. His campaign promises to honor any request to not disclose information to third parties.
The campaign of Louisiana Governor Bobby Jindal, a Republican, reacted worst to the audit. When OTA asked Jindal's campaign about its sharing of information with third parties, a staff member threatened to sue if the website were described as "insecure or untrustworthy." CNNMoney obtained a copy of the email exchange.
"It is concerning that one of these may be the next president of the United States and uphold consumer protection laws," Spiezle said. "This certainly reflects very poorly,"
In the end, only five active candidates passed this privacy audit:
Bush
Lincoln Chafee (Democrat)
Christie
Martin O'Malley (Democrat)
Rick Santorum (Republican)