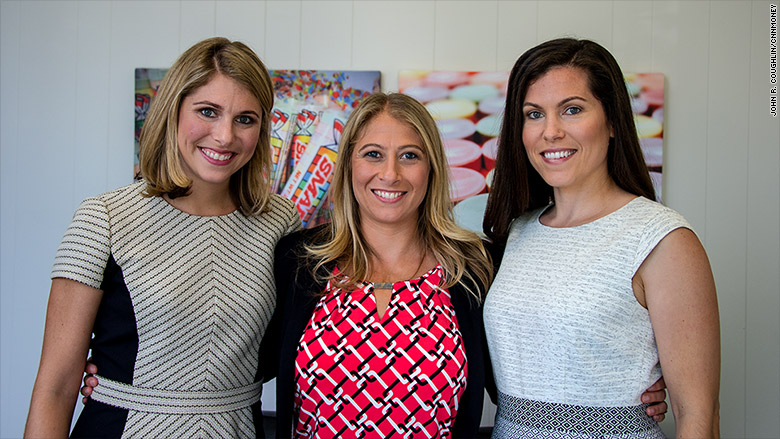 When people ask Liz, Jessica and Sarah Dee what they do for a living, they often pull candy out of their pockets and say, "We make these."
The trio run Smarties, one of America's iconic candy companies.
Any kid -- or kid at heart -- who has done the Halloween trick-or-treat ritual knows Smarties. The multi-colored tablets have been around since 1949.
What you might not know is that Smarties are still made in a Union, New Jersey plant that employs over 100 workers.
"We think it's important to keep it in the USA," Sarah told CNNMoney. She's one of three Millennial women -- all granddaughters of the founder of Smarties -- reinvigorating the retro candy brand.
Related: Meet Sweetgreen -- the 'next Chipotle'
Smarties are enjoying a retro bounce
Some people chew Smarties. Some suck on them. Some sort them by color and save certain ones for last. There are even "Smartini" recipes for adults.
However you eat them, Smarties are thriving. Sales are up 15% in the past decade since the Millennial women began joining the family business. The company does almost no advertising.
The classic Smarties roll with 15 tablets remains the sweet spot, literally. The company now sells 2 billion of them a year.
Smarties is also capitalizing on the fact that they are peanut-free, gluten-free, fat free and vegan. When parents need a snack that's safe for school -- and not too high in calories (one roll is 25 calories) -- Smarties are attractive.
"We're not pretending to be anything we're not. We're a treat. We're not a meal," says Liz, who is vegan.
Related: Dunkin' Donuts to close 100 stores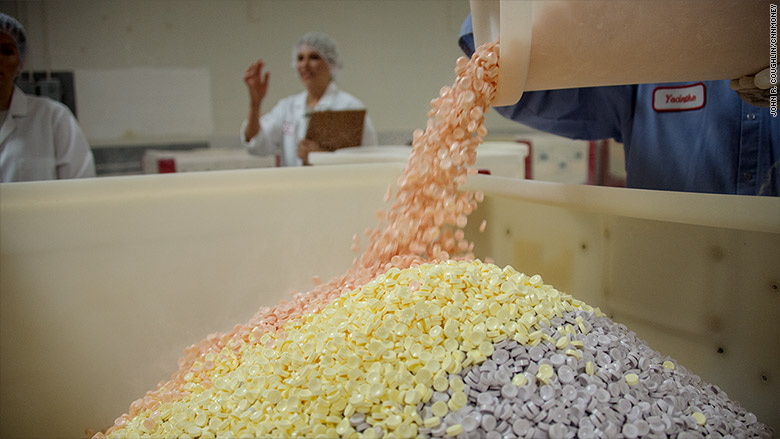 A third generation family business
The other key ingredient for Smarties has been new leadership.
Liz, Sarah and Jessica are the third generation to run the family candy company.
It's a rarity in the business world. Less than half of family-owned businesses make it to the second generation, and only 13% make it to the third, according to the University of Vermont.
The trio got their start playing hide-and-seek and rollerblading on the factory floor. Many workers like Hattie, a machine operator who has been at Smarties for 16 years, still refer to them as "the girls."
Their fathers think it's time for "the girls" to become the bosses.
Now in the early 30s, sisters Jessica and Liz and their cousin Sarah run the day-to-day business as executive vice presidents. Soon they will be the first women to officially take over the company their grandfather Eddie founded.
At age 91, Eddie still drops by the Smarties factory to offer advice and hugs.
"We consider all of our employees family members. We all know everything about everyone who works here -- probably too much," says Liz.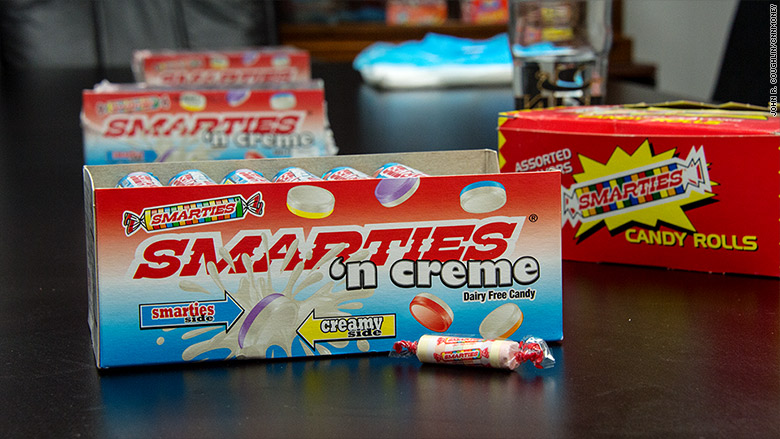 Related: Starbucks' Pumpkin Spice Latte will be made with real pumpkin
New product just launched: Smarties 'n creme
The Millennial leaders are already taking the company in new directions. They just launched a new product "Smarties 'n creme."
The Smartes 'n creme tablets are bigger -- about the size of a quarter -- and offer a flavor burst that is half cream and half fruit -- either strawberry, peach, blueberry, raspberry or orange.
"We were playing with strawberries and cream for years, but we knew we couldn't just do a single flavor," says Liz. They would often begin their days taste testing at 9 a.m. because palettes are the most sensitive in the morning.
"It's a tough job," jokes Jessica, now VP of management. She prides herself on being able to identify flavors with her eyes closed.
The product has received good feedback, but it's difficult to get distributors and stores to stock new candies.
Related: 7 up-and-coming foodie destinations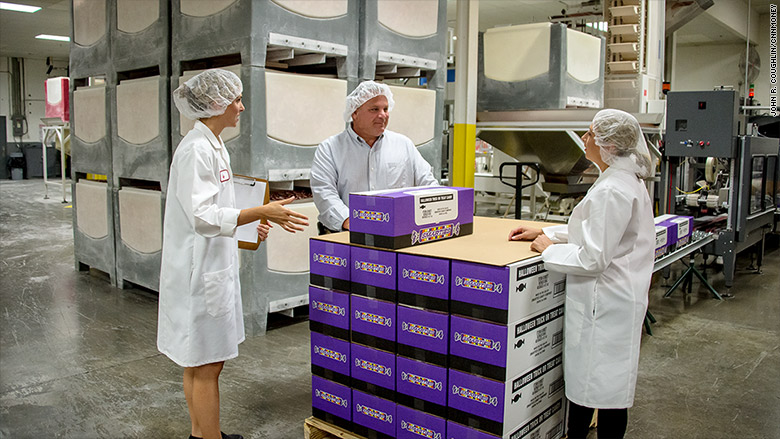 Better machines = more candy
Even more important for the bottom line, the Dee women have figured out how to make candy faster and tap into social media marketing.
The Dee family purchased Smarties.com from a porn website in the 1990s. Liz got her start in the family business writing copy for the website when she was in her teens.
"You can imagine how disappointed people were to come to the website and not find porn, but instead a 13-year-old's copy," says Liz, who is now VP of communications. She's found that social media is great for the company because people love seeing behind-the-scenes photos of how Smarties are made, especially huge bins full of candy.
Like many Millennials, the Dee women came into the business and began asking: how can we do this faster?
"We were consultants without being consultants," says Sarah, who is VP of operations.
They worked with their chief mechanic to design a faster candy press and a new wrapper machine. Before they could wrap 125 Smarties rolls a minute. Now they can do 200.
"It's a huge difference in terms of our ability to meet demand," says Liz.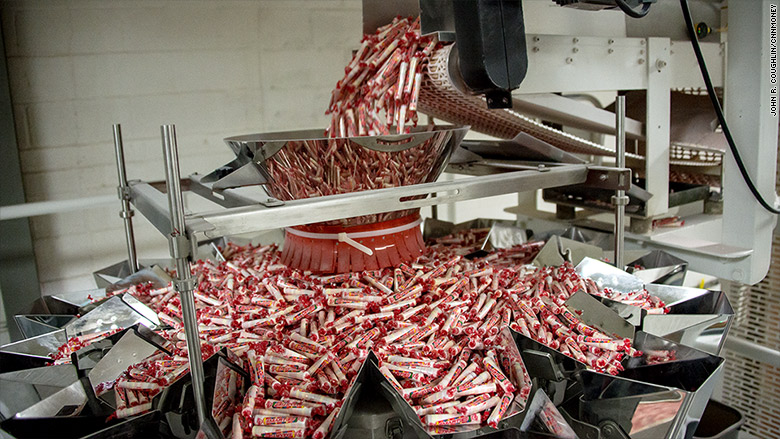 Not all is sweet in the candy biz
Smarties faces plenty of challenges. Many candy companies have moved production abroad to save costs, and there are ongoing issues trying to manage the prices of sugar, corn and deliveries of food. Candy needs to smell and taste a certain way.
"One time a truck showed up and the even the driver said, 'you should smell this truck,'" says Sarah, recalling that it was foul. "We reject trucks a lot."
They are also asked constantly: What else do you make besides Smarties? While their product line also includes lollipops, they are a very focused brand.
Smarties images are on the walls of their office and the smell of the sugary tablets permeates everything in the building. They joke it's a perfume they all end up wearing.
As their fathers formally pass the company on to them, they are conscious that working in "candyland" comes with a great responsibility -- to customers, employees and the family legacy.
"I recently had a daughter, so I'm hopeful that there will be a company for her and any other children we have," Jessica says.