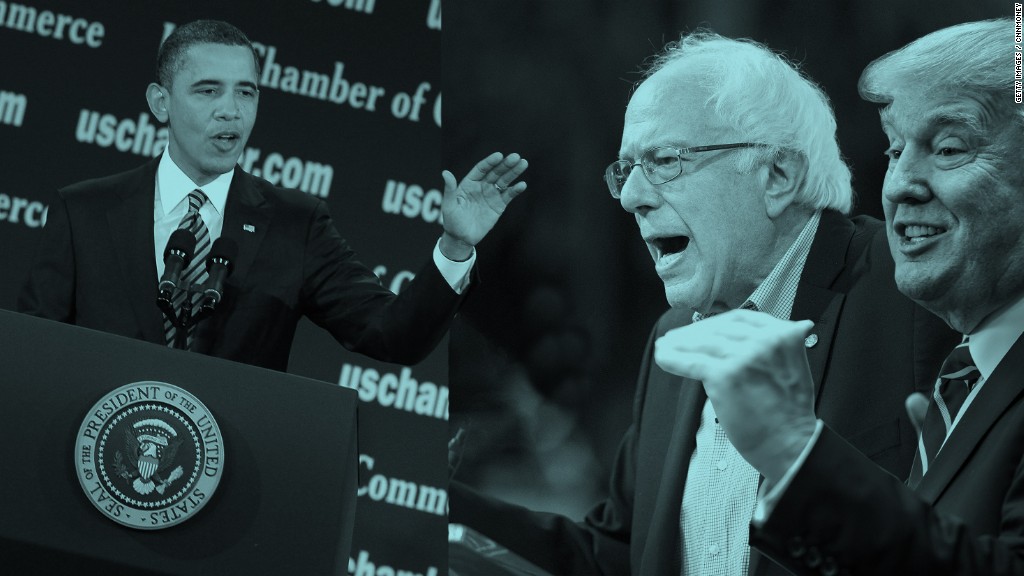 The United States and 11 other nations have finally reached a long-sought agreement on a controversial free-trade pact.
The Trans-Pacific Partnership, or TPP, would knock down tariffs and import quotas, making it cheaper to import and export, and open new Asia-Pacific markets to American companies. Negotiations have been going on for years.
"We have successfully concluded the Trans-Pacific Partnership," U.S. Trade Representative Michael Froman said Monday.
Critics say the trade deal will shift more jobs and business operations overseas, as U.S. businesses seek to benefit from lower wage workers in developing economies.
"Wall Street and other big corporations have won again," said 2016 hopeful Bernie Sanders. "It is time for the rest of us to stop letting multinational corporations rig the system to pad their profits at our expense."
Proponents say it will make it easier for U.S. businesses to sell overseas, opening up overseas markets the way the U.S. market is already open to imports from these 11 other countries. And they say that the growth of U.S. exports will produce well-paying jobs at home.
The TPP is a central focus of President Obama's trade agenda, and something he has pushed for since the start of his presidency. The agreement must be approved by Congress and the other countries' legislatures before it can take effect.
The countries taking part -- Australia, Brunei, Canada, Chile, Japan, Malaysia, Mexico, New Zealand, Peru, Singapore, the U.S. and Vietnam -- together make up 40% of the world's economy.
The U.S. and Japan -- the first and third largest economies in the world -- have anchored the talks.
China, the No. 2 economy, is not part of the TPP. Proponents hope an agreement could neutralize some of China's power in global trade. But there is also the expectation that China and other major Pacific nations, such as South Korea, could eventually be brought into the free trade zone.
In a statement, China's Commerce Ministry described the deal as "significant," and expressed hope that the TPP "will promote other free trade agreements within the region."
Trade deals are always political and business lightning rods because they create winners and losers. The North American Free Trade Agreement, put in place in 1994, still sparks fierce debate.
The TPP is no different. Froman, the U.S. trade chief who led the latest round of talks, said the negotiators were still hammering out the deal's language at 5 a.m. ET Monday, just hours before the announcement.
One contentious issue has been how long pharmaceutical companies should be allowed to control information about the medicine they develop. The U.S. pushed for longer terms, but other countries like Australia want shorter ones.
Drug companies say longer periods of exclusivity over research encourages investment in developing cures. But longer terms can also keep cheaper versions off the market. The potential for compromise over this issue was reportedly a final key to a deal.
Among the TPP's leading backers are the U.S. Chamber of Commerce, the powerful business lobby that isn't often on the same side of big issues as Obama.
Obama says the TPP would make American companies more competitive, create jobs in the U.S. and add billions to the global economy. Froman said it removes 18,000 tariffs that U.S. businesses now face when trying to sell their products overseas.
"TPP represents 18,000 tax cuts," he said Monday.
Nike (NKE) has said it would create 10,000 U.S. jobs if an agreement is finalized.
Earlier this year, Obama pushed a bill through Congress that gives him "fast track" authority, also known as trade promotion authority. The fast track process is designed to make it easier for a president to get congressional approval of trade pacts and was seen as a big opening on future passage of the TPP.
However, the TPP has met with harsh criticism -- from both sides of the political aisle.
Democrats and labor unions, led by the AFL-CIO, say it could hurt American workers because they believe it will make it easier for U.S. businesses to shift jobs overseas.
Critics have also wanted details about the negotiations, which have been done in private, to be made public. Wikileaks has published draft documents that were otherwise top secret.
The TPP has also been a headline issue in the 2016 presidential campaign.
Republican candidate Donald Trump blasted it in a tweet on Monday: "The incompetence of our current administration is beyond comprehension. TPP is a terrible deal."
-- CNN's Kevin Bohn contributed to this report.