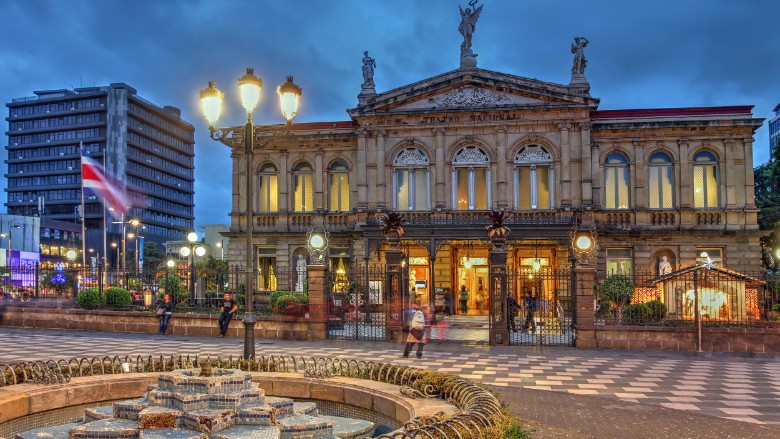 Latin American currencies have plunged in value this year but Costa Rica is bucking the trend.
Costa Rica's currency, the colon, is up 1% against the dollar this year. That's no reason for a beach party, but it's a sign of an economy that's proven quite resilient.
All the major Latin American economies -- from Brazil and Chile to Colombia -- have been hit hard this year because of falling commodity prices and China's slowdown getting worse. It's led their currencies to fall dramatically in value. Among the worst hit is the Brazilian real, which has plummeted 30% so far this year.
The very fact that Costa Rica's currency has gotten stronger against the dollar this year is quite a feat.
It's also a sign that Costa Rica is starting to shed its image as a banana republic and moving into an array of industries.
"For a small country, we have been diversified," Costa Rica's President Luis Guillermo Solis told CNNMoney in an interview.
Related: Pepsi takes a $1.4 billion charge in Venezuela
A strong currency isn't always good news. It makes exports more expensive and weak currencies in the long run can help economies.
But it is often a reflection of a healthy economy.
Costa Rica's economy is projected to grow 3.5% this year.
That's much better than the region: Latin America's economy overall is expected to shrink this year, according to the IMF's newly published projections this week. Brazil is already in recession and is weighing on much of the region's growth.
Many Latin American economies rely on commodities -- soybeans, oil, copper -- to propel growth. But commodity prices have fallen plummeted this year and so has growth in these countries.
Related: Rio Olympics organizers clamp down on costs
However, only 6% of Costa Rica's economy comes from agriculture. It relies mostly on services to drive economic growth. Tourism, tech, medical equipment and shipping are the major growth industries in Costa Rica currently.
Some big U.S. employers there include Microsoft (MSFT), Nextel and FedEx (FDX). And while China is the biggest trading partner for many other Latin American countries, Costa Rica is more closely tied with United States and Europe.
The global economic slowdown is of concern.
Related: Yuan's devaluation is tiny compared to others
"We will not be able to move on to the next stage if the world economy doesn't stabilize," Solis said. "We can't simply ignore what's goes around us."
Despite weathering headwinds this year, it's coming off a tough year.
Once a major employer there, Bank of America (BAC) cut hundreds of jobs in Costa Rica last year. Unemployment is 9.5% and Solis admits poverty is a major issue in his country. About 20% of Costa Ricans live in poverty, he says. The currency lost value against the dollar at the beginning of 2014 and still hasn't made back all the gains.
Still, Costa Rica has made economic and currency gains in a year when the rest of the region's growth has come to a halt.