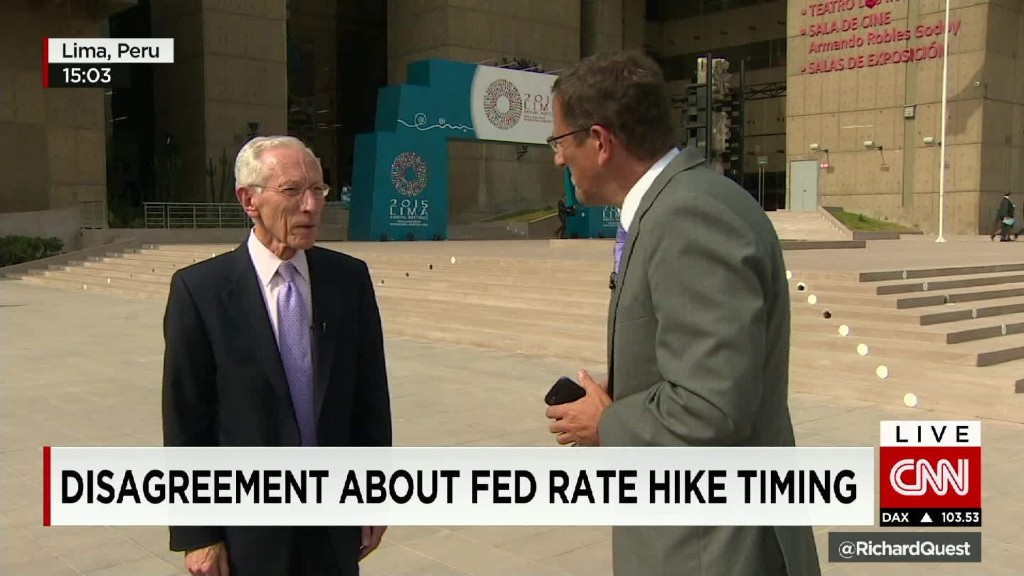 The global economic slowdown remains a major concern for the Federal Reserve.
Fed Vice Chairman Stanley Fischer reiterated Friday that China's economic slowdown -- and its ripple effect -- is pushing back the Fed's decision to raise rates. The question is just how long the Fed will wait.
"We didn't raise the rate in September because we wanted to take time to appraise what had happened in China in particular," Fischer told CNN International anchor Richard Quest at the IMF's annual meeting in Lima, Peru.
Fischer is considered on the "hawkish" or aggressive side of the Fed's committee that votes on interest rates, meaning he's generally more in favor of raising rates. Fed Chair Janet Yellen is considered a "dove" on the other side of the rate hike spectrum.
Fed officials have said the central bank will likely raise interest rates this year for the first time in almost a decade. But a sluggish global economy and good-but-not-great U.S. economy are holding back the Fed at the moment.
"What happens abroad does matter for what happens to the United States," Fischer said.
The Fed didn't raise its key interest rate in September because U.S. inflation hadn't picked up and the global economy had worsened. Since that meeting, the U.S. economy hasn't performed well while inflation has remained low and the global economy is still weak.
One key measure of industrial activity, ISM, continues to decline and the September jobs report was disappointing in many ways.
Fed officials' concerns have risen in recent months about the global economic slowdown, especially in emerging markets.
Developing countries, like Peru, rely on commodities for much of their growth. As commodity prices remain very low -- triggered in part by China's economic slowdown -- growth in these countries is slowing down.
Low commodity prices for things like oil hold down U.S. inflation. That's a problem for the Fed because it needs inflation to pick up in order to justify a rate hike. It wants to see inflation move toward 2%. Right now it's close to zero.
Next week new U.S. inflation figures come out, but inflation is expected to be the same old, near-zero story. The Fed's next meeting begins October 27.