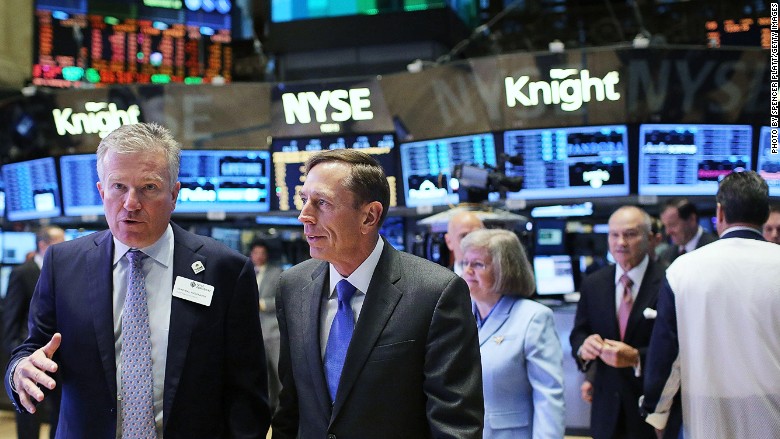 For years David Petraeus was the man U.S. presidents turned to for guidance on scary situations around the world.
The former four-star general was the architect behind the "surge" campaigns in Iraq and then in Afghanistan. Petraeus later became America's chief spymaster before a scandal forced his resignation from the CIA in 2012.
Now Petraeus is the man investors turn to for advice before placing risky bets in dangerous parts of the world.
The former CIA director joined private-equity firm KKR (KKR) in 2013, where he serves as chairman of the KKR Global Institute. The institute leverages in-house experience and taps a deep Rolodex of global contacts to help KKR, its clients and portfolio companies make smart decisions.
Petraeus told CNNMoney he sees parallels between his current role and those he had in government.
In both situations he said his job has been all about "striving to understand the situations in various parts of the world" and interpreting the circumstances for "decision makers."
Related: Petraeus: Don't freak out over China dumping U.S. debt
IBM's Watson and Big Data
Petraeus's experience analyzing geopolitical flashpoints has shaped his perspective on investing. It's the driving force behind his belief in Big Data. Best demonstrated by Watson -- the IBM computer that beat Jeopardy's best players -- Big Data uses powerful technology to detect patterns and trends where humans may see none.
"Today's world is, of course, increasingly flooded with data. And, in my experience, companies that can make sense of highly complex and highly fragmented data can generate considerable value," Petraeus said.
All of that is especially true for companies that shine the Big Data spotlight on previously-opaque industries.
Petraeus bets big on Israeli tech company
That's where Windward enters the picture. The Israeli company uses Big Data to provide surveillance on the world's oceans, giving valuable intelligence on everything from terrorist activity to oil shipments.
"The level of visibility their data provides on suspicious activities at sea, even with no prior intelligence, is unprecedented," Petraeus said.
Petraeus visited Windward's Tel Aviv headquarters earlier this year and was so struck by the company's technology that he later made a personal investment.
Related: Windward says Iran is hiding lots of oil at sea
Petraeus is betting Wall Street will be lured by Windward's ability to collect and analyze maritime data. He said the platform could be a "game changer" for commodity traders who track the flow of raw materials like oil as well as hedge fund managers seeking an edge on the latest cargo shipment activity.
Related: Chanos got China right. Now he's betting against Elon Musk
Life after the CIA
Petraeus resigned from the CIA in 2012 after an extramarital affair. Last month he apologized to a Senate committee for his affair and for mishandling classified documents.
In addition to his role with KKR and making side bets on Big Data, Petraeus works with veterans' organizations and serves as a professor at CUNY's Macaulay Honors College and the University of Southern California.
Petraeus acknowledged it's "obviously difficult to replicate" the "greatest of privileges" as the U.S. top general. Still, he's found his new life to be "intellectually stimulating, rewarding and enjoyable."
"I still travel very extensively and work with exceptional people in activities of considerable importance," Petraeus said. "And I have time for family activities and running and working out. What could be better?"