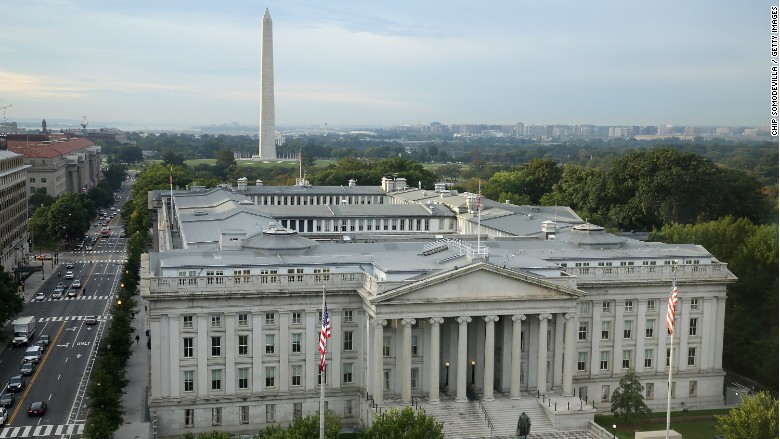 America's debt is getting dumped left and right as the global slowdown worsens.
Countries around the world are selling their U.S. government debt holdings this year by the largest amounts seen since at least 2000.
China has been selling U.S. debt but it's not alone. Lots of emerging markets like Brazil, India and Mexico are also selling U.S. Treasuries. Not that long ago all these countries were all huge buyers of U.S. debt, which is viewed as one of the safest places to park money.
"Five or six years ago, the big concern was that China was going to own the United States," says Gus Faucher, senior economist at PNC Bank. "Now the concern is that China is selling them."
Foreign governments have sold more U.S. Treasury bonds than they've bought in the 10 consecutive months through July 2015, the most recent month of available data from the Treasury Department.
Just in the first seven months of the year, foreign governments sold off $103 billion of U.S. debt, according to CNNMoney's analysis of Treasury Department data. Last year there was an overall increase of nearly $45 billion.
Related: IMF: global growth is weakest since financial crisis
Countries don't have cash to buy Treasuries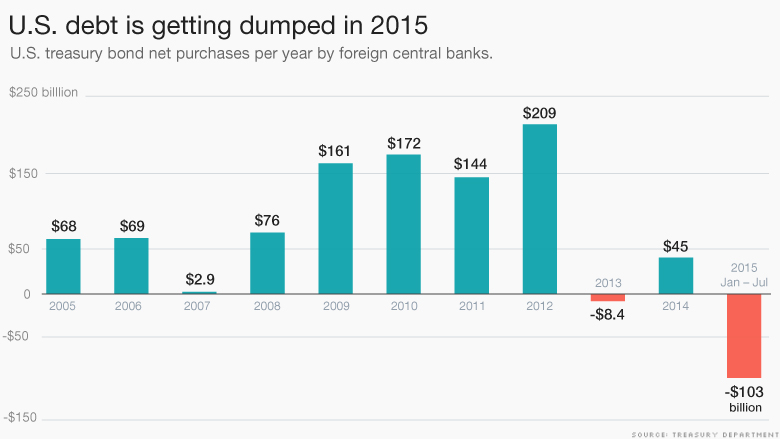 It's a reality of the global economic slowdown.
When commodity prices boomed a decade ago, emerging market countries took their profits and invested them in U.S. Treasury bonds and other types of assets that are similar to cash.
Former Federal Reserve Chair Ben Bernanke coined it the "global savings glut" in 2005.
Now that commodity prices are falling, countries that rely on commodities -- Brazil, Mexico, Indonesia -- just don't have the cash they once did to invest in safe assets like U.S. Treasury bonds.
"Slow growth means that they just don't have the same appetite for dollars because they don't have cash to put to work," says Lori Heinel, chief portfolio strategist at State Street Global Advisors. "The bigger issue is 'do they have the dollars flowing into the economies to keep investing in Treasuries?'"
Related: U.S. dollar is having a rough October
They need the cash to support their economies
These countries are also under pressure provide support to their slowing economies.
Their currencies are losing value against the dollar. And some countries, like China, have stepped in to buy their local currencies to keep their values from sinking too low. China has also spent cash to support its stock market.
With foreign investors pulling their money out, many countries also want to make sure they have enough cash to balance that out.
Because these countries need the cash, they need to sell U.S. debt.
"In the past, [emerging markets] had been the buyer...now they're facing exactly the opposite pressure," says Binqi Liu, senior fund manager at HSBC Global Asset Management.
Related: How China's ripple effect spreads
Cash hoarding has ended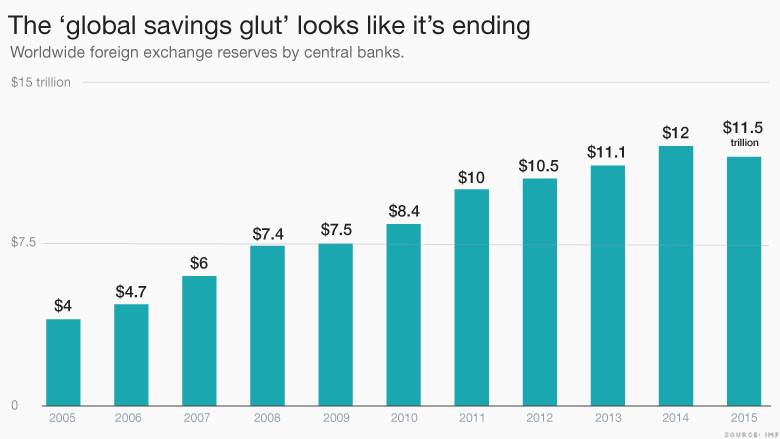 It's a key reversal from over a decade of hoarding -- the "savings glut" that Bernanke was talking about 10 years ago.
Foreign-exchange cash reserves from all the world's central banks totaled $1.8 trillion in 2000. It swelled to nearly $12 trillion in the middle of 2014.
Now it's starting to unwind. Total cash reserves fell to $11.5 trillion by mid-2015, according to the IMF.
In fact, 2015 will be the first year of decline in worldwide reserves in over a decade, according to a report by Deutsche Bank.
The sell off by foreign governments raises questions about future demand for U.S. government debt. However, it appears foreign private investors, like banks and financial institutions have stepped in.
Still, the overall Treasury selloff shows that the air is finally coming out of the global savings glut.