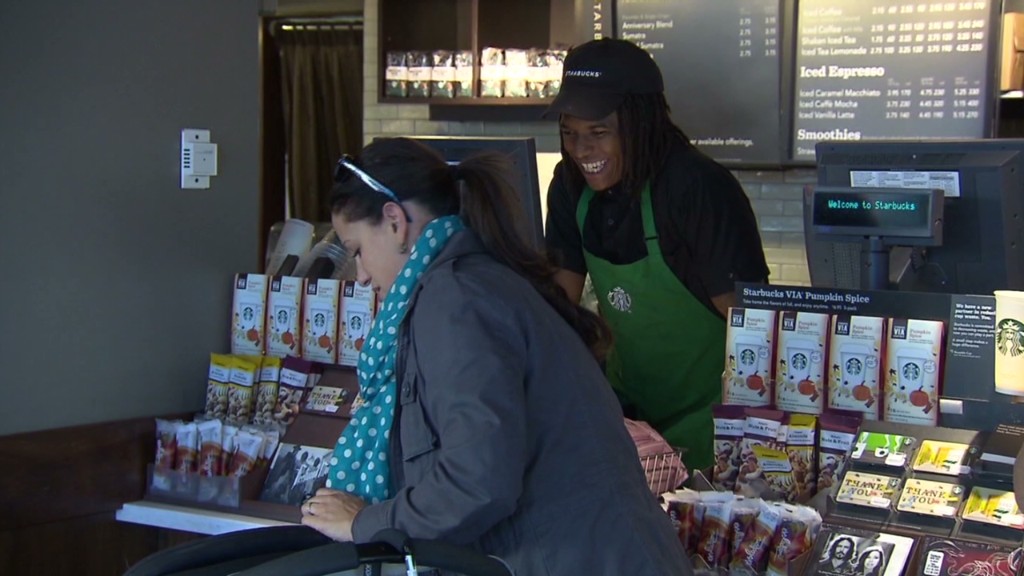 Looking for an affordable way to get a college degree? Get a job at Starbucks.
More than 4,000 baristas are already going to school for free, about a year after the company partnered with Arizona State University's online program to cover the cost of their tuition.
Full- and part-time employees who don't yet have a bachelor's degree are eligible. That's about 100,000 out of its 150,000 U.S. workers.
They don't have to study business or remain with the company after graduating.
The most popular degrees Starbucks workers are seeking are Psychology, Organizational Leadership, Health Sciences, Interdisciplinary Studies and Business, a company spokeswoman said. There is a customized retail business degree for those who do want to continue their career at Starbucks.
Related: Starbucks and Common want to put kids to work
Tuition prices at ASU depend on the program, but can total about $15,000 a year. Those pursuing a business degree, for example, pay about $523 per credit. For eligible workers, ASU covers 42% of that cost and Starbucks picks up the rest, minus any other scholarships the employee receives.
About 200 Starbucks workers are set to finish their bachelor's degrees in May and about a dozen have already graduated because they had credits transfer from other programs.
Starbucks (SBUX) began offering two years of free college to workers in 2014 and later expanded it to cover four years.
The company plans to spend at least $250 million to help 25,000 employees graduate by 2025.