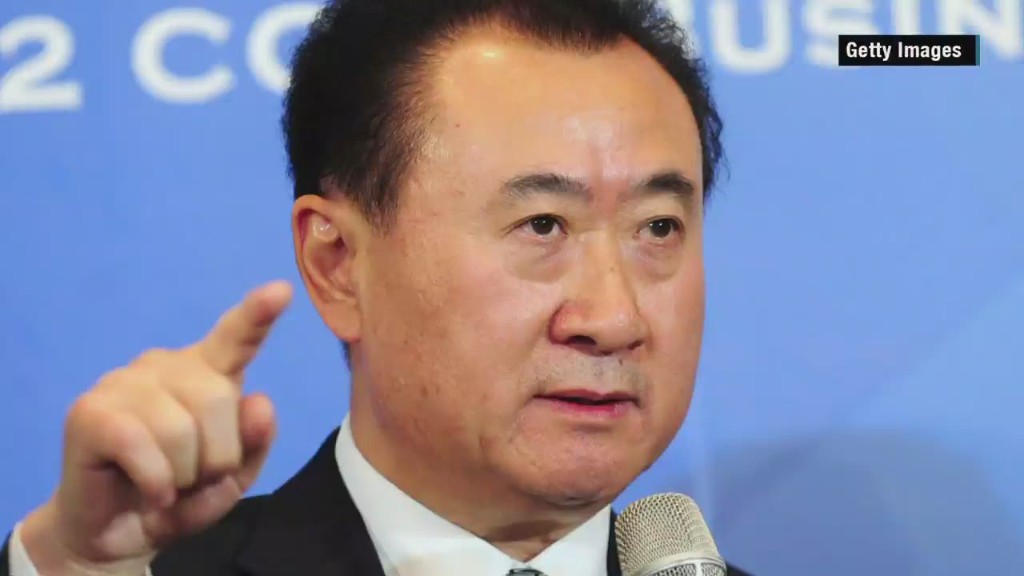 China now has more billionaires than the United States.
A staggering 242 new Chinese billionaires were minted over the past year, propelling the country ahead of America for the first time, according to Hurun Report's annual China rich list. China now has 596 billionaires, compared to 537 in the U.S.
"Despite the slowdown in the economy, China's richest have defied gravity, recording their best year ever, and creating more wealth than any country has ever done before in a year," said Rupert Hoogewerf, chairman of Hurun Report.
Wang Jianlin of Dalian Wanda recaptured the ranking's top spot from Alibaba (BABA) founder Jack Ma. Wang, one of China's top real estate developers, is now worth $34.4 billion, a 52% increase over the previous year.
Wang's strong performance was primarily due to the listing of his cinema chain in Shanghai. Wang has been diversifying his assets, and recently purchased World Triathlon Corporation, which owns the Ironman brand.
Ma, meanwhile, saw his wealth decline 3% to $22.7 billion. Alibaba's shares have fallen sharply since its IPO a year ago.
Related: China has a bigger middle class than America
Hoogewerf, who is also chief researcher at Hurun, told CNN earlier this year that many of China's billionaires fly below the radar in an effort to conceal wealth from the authorities.
Hoogewerf said that Hurun is only able to identify roughly 50% of the country's billionaires, and that 15% of China's wealth is hidden from the public.
"Think of it like an iceberg, the tip of it is much smaller than the whole," he said. "We do our best to find [hidden money], but they go to such extraordinary lengths to hide it."