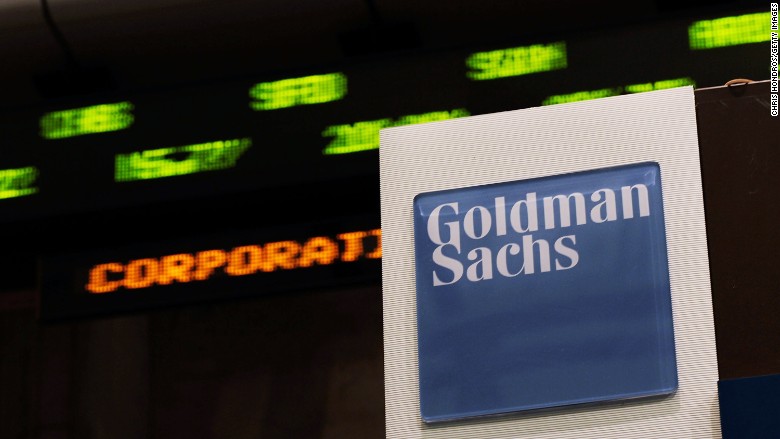 The summer's crazy market volatility has claimed another victim: the Vampire Squid ... and the bonuses of its traders and bankers.
Wall Street giant Goldman Sachs reported earnings and revenue for the third quarter that missed forecasts. Revenue from bond, currency and commodities trading plunged 33% from a year ago.
CEO Lloyd Blankfein blamed the poor results on investor concerns about the world's economy.
"We experienced lower levels of activity and declining asset prices during the quarter, reflecting renewed concerns about global economic growth," he said during a statement.
Related: Wall Street firms that bankrolled oil book are hurting
The market turmoil is taking its toll on how much the bank's workers are taking home too. Goldman (GS) slashed the amount of its compensation expenses -- its so-called bonus pool -- by 16% from a year ago.
That's a huge cut -- and it comes even though Goldman has been on a hiring binge. Headcount increased 10% from the same period last year.
Still, compensation expenses for the first nine months of the year are down just 1% from last year.
And nobody with a Goldman Sachs business card is suffering from financial hardship: the average compensation per employee for the first three quarters works out to about $288,000.
But bonuses could shrink even further if Goldman's profits don't turn around.
Brian Kleinhanzl, an analyst with KBW, wrote in a report Thursday that "the company needs to do more on expenses to increase earnings going forward" -- especially because of the weakness in trading.
Related: The biggest American debt selloff in 15 years
Goldman is the latest big bank to note that market instability is having a big impact on its business.
JPMorgan Chase (JPM), Bank of America (BAC) and Wells Fargo (WFC) all said earlier this week that they are keeping an eye on loans to energy companies due to the collapse in crude oil prices.
Despite the earnings miss, shares of Goldman Sachs rose 3% Thursday. And it wasn't all bad news for big banks.
Citigroup (C) reported profits that topped forecasts, sending its stock up nearly 5%.