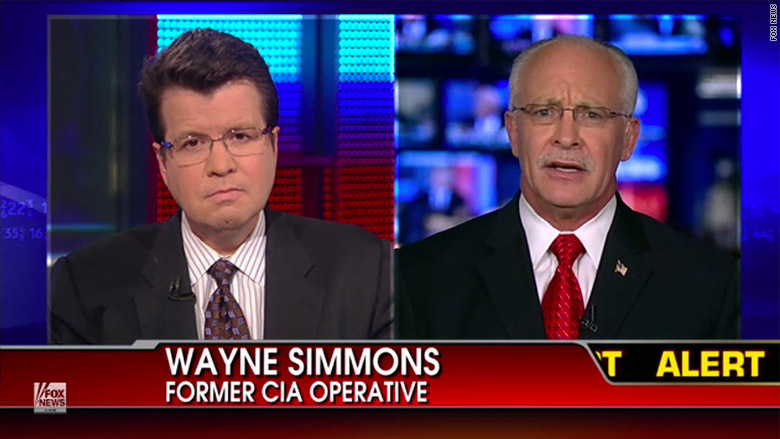 Wayne Simmons, a recurring guest on Fox News who claimed to have 27 years of experience with the CIA, was arrested Thursday after being indicted by a federal grand jury on charges that he lied about his service.
Simmons is accused of falsely claiming that he worked as an "outside paramilitary special operations officer" for the CIA from 1973 to 2000. On Fox, this was often shortened to "former CIA operative."
He was also indicted for using that false claim to gain government security clearances and an assignment as a defense contractor, where he advised senior military personnel overseas.
Simmons made his initial appearance in court on Thursday afternoon. If convicted, he could face up to 35 years in prison on charges of major fraud against the United States, wire fraud, and making false statements to the government.
Simmons is a familiar face to Fox News viewers. After the arrest was announced on Thursday, Fox News spokesperson Irena Briganti told CNN that he "was never a contributor for Fox News," and that he appeared on the network only as a non-paid guest. She therefore declined to comment further.
Simmons' web site describes him as a "terrorism analyst" for Fox and a consultant to various government entities.
While it is unknown how often Simmons has appeared on television over the years, Fox's web site lists dozens of appearances and quotes, usually labeling him a former CIA "operative," "analyst" or "officer."
The indictment is a red flag for every television network that relies on the input of analysts based on their supposed credentials. The news industry comes to trust individuals as "specialists" in part because of their own self-promotion and past media appearances.
In his appearances on Fox, Simmons regularly made extreme and factually dubious statements pertaining to terrorism and national security. Just this January, he claimed there were "at least 19 paramilitary Muslim training facilities in the United States."
Simmons also claimed that waterboarding was not torture and accused President Obama of being a novice who lacked spine -- claims that were given greater credence because of the perception that he was a veteran CIA paramilitary officer.
U.S. officials told CNN that there have been suspicions about Simmons's resume and U.S. government agencies have received calls about claims he made on his website about his past work.
But because government security agencies generally do not comment on people who worked for them in certain capacities, that only served to fuel the perception that Simmons had a top-secret background.
In a statement the CIA said it is "working closely with the Justice Department on this matter and we refer you to the U.S. Attorney's Office for the Eastern District of Virginia for comment on the charges."
The U.S. Attorney's Office said that along with the CIA-related fraud, "the indictment also alleges that Simmons defrauded an individual victim out of approximately $125,000 in connection with a bogus real estate investment."
If convicted, he faces a maximum penalty of 20 years in prison on the wire fraud counts, 10 years in prison on the major fraud against the U.S. counts, and 5 years in prison on the false statements count.
--Evan Perez and Wesley Bruer contributed reporting from Washington.
Correction: An earlier version of this story incorrectly reported the number of years of CIA experience Simmons claimed to have.