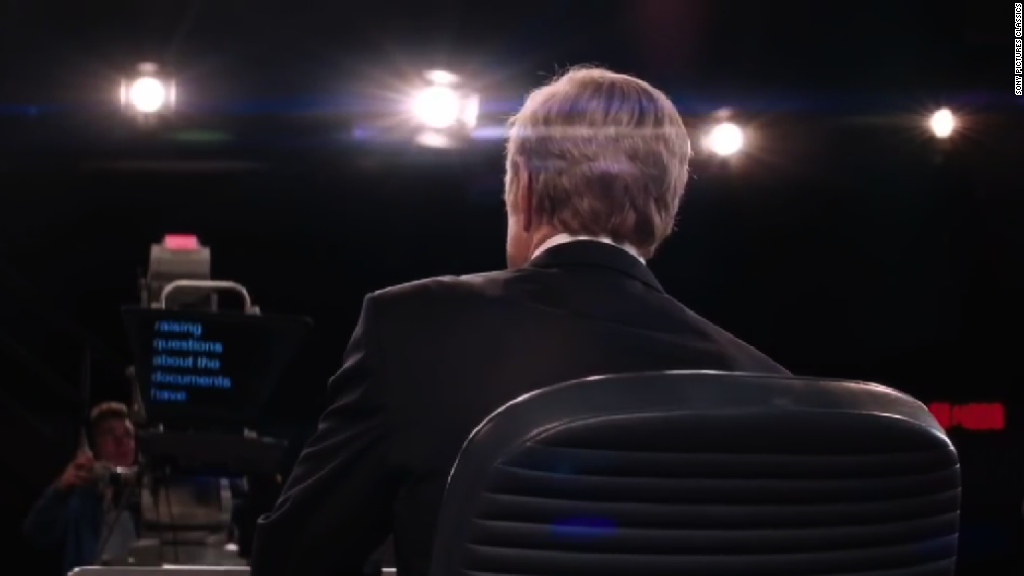 Eleven years after Dan Rather's fatally flawed news story about President George W. Bush's time in the National Guard, the subject is being re-litigated because of a movie called "Truth."
The movie, out Friday in New York and Los Angeles, recounts how Rather and his producer Mary Mapes pieced together their "60 Minutes II" story only to see it ripped apart by critics.
Mapes was eventually fired and Rather was eased out of his job as anchor of the "CBS Evening News." He unsuccessfully sued CBS. In some ways the story seems like ancient history -- but the movie makes it feel fresh.
To the director James Vanderbilt, the movie is a multilayered political and personal drama. To Rather, it is a jumping off point for a discussion about how journalism has changed in America -- how it has been compromised by corporate profit motives.
And to CBS? Well, to CBS it is an unwelcome and unfair look backwards. On Friday the Associated Press reported that CBS has declined to sell ad time to Sony for the movie.
It would have been a "multi-million dollar ad buy to promote the film on Stephen Colbert's 'Late Show,' the 'CBS Evening News,' 'CBS This Morning' and '60 Minutes,'" the AP said.
The request for ad time, confirmed by CNNMoney, was made back in September, and it doesn't seem surprising that CBS refused. Networks have been known to reject ads for competitors, for example. In this case, "Truth" presents Rather and Mapes sympathetically and portrays the network harshly.
On Friday evening the movie's producers Brad Fischer and William Sherak said in a statement, "It is ironic that a media company that owns a major news division would go to such great lengths try to keep people from seeing a film about journalists and the impact of media consolidation."
CBS (CBS) declined to comment on the attempted ad buy. But earlier this month the company's top spokesman, Gil Schwartz, issued a stinging statement.
"It's astounding how little truth there is in 'Truth,'" he said. "There are, in fact, too many distortions, evasions and baseless conspiracy theories to enumerate them all. The film tries to turn gross errors of journalism and judgment into acts of heroism and martyrdom. That's a disservice not just to the public but to journalists across the world who go out every day and do everything within their power, sometimes at great risk to themselves, to get the story right."
Rather stands by 'the truth of the story'
When I interviewed Vanderbilt after a screening earlier this week, he said he was never expecting "to get flowers" from CBS.
"I mean, what are they going to say? 'Thank you? We're so happy you brought this up again? We were really hoping that at some point somebody would make a film about this?'"
Rather, who worked at CBS for 44 years before his 2006 departure, told me that his attitude about the statement "was a shrug of the shoulders."
He pointed out, "there's no denial in there that the truth of the story -- that the base of the story, the truth of the story -- stands today as it did at that time."
The story was about Bush's Vietnam-era service in the Texas Air National Guard and allegations he received preferential treatment. It focused on his "lost year," a period of time in 1972 and 1973.
In the decades since, Bush's whereabouts at that time have been hotly disputed. Assertions, sometimes from political opponents, that he went AWOL have been countered by denials from his supporters.
Rather's report presented new interviews and information, including memos purportedly written by Lt. Col. Jerry B. Killian, Bush's squadron leader.
After doubts arose about the authenticity of the documents, and as charges of anti-Bush bias swirled around CBS, the network commissioned a review and Rather apologized for "a mistake in judgment."
Now 'Truth' is the controversy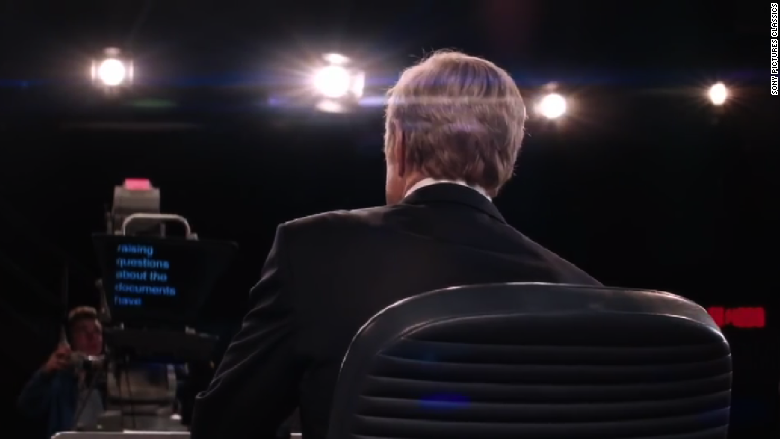 During the press tour for the movie, Rather has reiterated that he and his team members made mistakes but that the substance of the story remains true.
The movie suggests that Bush supporters sought to make the story controversial, thereby putting attention on Rather's ethics and away from Bush's whereabouts in 1972 and 1973.
In some ways "Truth" has become controversial too. Critics of the movie charge it takes the side of Rather and Mapes, and now its supporters are seizing on the new report that CBS won't broadcast ads for it.
Controversy can cut both ways. It can raise doubts about the credibility of a news anchor, but it can raise ratings and ticket sales for a movie.
For now, "Truth" is in limited release. It'll come out in theaters across the country on October 30.
And as for the questions Rather's report raised about Bush's time in the National Guard, he said in the post-screening interview that he'd still like answers.
The question "hasn't even been asked since we got burned," Rather said.