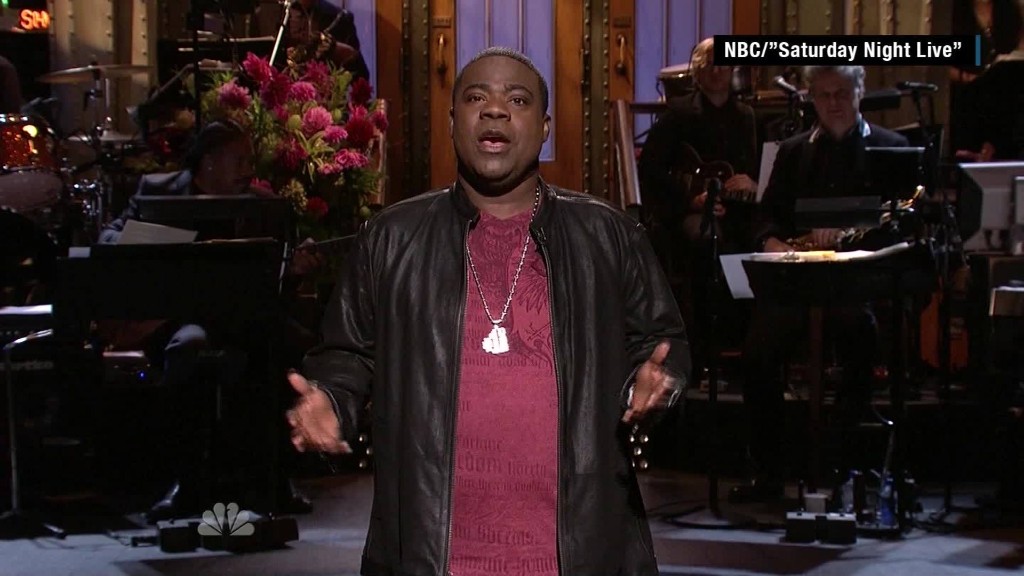 Roughly a year after a severe car accident critically injured Tracy Morgan, the comedian returned to "Saturday Night Live" to rousing applause and a "30 Rock" reunion.
Morgan, who was once a "SNL" cast member, returned to Studio 8H to host the third episode of the season after suffering broken ribs, a broken nose, and a broken leg when a Walmart truck hit the comedian's limo bus in June 2014.
"People were wondering, 'Can he speak? Does he have 100% mental capacity?' But the truth is I never did," Morgan said to big laughs opening the show. "I might actually be a few points higher now."
Morgan thanked his "comedy family" including "SNL" creator Lorne Michaels who Morgan called his "Obi-Wan Kenobi."
Morgan was greeted by his former "30 Rock" co-stars Tina Fey, Alec Baldwin, Jane Krakowski and Jack McBrayer who pretended to be a part of a scene from a 2012 episode of the former award-winning comedy.
"I just want to say one last thing, Tracy, from the heart and this part is no joke. We're so happy that you're okay and we're happier that you're ready to make people laugh again," Fey said as her "30 Rock" character Liz Lemon.
Related: Hillary Clinton does Trump impression on 'SNL'
As Fey was speaking an advertisement for the long canceled NBC series "Smash" came across the screen.
"Are those 'Smash' people down there again?" Fey said above the ad.
Morgan then kicked off the show saying, "As you can see, everything is going to be just fine... so let's be funny!"
The accident killed one, injured others, and caused such damage to Morgan that the comedian was "still struggling" months after the incident.
However, on Saturday night, Morgan slipped right back into his old routine including returning to his most famed "SNL" role, Brian Fellow from "Brian Fellow's Safari Planet."
Those watching at home were also excited over the return of Morgan using the hashtag "#WelcomeBackTracy."
Away from Morgan's "30 Rock" co-stars, there was another big name guest who appeared on Saturday night's episode.
Larry David surprised the audience showing up as Bernie Sanders in the series' cold opening which mocked the latest Democratic debate.