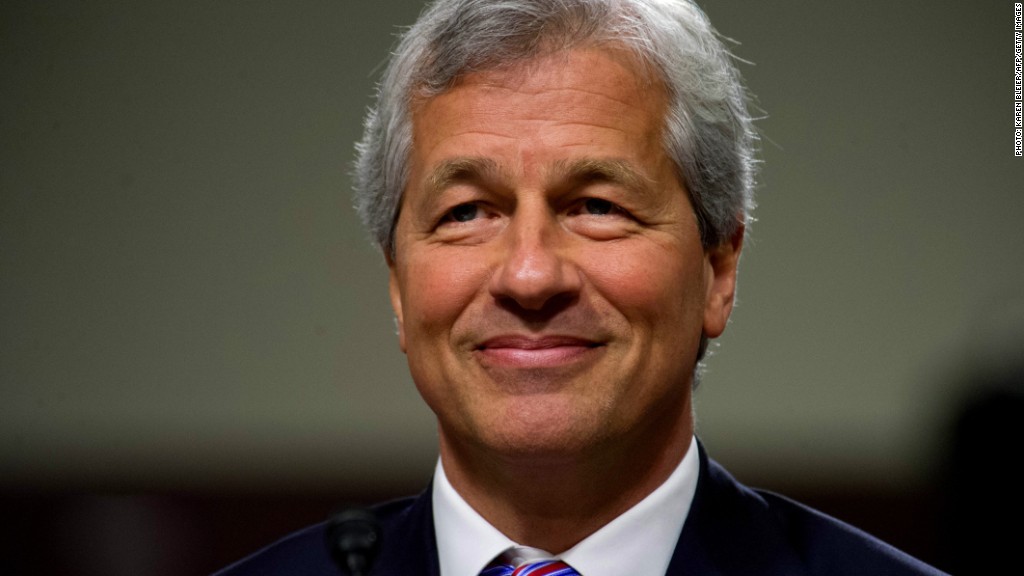 Jamie Dimon thinks China has "huge issues," but there's no reason for investors to hit the panic button.
Dimon, the CEO of JPMorgan (JPM), said Monday that China's problems will prevent it (the world's No. 2 economy) from overtaking the U.S., the world's largest economy.
"They have huge problems but they're working through their issues," Dimon told Bloomberg TV in a wide-ranging interview.
China reported its worst economic growth since the financial crisis on Monday. Its economy grew 6.9% in the third quarter, a deceleration from the 7% expansion in the first half of the year and well below the double digit growth it had in the 2000s.
Related: CNN's Fear & Greed index: What emotion is driving the stock market now
However, Dimon pointed out that China's economy is so big that its growth now is similar, or perhaps even better, in dollar terms to its days of double digit growth.
For example, China's economic growth of 10.6% in 2010 totaled about $979 billion. This year, China's economy is expected to grow only 6.8%, but that's equivalent to a $1 trillion gain, according to IMF projections.
Related: Even JPMorgan suffered through the market mayhem
Dimon noted that China's other problems -- its historic geopolitical threats from its neighbors, massive population and food scarcity -- limit its ability to overtake the United States as the world's most powerful country.
"It's going to be a long time before they overtake America in any way, shape or form," Dimon said.
Dimon also touched on his optimism about other regions in the world such as Africa, where he said JPMorgan is interested in opening branches in Ghana and Kenya.
Related: Wall Street banks that bankrolled the oil boom are hurting
Dimon was careful not to criticize the Federal Reserve. However, he said the Fed raising its key interest rate -- which it hasn't done in nearly a decade -- would be a good thing because it would reduce uncertainty in financial markets.
For investors afraid of the Fed's first rate hike, Dimon had a stern message.
"Grow up!" Dimon said. "You should've financed yourself better."
And politically, Dimon continued to criticize the slew of banking regulation coming from Washington as a result of the financial crisis.
While not naming specific regulations, Dimon said some were good, but that Washington needs to "skinny down how many regulators there are." JPMorgan has paid fines of over $25 billion in settlements stemming from the financial crisis.
He said there were so many fines being levied by the many different regulatory organizations that it made it impossible to fight all of them.
"It's impossible for a bank to fight the United States government," Dimon said.