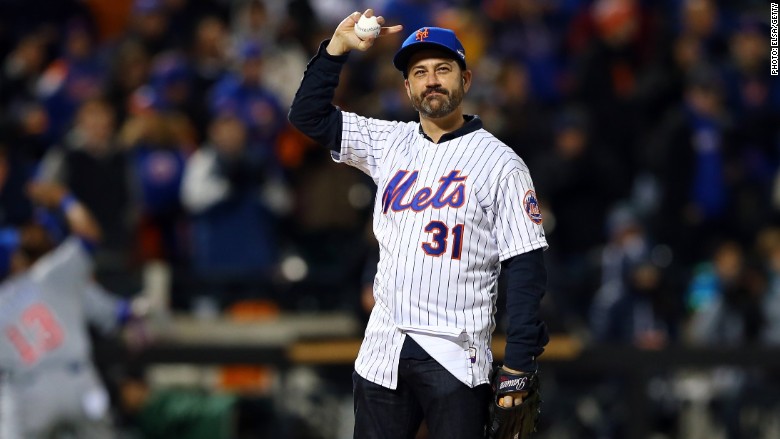 The last time Jimmy Kimmel taped his late night show, "Jimmy Kimmel Live," from Brooklyn, N.Y., his major competition was David Letterman and Jay Leno.
Since then Letterman and Leno have signed off, the "Tonight Show" moved to New York, and Kimmel finds himself in a late night ratings battle with viral friendly "Tonight Show" host Jimmy Fallon and the newly minted "Late Show" host Stephen Colbert.
Kimmel sat down with me to talk about taking his Los Angeles based show on the road to his hometown (he lived in Brooklyn until he was 9), his plans for Donald Trump, and how watching David Letterman's goodbye caused him to see his life flash before his eyes.
Here is the edited version of that conversation.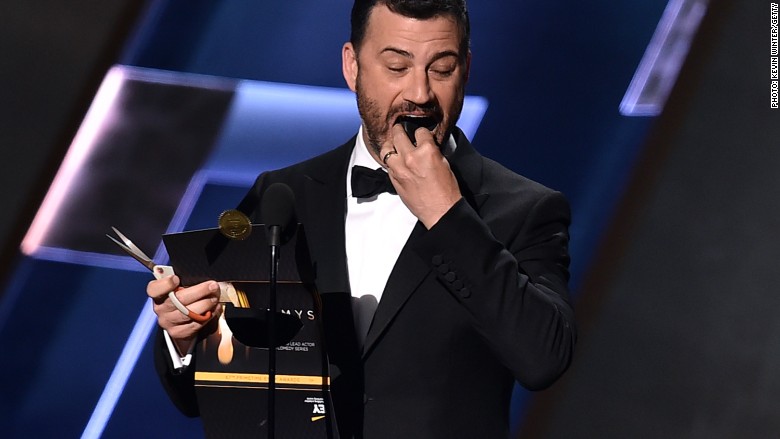 So you're back in New York for a week of shows that start Monday. For a long time, L.A. was the epicenter of late night TV...
Yes, it still is... Wherever I am is the epicenter. I'm very self-centered.
Okay, fair enough, but there has been a late night shift to New York with "The Tonight Show" and "The Late Show" being here. Have there been any disadvantages to being in Los Angeles?
A little bit because now people are more inclined to start their publicity tours in New York, but on the other hand we have the place almost to ourselves.
For your Brooklyn week of shows you have a scheduled appearance from Donald Trump. Can you tell us what you have planned?
Well, I can't. It's going to be a surprise.
Will it be an interview?
I'm not interviewing him... It will be in studio, it'll be live, and it'll all make perfect sense when you see it.
Are you looking forward to any particular guest this week?
I'm excited about Tracy Morgan because he's a good pal and to have him back to work is a great thing.
On Friday you went over to Colbert's "Late Show" and you two spoke about how the late night "wars" are basically over. Do you feel you're still battling Colbert and Fallon, though?
Of course you always compare yourself to people who do the same show and same format... But the big difference now is that most of our viewers don't watch at 11:30 pm. They watch our show whenever they feel like watching our show.
Our audience online is enormous, and TV ratings are somewhat secondary now. I mean we have 30 million people a week watching our show, and maybe a quarter of that is on television.
And people can watch all of the shows. You don't have to pick one... Now, the competition factor is not as intense.
With so many watching online, are you focusing the show's content on going viral?
At least once a week I remind the writers that our primary job is to do a television show. Wherever we get paid that's what we're most focused on, and the vast majority of our advertising revenue comes from being on ABC television. It just so happens a lot of times that the videos go viral.
Why should viewers tune into "Jimmy Kimmel Live!" rather than the other 15 Jimmys that are on late night TV?
You know, it's funny, Jay Leno's name is James. I don't even know if people realize that. Being named James is a huge boost.
I think people watch the show because they heard we did something specific like "Mean Tweets," but as far as the ritual of watching every night, it's really a personality thing of which host you like the best... It's less about material and particular talents and more about which person you'd want to be your neighbor.
What feelings did you have about watching one of your idols, David Letterman, step down in May?
I felt like I was watching my life flash before my eyes.
I was so focused on that show especially when I was in high school and college that a lot of those things I consider to be my memories, and watching your memories on a reel is only something you get to do when you die in the movies.