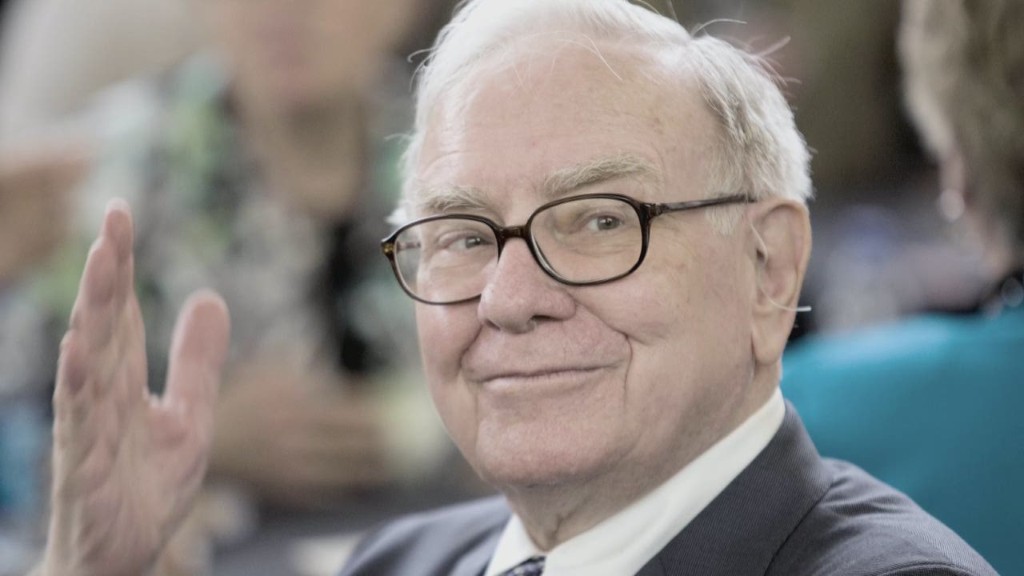 If someone were to write a children's book about how the top stocks held by Berkshire Hathaway were doing in 2015, you could call it "Warren and the Terrible, Horrible, No Good, Very Bad Year."
Warren Buffett adores blue chip companies that are relatively easy to understand. He's shunned the new economy darlings like Facebook (FB), Amazon (AMZN) and Netflix (NFLX) in favor of older, more mature businesses.
But that's been a bad strategy this year.
Buffett's top investments are laggards
Take a look at IBM (IBM). It is one of Berkshire's top four stocks. And Berkshire has bought even more of it this year.
But Big Blue disappointed Wall Street yet again Monday, reporting its 14th consecutive quarter of sales declines.
Related: Warren Buffett says 'America's never been greater'
IBM shares sank nearly 6% Tuesday and are down 12% year-to-date. Those kinds of lousy returns seem to be par for the course for Buffett in 2015.
Shares of megabank Wells Fargo (WFC), Berkshire's second-largest investment, are down 3%. That's not awful of course.
But Berkshire may love the big banks too much. He also has decent-sized stakes in U.S. Bancorp (USB) and Goldman Sachs (GS). Both bank stocks are in the red this year too.
Cherry Coke taste not translating to stock price
Coca-Cola (KO) is Berkshire's third-largest holding. It's no secret that Buffett loves sipping Cherry Coke.
The stock is flat this year. Again. That's not terrible. But rivals Pepsi (PEP) and Dr Pepper Snapple (DPS) have been much better performers.
Is Buffett stubbornly sticking with a company that's losing ground in the soda wars?
We'll know more soon. Coke's latest earnings are due out Wednesday morning.
AmEx, P&G and Walmart are huge losers
And now here are the real dogs of Berkshire's portfolio.
American Express (AXP), which will report its third quarter results after the closing bell on Wednesday, has plunged 17% this year. It's Berkshire's fifth-largest holding.
Procter & Gamble (PG) is down 18%. The Tide maker is Berkshire's seventh biggest investment.
Finally, there's Walmart (WMT), Berkshire's eighth-largest holding.
The stock has plummeted more than 30% this year. It's the worst stock in the Dow. And it doesn't look like things will improve anytime soon following last week's Walmart's shocking sales and profit warning for next year.
Related: Walmart tanks after saying that wage hikes will hurt its profits
Add this all up and it's one reason why Berkshire's own stock has lagged the market this year.
Shares of both the pricey A shares (BRKA) ($200,000!) and more affordable B shares (BRKB) ($133) are down 11% this year.
But it's not all bad news. Berkshire has had some big winners in 2015.
Kraft Heinz (KHC), created from the merger of those two food giants earlier this year, is up nearly 10% since the stock started trading in July. It's now Berkshire's top holding too.
Oil refiner Philips 66 (PSX), Berkshire's sixth-largest holding, is up 13% this year. Refiners have done well despite the plunge in oil prices because it reduces their costs.
Related: Kraft Heinz cuts 2,500 jobs
And a notable top-20 Berkshire investment, cable company Charter Communications (CHTR), is up 12%. Charter should soon get a lot bigger since it's acquiring Time Warner Cable (TWC). (Time Warner Cable is no longer a part of CNN parent company Time Warner (TWX).)
Berkshire actually boosted its stakes in Phillips 66 and Charter this year. That looks like a savvy move.
What's more, Berkshire relies less on its portfolio than it used to since the company owns a wide array of businesses as well, ranging from Geico and railroad Burlington Northern Santa Fe to Fruit of the Loom and Dairy Queen.
Berkshire also announced its largest deal ever this summer, the $37.2 billion purchase of jet engine component maker Precision Castparts (PCP) in August.
And let's be honest. I'm pointing out a very narrow window of time that Berkshire has underperformed.
As Buffett noted in Berkshire's latest annual shareholder letter earlier this year, the company's market value per share has skyrocketed 1,826,163% in the past 50 years.
To put that in perspective, that's a compounded annual gain of 21.6%, compared to 9.9% for the S&P 500.
So one tough year is not a reason to start rewriting the market history books. Buffett remains the Oracle Of Omaha -- an investing legend whose net worth is more than $62 billion.