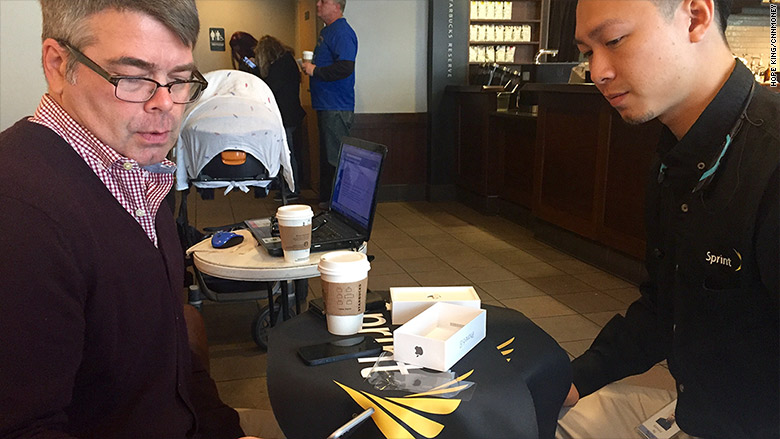 Call it the accommodating economy.
Daniel Light wanted a new phone, but didn't have the time or desire to go to a store.
Luckily for him, as a Sprint customer, he could tell Sprint where and when to come to him.
"I didn't really believe it," Light told CNNMoney, recalling the first time he saw an email about Direct 2 You -- Sprint's new delivery and setup service.
"I thought 'it can't really be free,'" he added.
A friend who works on Sprint's PR team assured him there wasn't a catch, so Light decided to give it a try.
He called Sprint to book an appointment for half past noon last Friday at a Starbucks near Lincoln Center in Manhattan. He had a meeting nearby in the afternoon. CNNMoney tagged along.
The technician showed up on time, laid down a few Sprint table mats, and within 40 minutes, deactivated Light's old iPhone 5S, and transferred all of his information to a new space gray iPhone 6S. (A Sprint spokesman told CNNMoney that most appointments take around half an hour to an hour, depending on the kind of phone that's being upgraded.)
In that same amount of time, Light also worked through a hiccup with his pin number, and got tips on using iOS 9 and the new "3D touch" screens.
The 54-year-old research scientist was still sipping on his coffee by the time he walked out.
During his last phone upgrade, which was in a Sprint store, the whole process took two hours.
"It was a frustrating experience, which is maybe why I delayed upgrading," he said.
Though Direct 2 You is free, Light said he would probably pay up to $25 for it.
"There's value in my time," he added.
Sprint and other wireless carriers should take note of this potential new revenue stream and competitive differentiator. After all, they're doing everything they can to win and keep customers -- even if it means chasing them down.
A few months after Sprint launched Direct 2 You, AT&T (T) debuted a similar service called Enjoy.
With Enjoy, AT&T customers in San Francisco and New York City can get a new phone "in as fast as four hours."
Direct 2 You is currently available in more than 25 metropolitan areas, and Sprint (S) has plans to expand the program to include 5,000 traveling technicians by the end of 2015.
The quality of Sprint's network is improving -- but it's still not all that great. As a result, the company continuously tries to compete on price and customer service.
Direct 2 You may not make a huge difference in customer acquisition and retention in the near term, but it's at least helping set a new trend for customer service.
Related -- Sprint CEO: "We will have the best network in the next two years"
Related -- How to buy the new iPhone 6S and not get screwed by your carrier