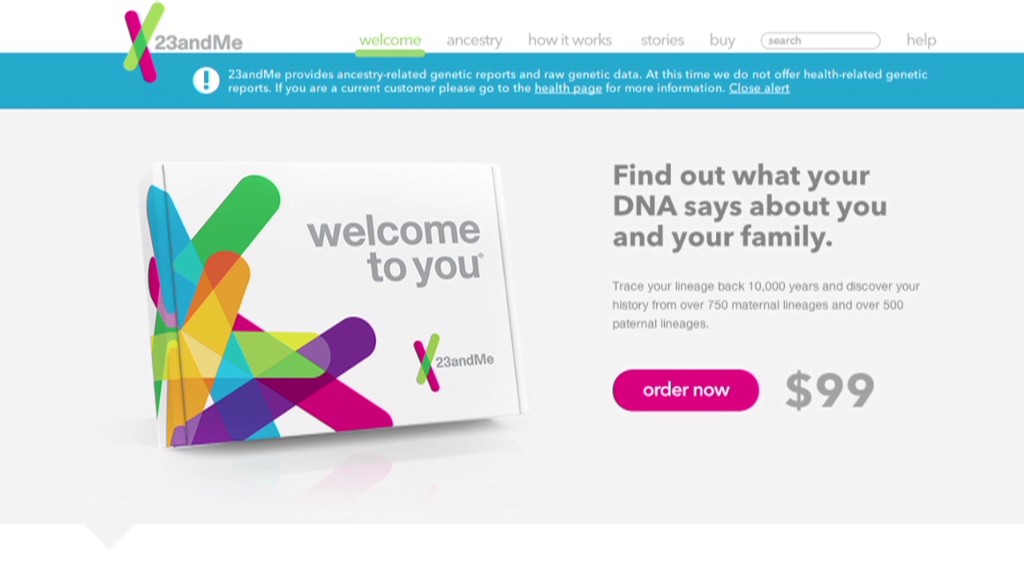 You can once again spit in a cup, put it in the mail and learn about your genetic health.
Genetic sequencing company 23andMe has received FDA approval to provide customers with certain health information derived from their genetic profiles. In 2013, the FDA ordered 23andMe to stop issuing health guidance to customers, saying the company could not prove its test results were not misleading or inaccurate.
On Wednesday, 23andMe announced that it has received FDA clearance to again offer some health results to customers. It will tell customers whether they are carriers of certain disease-causing genes, which could pass on to their children.
But the test results will be more limited than they were in the past -- and the price tag has doubled to $199. 23andMe still will not be able to provide information to customers about potential risks to their health.
Before the FDA sent a cease-and-desist letter to 23andMe two years ago, the company would tell customers whether they were likely to suffer from certain diseases later on in life, including breast cancer.
"Strike back before cancer has a chance to strike," the California-based company had said at the time on its website.
But regulators warned of the potential health consequences for customers whose results might be inaccurate. Women whose results indicate a risk for breast cancer, for example, could take actions that would lead to unnecessary treatments.
23andMe is still attempting to gain FDA approval for health risk information, but the company didn't provide a timeline for when that might happen.
Anne Wojicki co-founded the company in 2006. She was married to Google (GOOGL) co-founder Sergey Brin at the time, and the search giant invested millions of dollars. The couple has since divorced.
Over the past two years, 23andMe continued to operate, but it only provided ancestral information. For example, you could see how much of your makeup consisted of Neanderthal genes. 23andMe continues to offer that as part of its service.