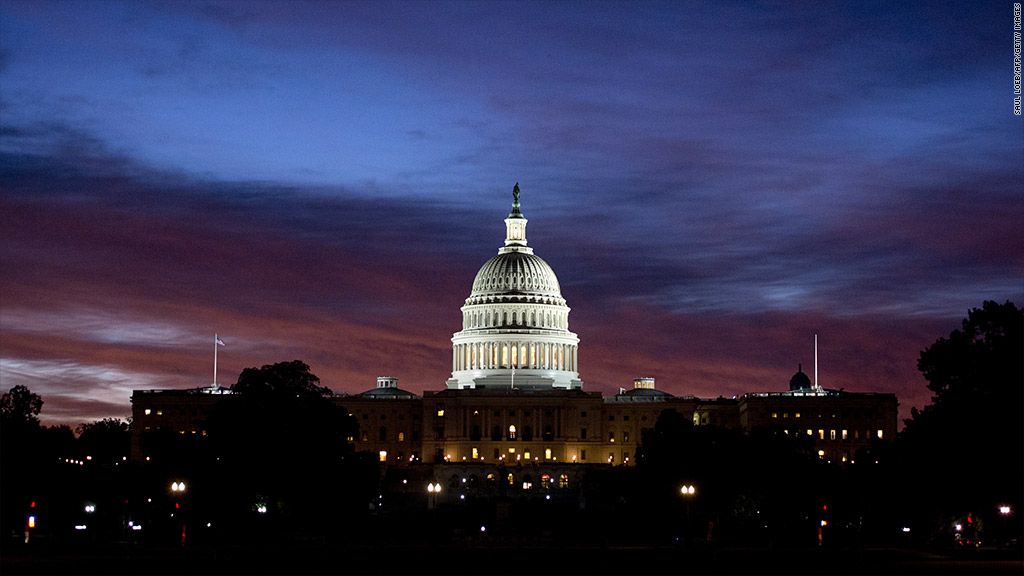 The U.S. Treasury canceled a sale of two-year debt slated for next week due to fears Congress won't act in time to raise the debt ceiling.
Treasury specifically cited "debt ceiling constraints" caused by the current "impasse" in Washington.
The two-year note sale was scheduled for October 27. And the date that sale would settle - or go through - was scheduled for Nov. 2.
That's a day before the Treasury said it estimates that it will exhaust special accounting measures that are keeping the country's debt below its legal limit.
If Congress doesn't act by then, it puts the Treasury at risk of defaulting on many of the country's legal obligations.
Related: The holy mess Congress will make if it doesn't raise the debt ceiling
One of the concerns is that the sale could push the country's debt above the legal limit. To prevent that, Treasury would have to simultaneously retire an equal amount of outstanding U.S. bonds, bills or notes. But there's no guarantee that it can do so down to penny the same day because it won't have much if any borrowing authority left.
"The margin for error is very small at this point," said Shai Akabas, associate director of economic policy at the Bipartisan Policy Center.
The Treasury cancellation is a reminder of the seriousness of the debt ceiling stalemate gripping Washington.
Treasury said the impasse is already "adversely affecting" the operation of government financing, increasing borrowing costs for the government, reducing Treasury bill supply and raising the risk tied to holding a lower cash balance.
There are early signs of an impact at least on short-term debt. Rates on one-month Treasury bills due in November spiked earlier this week to levels unseen since 2013.
"By canceling this auction, you've raised the issue with Congress. They're saying, 'Look, we're not kidding. We need this done now,'" said John Briggs, head of strategy for the Americas at RBS Securities.
Related: Early signs of a debt ceiling freakout
Treasury urged Congress to raise the debt ceiling as soon as possible.
"The creditworthiness of the United States is not a bargaining chip, and Congress should address this matter without controversy or brinksmanship," Treasury said in a statement.
Treasury said it still plans to go forward with a five-year auction on October 28 and a seven-year one on November 2.
"Treasury believes that postponing the auction for the two-year note poses less risk for market functioning than postponing the 5-year or 7-year note offering," Treasury said in a statement.
During a 2013 debt ceiling impasse certain Treasury auctions experienced "unusually low levels of demand." Investors took the "unprecedented action of systemically avoiding certain Treasury securities" set to mature when Treasury ran out of its special accounting measures, according to a report from the U.S. Government Accountability Office.
Briggs said investors continue to believe a deal will get done, especially amid signs that Paul Ryan will become the next Speaker of the House of Representatives.
"The fact Paul Ryan looks like he's going to be Speaker is alleviating a lot of the fears. He has a lot of gravitas and moral authority due to his standing on fiscal matters," said Briggs.