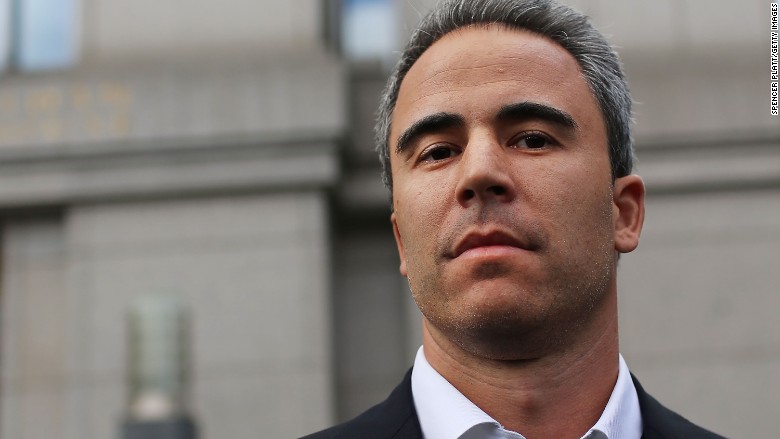 It's a very big day for Wall Street. And a very bad one for the U.S. Attorney's office in Manhattan.
Insider trading charges against Michael Steinberg, a former portfolio manager at SAC Capital, will be dismissed, U.S. Attorney Preet Bharara said on Thursday.
Steinberg was sentenced last year to 3-1/2 years in prison for insider trading -- only to later have his conviction thrown into doubt by an appellate court ruling in a related case.
And Steinberg isn't the only one walking away.
Bharara also announced that charges will be dropped against six other people: government witnesses who pleaded guilty and cooperated with prosecutors.
The moves are a big turnabout for Bharara, who had amassed dozens of convictions in a wide dragnet against insider trading on Wall Street.
In fact, Steinberg's firm, SAC Capital, was in the government's crosshairs for years. SAC was headed by billionaire trader Steven A. Cohen and was once one of the country's most successful hedge funds.
Cohen was never charged with a crime. But his firm pleaded guilty to insider trading charges in 2013, agreed to pay a fine exceeding $1.8 billion, and closed its doors to outside investors.
Bharara's pursuit of insider trading was undone by a ruling in April 2015 by a federal appeals court in New York that effectively made it more difficult to prosecute insider trading cases.
The ruling, by the Second Circuit U.S. Court of Appeals, held that prosecutors must show that an individual charged with insider trading knew an insider had turned over confidential information for financial gain.
Earlier this month, the U.S. Supreme Court refused to review the decision.
In urging the Supreme Court to take up the case, the government had argued the Second Circuit ruling will encourage unscrupulous conduct in the financial world.
"[B]ecause the widely publicized ruling in this case raises the bar to prosecuting insider trading, it increases the chances that such conduct will proliferate," the Justice Department wrote in a brief.
The U.S. Attorney's office had highlighted the conviction of Steinberg and others as answers to the criticism that Wall Street defendants never go to jail.
However, in dismissing the charges against the seven on Thursday, Bharara said that "insisting on maintaining guilty pleas in these cases would not be in the interests of justice."