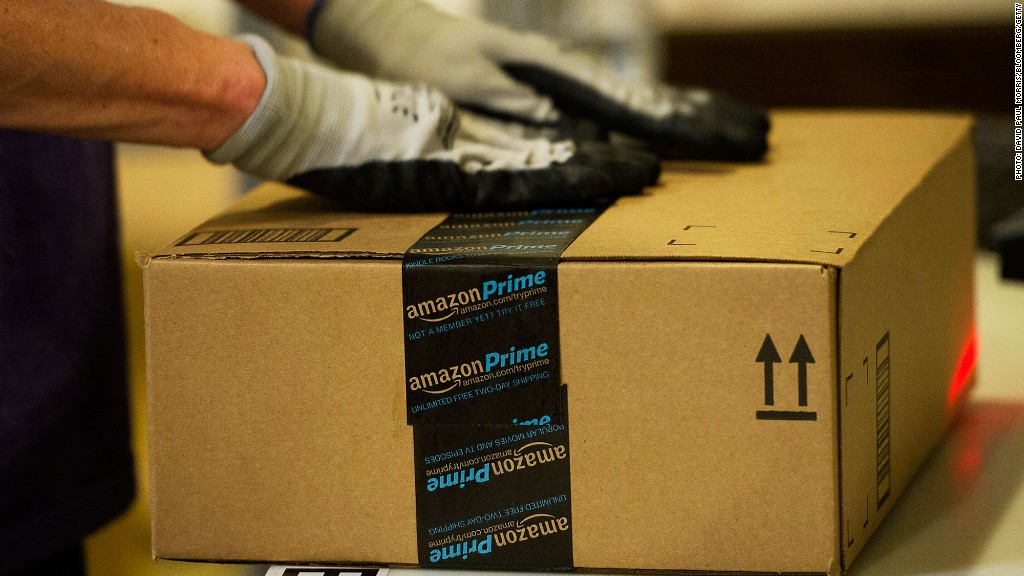 Jeff Bezos is throwing the best surprise party ever for Amazon investors.
Amazon once again shocked Wall Street by posting a profit during the third quarter. It marked the third of the past four quarters in which the habitually unprofitable online retailer was in the black. (Amazon keeps profit margins super-tight and typically only makes money during the holiday season.)
Granted, Amazon made just $73 million on $25.4 billion in sales last quarter. We're still not exactly talking about a high-margin business here.
But a profit is a profit, and investors will gladly take it. Shares surged 10% in after-hours trading, soaring into record territory well above $600 a share. The 21-year-old company has never traded above $580 before.
Bezos is happy about it too. Amazon's CEO is now the third-richest person in the United States, according to Bloomberg's richest people rankings.
Amazon's sales rose 23% and would have risen a stunning 30% had the dollar not gained so much steam this year, the company said. The company's revenue was also way higher than Wall Street analysts had expected.
It has its cloud business to thank for the surprise profit. Amazon's "Web Services" cloud unit posted a half-a-billion-dollar profit this past quarter, more than quintupling that unit's earnings from last quarter. AWS also nearly doubled its sales over last year, and it is now on pace to become a $7.3 billion business for the company this year.
With AWS, Amazon sells space from its massive server farms to power many of the world's websites, apps and services. The super-secretive Amazon is famously tight-lipped about its operations, but it began to pull back the curtain a bit on its cloud business earlier this year.
Without AWS, Amazon (AMZN) would have recorded yet another loss.
But the retail business is booming too. On a conference call with investors, Amazon said it had 294 million customers, up 17% from a year ago.
This has been a record year for Amazon. In addition to the company's soaring stock, it became the most valuable retailer in the world, surpassing Wal-Mart (WMT).