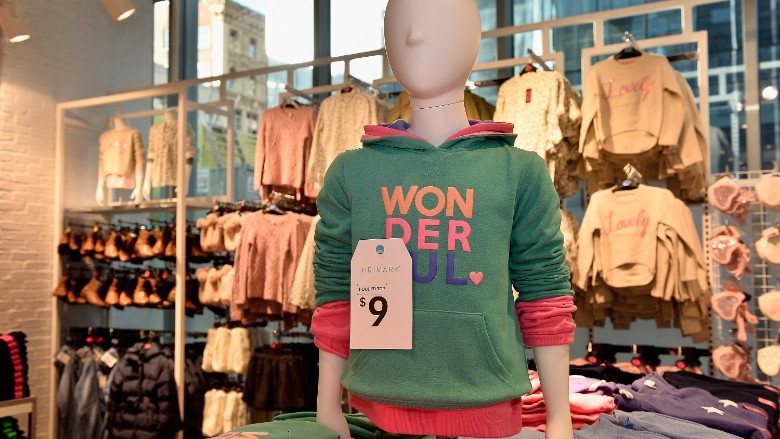 Apple isn't the only brand that people line-up for. Irish clothing brand Primark has a similar cult following in Europe -- and it's coming to the U.S.
Primark's secret to success is simple: Cheap clothes. Really cheap clothes.
The average price for Primark clothes is about $6 an item.
"We want to be known first and foremost for amazing prices," says John Bason, finance director of Primark's parent company Associated British Foods (ASBFY).
Prices in Primark stores may be similar to what you find in Walmart (WMT). But the store atmosphere is very different. It strives to be young and edgy -- similar to H&M or Forever 21.
In September, Primark opened its first U.S. store in Boston. There was a lot of promotion of the company's Irish roots -- it was founded in Dublin in that iconic summer of '69.
Next up? Seven more stores in America in the coming year, including one in the King of Prussia mall outside Philadelphia and one on Long Island, New York.
"If we're a hit with the American consumer, then we can move on from there [across the country]," Bason told CNNMoney.
Related: Remember Smarties? The retro candy is thriving
Sales are booming in Europe
While few Americans have heard of Primark, the brand does nearly $8 billion in sales -- double what Abercrombie & Fitch (ANF) does.
Primark is the epitome of "fast fashion" where stores change merchandise every few weeks to keep up with trends. Instead of four seasons, there are numerous "mini seasons."
It's been a profitable formula. Sales are up 115% from 2009 to 2014.
Growth has skyrocketed as Primark opened stores across most of Europe in the past decade. There's even one planned for the high-fashion capital of Milan, Italy.
There's a reason it's called 'Primania'
Hana Ben-Shabat, a partner at A.T. Kearney who studies the retail sector, remembers the day that Primark opened on one of London's main shopping streets.
Lines stretched around the building, spilling onto other streets, as people waited for the doors to open. Europeans have taken to calling it "Primania." There was a special offer that day on pink "fur" jackets.
"I actually think they have the potential to be a game changer in the U.S.," says Ben-Shabat.
Primark's biggest challenge is simply building up the brand recognition in the U.S. where there's a lot more competition. Can Primania really happen in America?
Related: Meet Sweetgreen -- the 'next Chipotle'
How cheap clothes get made
Primark also isn't without controversy. There have been questions about the conditions and pay of workers who make such cheap clothes.
The Dhaka, Bangladesh factory that tragically collapsed in April 2013 killing over 1,100 and injuring thousands was making merchandise for Primark, among other retailers including Walmart.
Primark now has a "mass mobilization" of ethics auditors. Bason says the company did about 2,000 audits of suppliers last year. But some are not convinced.
"We have no reason to believe Primark's practices have changed," says Owen Espley, who leads the campaign against sweatshops for War on Want. Espley's group wants the British government to regulate UK retailers to ensure they give overseas workers a living wage and safe conditions.
Primark manages costs aggressively
Primark defends its business, saying it can undercut the competition on price because it negotiates aggressively and aims to make money by selling more clothes than other retailers.
It also manages costs by being smart on where it opens stores. It doesn't have any Manhattan stores planned, for example. It's going to open in the Freehold Raceway Mall in New Jersey instead.
As the company moves into the U.S., the focus is learning what works and what doesn't.
Primark sells everything from baby clothes to bed linens to men's and women's fashion and even some home goods. Finance director Bason says all of his childrens' towels and sheets come from Primark.
While American consumers are used to H&M, "Primark takes the very fashionable, very low price to a different level," says Ben-Shabat of A.T. Kearney.