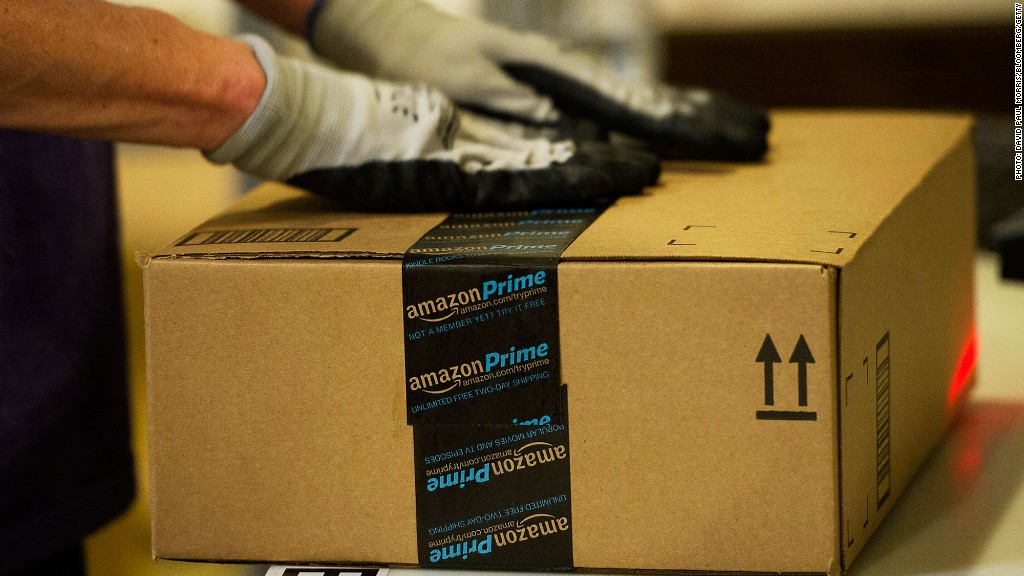 Oom-Pah-Pah! Grab your tuba. Put on some lederhosen. And don't forget a big old stein of beer. Wall Street is celebrating its own version of Oktoberfest.
The S&P 500 has surged 8% so far this month and is now back in positive territory for the year. The blue chip index is also just 3% below its all-time high as well. The market correction this summer seems like a distant memory.
The Dow is up 8% in October too but still down slightly for the year. But the Nasdaq is now up 6% in 2015.
The market was in party mode Friday thanks to a trio of terrific tech earnings. Google parent company Alphabet (GOOGL) and Amazon (AMZN) are now at all-time highs while Microsoft (MSFT) is at its highest level since 2000.
Related: Big Tech gets its sexy back
Adding to the festive mood? China cut interest rates again as well on Friday.
The gains come after stocks soared Thursday thanks to stronger than expected earnings from McDonald's (MCD) and 3M (MMM). Hints of more stimulus to come from ECB chief Mario Draghi helped too.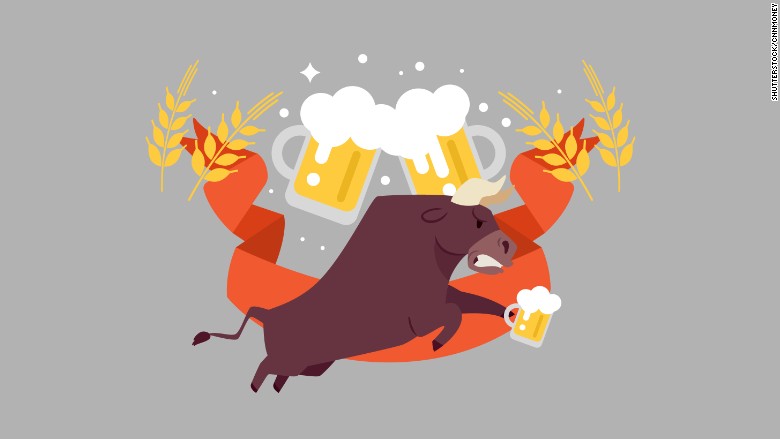 So much for this being a scary market for stocks. No crashes here! It's Rocktober instead of Shocktober.
But why are investors suddenly so bullish again? CNNMoney's Fear & Greed Index, which looks at seven indicators of market sentiment, is even back in Greed mode.
Good news is good news ...
Even though the strong dollar took a bite out of Corporate America's overseas sales and profits in the third quarter, many companies have reported results that were better than expected.
More importantly, guidance for the fourth quarter is pretty solid as well. And it's not just the tech titans that are wowing Wall Street.
AT&T (T), Whirlpool (WHR), Kleenex maker Kimberly-Clark (KMB) and Dr Pepper Snapple (DPS) all issued healthy outlooks this week.
Coming into the month, many Wall Street experts felt that earnings would be incredibly lousy. So the lack of any significant bad news has been a pleasant surprise.
Michael Arone, chief investment strategist with State Street Global Advisors, said that companies have been posting stronger sales growth as well.
That's a big plus since sales are a true reflection of consumer demand. Companies can often boost profits by lowering costs.
A wave of mergers announced this month is helping lift the market as well.
Related: AB InBev agrees to buy SABMiller
King of Beers Anheuser-Busch InBev (BUD) is buying rival SABMiller (SBMRY). Dell is purchasing EMC (EMC) in the biggest tech takeover ever. Hard drive maker Western Digital (WDC) is scooping up flash memory chip company SanDisk (SNDK).
The fact that companies are willing to spend big bucks to keep growing is a sign of confidence. It also has investors speculating about who the next takeover targets could be, which further lifts stock prices.
... and bad news is good news
There are still many questions about the health of the global economy. But traders seem to be taking solace in the fact that central banks are acting to address the softness.
The ECB may cut interest rates further. It also could launch even more bond purchases, a round of quantitative easing similar to what the Federal Reserve did a few years ago to help prop up the economy, and by extension, stock market.
China's latest rate cut is yet another sign that leaders of the world's second-largest economy are unlikely to allow this slowdown to spiral out of control and become a recession.
Related: China slashes interest rates again
Then there's the United States.
The Fed was widely expected to finally raise interest rates for the first time since 2006 this year. It didn't do so in September.
There is virtually no chance it will put on its hiking boots at next week's policy meeting following the weak September jobs report.
And there are growing expectations that the Fed may sit tight in December too and hold off on boosting rates until next spring.
It may seem ghoulish (fitting with Halloween a week away) for Wall Street to cheer economic malaise.
But easy money policies from the U.S., Europe and China could keep stocks moving higher for the rest of the year. It's worth remembering too that the fourth quarter is often the strongest for stocks.
"Central banks are back on the front burner globally," Arone said. "And they are all following the same policies. I'm expecting Santa to come to town and we will have a late-year rally."