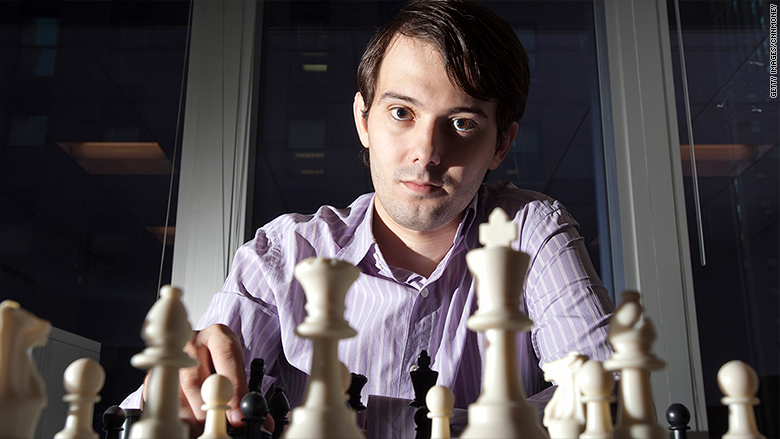 Martin Shkreli, the hedge fund manager who triggered an outcry by putting a 5,000% markup on its lifesaving drug, has gone to war with CNBC.
The Turing Pharmaceuticals CEO started tweeting Donald Trump-like criticisms about the network's low ratings on Thursday, apparently in response to disagreements over a booking.
"CNBC primetime viewership: 226,000. lol. 90% are muted TVs in hedge fund offices," he tweeted. That shot was followed up with a second post that read, "Nielsen numbers to end 2014 show CNBC having its worst ratings since 1995."
According to CNBC host Scott Wapner, Shkreli wanted to come on CNBC to defend another drug company, Valeant Pharmaceuticals, against accusations of accounting fraud. CNBC told Shkreli they would also have to talk to him about the elephant in the room -- his decision to jack up the price of the toxoplasmosis drug Daraprim from $18 a pill to $750 a pill. He said no.
Shkreli tells a slightly different version: CNBC had asked him to come on and talk about Valeant, then said they wanted to talk about Turing Pharmaceuticals as well. "I tell them to pound sand," Shkreli wrote on Twitter.
Shkreli instead went to Fox Business Network on Friday morning, where he defended his price gouging in an interview with Maria Bartiromo.
Shkreli's return to the headlines comes in the same week that rival drug company Imprimis Pharmaceuticals announced it would begin selling Daraprim pills for $1 a piece, undercutting Shkreli's efforts. Imprimis plans to create inexpensive alternatives to other high-priced medicines as well.
Related: Drugmaker offers $1 alternative to medicine that skyrocketed
"We are looking at all of these cases where the sole-source generic companies are jacking the price way up," Imprimis Chief Executive Mark Baum told The Associated Press on Thursday.
In his interview with Bartiromo, Shkreli called the Imprimis announcement a "publicity stunt" that wouldn't threaten his own business.
A CNBC spokesperson did not immediately respond to a request for comment regarding Shkreli's tweets.