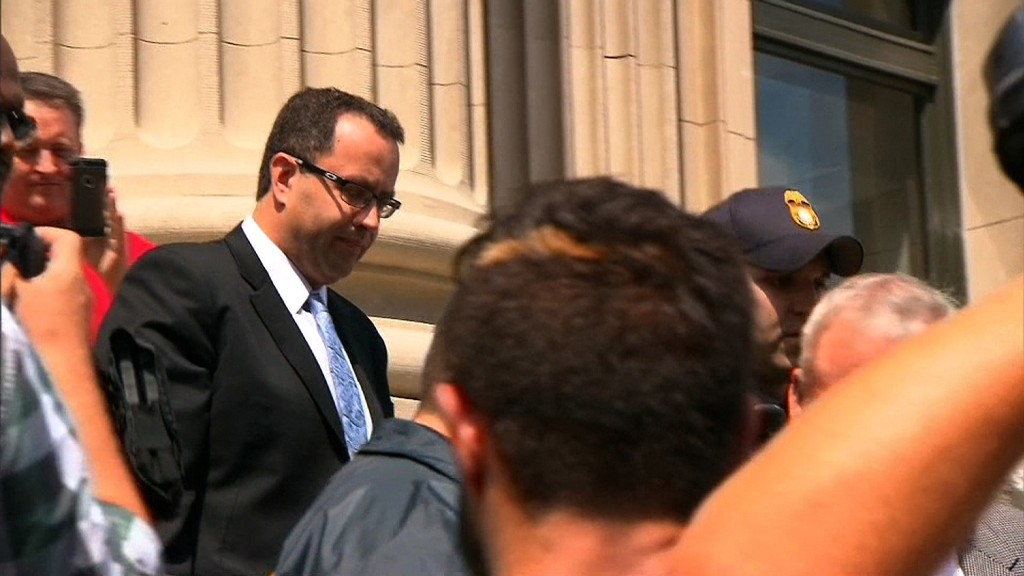 Disgraced former Subway spokesman Jared Fogle has paid out a total of $1 million to 10 of his victims.
Fogle pleaded guilty in August to federal charges of child pornography and having sex with minors. As part of that plea he agreed to pay $1.4 million in restitution to his victims.
Checks for $100,000 have now been delivered to three of those victims who are now adults, as well as to the parents of seven other victims who are still minors, according to Timothy Horty, spokesman for the U.S. Attorney in Indianapolis.
Four more victims will receive their payments pending some administrative details, Horty said, but Fogle has already put those funds into a trust account.
Related: How Jared turned Subway into quiet fast food giant
The victims are allowed to use the funds without any restrictions.
"The spirit is to help make them whole, get any kind of therapy they might need or pay for education expenses," Horty said.
Fogle is scheduled to be sentenced on Nov. 19 and faces between five and 12-1/2 years in prison.
Related: A long history of pitchmen gone bad
"While Jared fully recognizes that such monetary contribution will not undo the harm he has caused, he is hopeful it will assist these individuals as they try to move forward with their lives," Fogle's lawyers said.
Fogle started working as a spokesman for Subway in 2000, and continued to work for the sandwich chain until July of this year. Privately-held Subway has never disclosed what it paid him, but CelebrityNetWorth.com estimates his net worth to be $15 million.