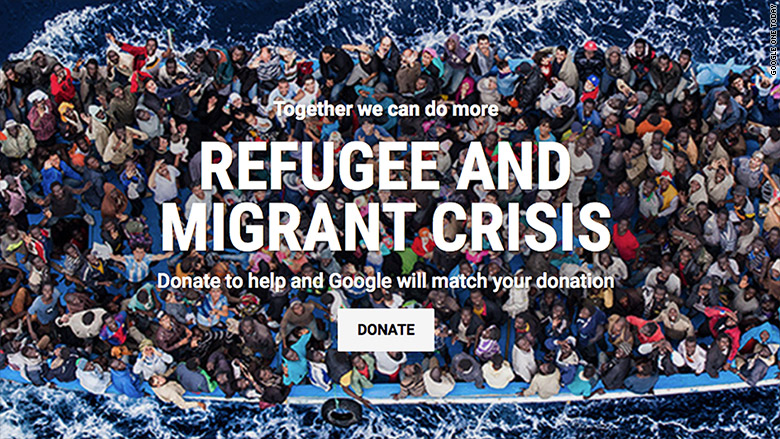 On September 15, Google announced it was raising money to help the refugee crisis in Europe.
Just 48-hours later, the tech company met its goal. It raised $5.5 million in individual donations, then matched that amount for $11 million total.
Now Google is sharing exactly what it did with all that money. It's a combination of Google-y technology projects and something surprisingly low-tech: cash.
Google created Crisis Info Hub, a site where refugees and migrants can go on their phones to get information on transportation, shelter and services when they arrive in a new country. A collaboration with the International Rescue Committee and Mercy Corps, the open-source project has information for Lesbos, Greece, and is adding more areas soon.
It's designed to load quickly and not drain battery power, since most people have phones but not dependable charging options or internet connections.
"Unlike some other disasters, this was one where many of the people in dire need already have phones and are used to using phones to get information," said Jacquelline Fuller, director of Google.org.
Google.org, Google's philanthropic organization, also teamed up with a group called NetHope, which helps provide internet access in emergencies at locations such as refugee camps.
It is working with the UN Refugee Agency to send emergency cash transfers to individuals in Jordan and Lebanon.
"It's actually very rare to give money directly to the poor and let them make decisions on how to spend it," Fuller said.
Earlier this month, Google added Arabic to its visual translation tool. Now anyone with the app can point their phone's camera at text in German or English, like a street sign, and see an instant translation in Arabic.
Google.org invests about $100 million a year into humanitarian projects through grants, and another $1 billion in products every year. After any catastrophe, Fuller's team thinks about the best ways it can help.
"Sometimes that's with cash, sometimes that's with our engineering team, sometimes that's both," Fuller said.
Humanitarian groups have told Google one of the best ways it can contribute is to disperse money quickly and to help with technology. The company is nimble in ways other major donors, such as countries or major development agencies, can't be. For instance, it can quickly send money to organizations on the ground.