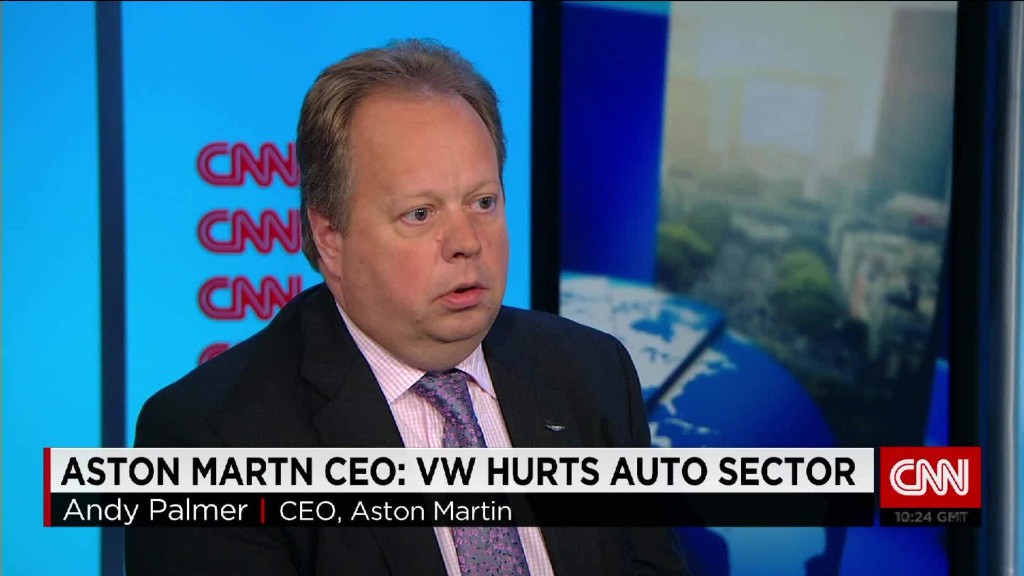 Volkswagen has ceded the title of world's top automaker to Toyota as it struggles to contain an emissions scandal that is likely to dent sales further.
Toyota sold 7.49 million vehicles from January to September, compared to 7.43 million sold by Volkswagen over the same period. Volkswagen had surged past Toyota in the second quarter, but enjoyed just three months as No.1 before stumbling.
Automakers are being challenged by softening conditions in markets such as China and Russia, but Volkswagen (VLKAY) has another problem altogether: the group has been forced to stop selling diesel models in some markets after it was caught cheating emissions tests.
The German carmaker, which also owns the Audi and Porsche brands, has admitted that some of its diesel vehicles had software that could make their emissions look relatively clean during testing and then spew about 40 times the allowed level of nitrogen oxide during real world driving.
Related: Meet 3 angry Volkswagen owners
The scandal happened too late in the month to have a big impact on September sales. But with some models pulled out of showrooms, and the brand damaged, the company will struggle to reclaim the global sales crown from Toyota (TM) in the final quarter of the year.
Diesel models accounted for 20% of Volkswagen's U.S. sales coming into September, and about half of its sales in Europe and other markets. Volkswagen has said as many as 11 million vehicles fitted with EA189 diesel engines could be affected. It has been investigating older versions of another engine, the EA288.
About a fifth of the company's market value has been wiped out since the scandal broke. That means big losses for powerful shareholders such as the Porsche family, Qatar and the German state of Lower Saxony.
Toyota, meanwhile, is among a number of auto firms swept up in a massive recall over possibly faulty airbags. The automaker has recalled millions of vehicles globally on fears Takata airbags installed may explode and send shrapnel flying at drivers and passengers.
-- Chris Isidore contributed reporting.
Related: Volkswagen scandal...in two minutes