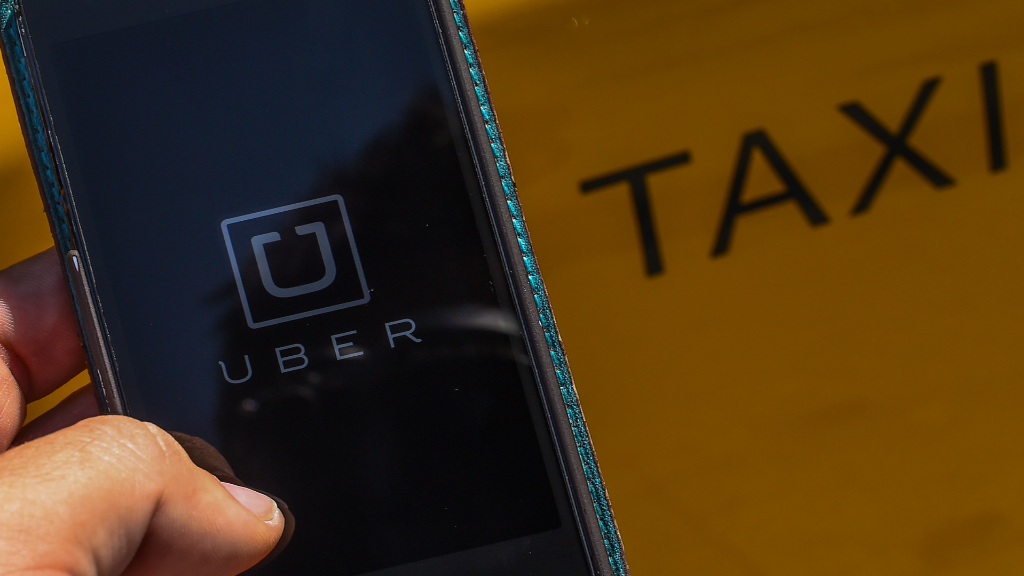 There are 141 so-called unicorns in the world, privately held startups worth at least $1 billion. But there is only one Uber-corn.
Uber is looking to raise another $1 billion from its backers -- and that could make the ridesharing app worth between $60 billion and $70 billion.
$70 billion! For a company that was only founded in 2009. Uber's last round of funding valued it at $51 billion.
That vaulted the company ahead of Chinese smartphone maker Xiaomi (worth $46 billion) to become the world's most valuable startup, according to research from CB Insights.
Related: Uber looking to raise another $1 billion
But to put in perspective just how much $70 billion really is, let's take a look at some of the public companies that have been around for decades, and in some cases more than a century, that aren't worth that much.
Uber has higher valuation than companies that make the cars its drivers use
At $70 billion, Uber would pass the market value of GM (GM), Honda (HMC) and Ford (F) -- three companies Uber CEO Travis Kalanick should thank simply for existing. Ford and Honda are worth about $60 billion, while GM has a market value of around $55 billion.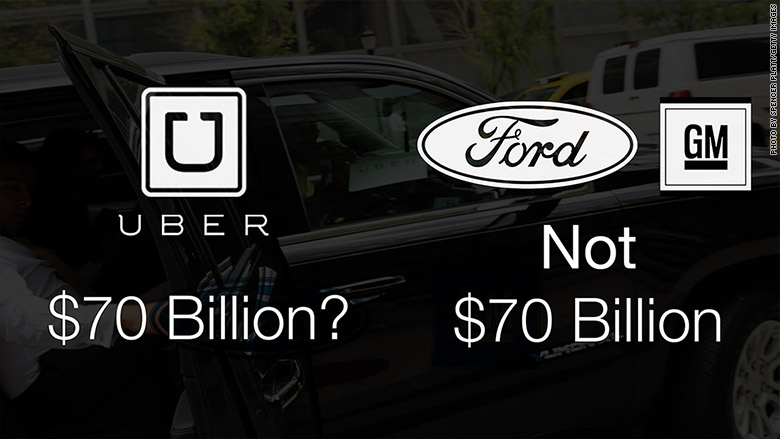 Here are ten other companies that you've probably heard of -- and may do business with more than Uber -- that Uber would pass in market value if its latest round of financing values it at $70 billion.
(Time Warner is the owner of CNN and CNNMoney. It is no longer the parent company of Time Warner Cable.)
Unicorn bubble?
So should Uber really be worth this much? More experts are starting to question Uber's stratospheric valuation ... as well as the values of other startups.
One of Uber's own investors -- venture capitalist Bill Gurley -- recently said at a Wall Street Journal conference that "all these private valuations are fake."
Gurley also was critical of startups for staying private longer and not looking to sell stock to the public.
Related: Prominent VC says unicorn valuations are a myth
But it might be safer to remain private. You have less scrutiny. That mystique helps boost the valuation.
"The structuring around these rounds and the secrecy about details means we really don't know," said Max Wolff, chief economist with Manhattan Venture Partners, an investment bank focusing on late-stage private tech companies.
Wolff said it's clear Uber's revenues are growing quickly and that the company is dominant in many cities where it operates.
But $70 billion?
"It is clear that $70 billion means paying a huge premium despite illiquidity and incomplete information. This is rarely wise in retrospect," he said. "Then again, wise and retrospect are not the frame of thought used by any Uber investors."
What's more, this hasn't been a good year for many startups to go public.
Related: Want to find the next red-hot startup? Look at Twitter
One unicorn, Pure Storage (PSTG), debuted earlier this month. The stock priced at $17 but shares closed below that level on their first day of trading. They have rebounded since then, but are only up 7% from their offering price.
Still, Uber is not your average unicorn. It's much more recognizable than Pure Storage and many of the other $1 billion startups.
Yes, the valuation does seem ridiculous. But so did Facebook's $104 billion market value the day it went public in May 2012.
Nearly three-and-a-half years later, Facebook (FB) is now worth nearly $300 billion.
Venture capitalists are obviously betting that Uber is another Facebook. Time will tell if they are right or not.