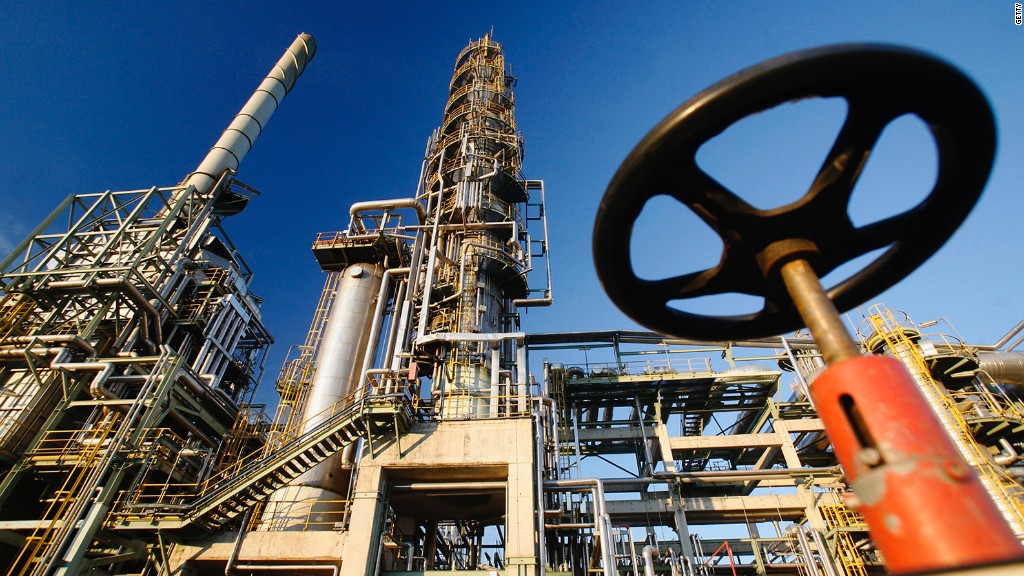 Cheap oil is forcing Saudi Arabia to think the unthinkable -- cutting government subsidies on gas.
Drivers in Saudi Arabia get massive discounts on gas, paying less than 10% of average prices in Europe, according to the International Energy Agency.
But that perk costs the Saudi government enormous amounts each year.
A report by the International Monetary Fund last year estimated that Saudi Arabia spends about 10% of GDP -- roughly $60 billion -- subsidizing gasoline, diesel, electricity and natural gas.
A Saudi government source confirmed reports that domestic energy prices could rise.
"There's no decision, but it is being studied," the government source told CNN.
The IMF has been calling for months for Saudi Arabia to review energy subsidies as one way of getting control of a budget deficit that will balloon to 20% of GDP this year due to the collapse in oil revenues.
And the IMF had a stark warning for the kingdom last week -- if oil stays around $50 a barrel, it will exhaust its reserves of cash within five years.
Related: Saudi Arabia is facing a cash crunch
Huge budget surpluses are quickly swinging to massive deficits as oil prices have crashed to around $45 from over $100 last year. Many oil exporters, including Saudi Arabia, are being forced to tap into rainy day funds to weather the storm.
Saudi Arabia needs to sell oil at around $106 to balance its budget, according to IMF estimates.
Related: Infographic: Cheap oil is crushing these Middle Eastern countries
That's why it is moving fast to preserve its rapidly shrinking war chest of $700 billion. The country raised $4 billion by selling bonds earlier this year, and it has yanked up to $70 billion from asset management firms like BlackRock (BLK)over the past six months.
Experts say Saudi Arabia is unlikely to jack up taxes, but will have to cut some spending.
It will have to tread carefully to avoid stoking political instability.
"With oil prices where they are and Yemen and Iraq as troubled as they are, you have to wonder about the stability of Saudi Arabia itself," said Ian Bremmer, president of the Eurasia Group. "It is the single biggest question that has to be upsetting people."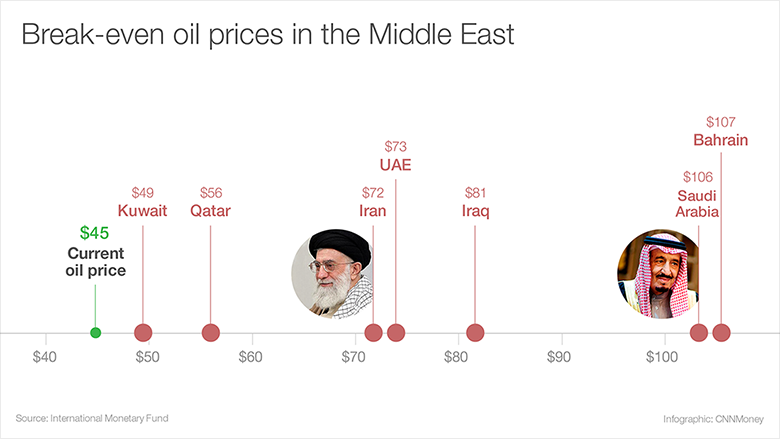 -- Matt Egan contributed to this article.