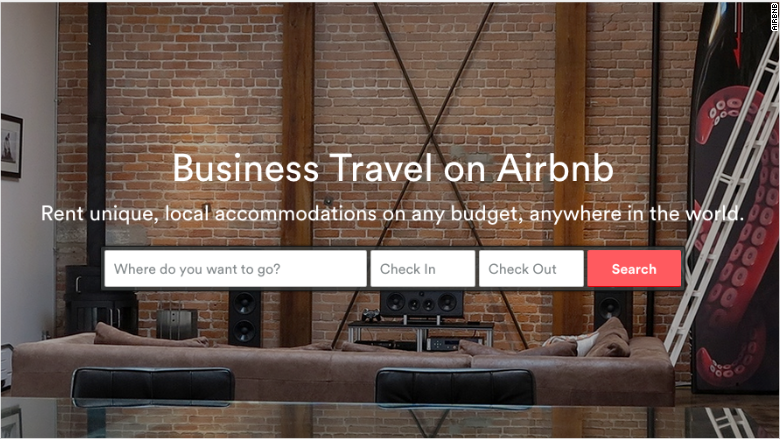 Airbnb is so hot that it's now worth more than the hotels whose business it's disrupting.
Its growth has been so explosive that even giant hotel company Hilton is compelled to assure investors about why it is not worried about Airbnb's rising popularity.
Hilton CEO Christopher Nassetta said Airbnb cannot match the amenities that its hotel rooms come with.
"I strongly do not believe that they are a major threat to the core value proposition we have," Nassetta told analysts on Wednesday after his company reported strong results.
In just seven years Airbnb has morphed into a global hospitality marketplace used by more than 60 million people in 190 countries.
No wonder investors are gushing over Airbnb, rewarding the startup with a remarkable $25.5 billion valuation over the summer. That's more than triple what Hyatt Hotels (H) is valued at and even a bit richer than the market caps of either Marriott (MAR) ($21 billion) or Hilton Worldwide (HLT) ($25 billion).
Related: 'Crazy money' Airbnb valued at north of $25 billion
Airbnb isn't stealing our guests
But Hilton is confident Airbnb isn't stealing away its hotel guests.
Nassetta said his company has done "a lot of thinking and work" on the potential Airbnb threat, including paying for independent analysis. It found that the bulk of the new demand Airbnb has created is in top urban markets, where there's a lot of demand for rooms.
Those Airbnb travelers stay for longer and are largely focused on leisure and value. That includes "staycations where customers are willing to accept inconsistent product with very limited services," Nassetta said.
"I think it's extremely hard for them to replicate what we're doing," he said.
Related: Uber is raising ANOTHER $1 billion
Airbnb's business travel has grown 700%
Yet Airbnb has ambitions to lure away the lucrative corporate travelers who have become fixtures in hotels. In July Airbnb launched a global product suite for businesses aimed at making it easier for employees and travel departments to book trips on the site.
Airbnb said its business travel program has experienced 700% growth over the past year. The platform has signed up more than 250 companies, including Google (GOOGL) and SoundCloud.
Hilton said it's keeping a "watchful eye on Airbnb," but sees little risk of losing coveted business travelers.
"As we speak to our largest corporate clients, we're confident that Airbnb will not satisfy a meaningful piece of their demand," Nassetta said.
Related: Bill Gurley: 'All these private valuations are fake'
Hotels have more amenities
Nassetta said he think it's "relatively impossible" for Airbnb to overcome some of its more obvious challenges such as a lack of amenities that some customers expect when traveling.
Of course, Hilton doesn't dismiss Airbnb entirely.
"I think it is a good business. It will be around. I just think it's serving a different kind of need," Nassetta said.
Hilton's profits soar, but stock struggles
So far Hilton seems to be weathering the Airbnb storm just fine. The hotel chain posted a 51% jump in third-quarter profits thanks to strong demand.
Like other hotels, Hilton is capitalizing on the stronger U.S. economy and relatively low supply of hotel rooms. Hilton said its global occupancy rate climbed last quarter to nearly 80%.
But Hilton shares fell 2% on Wednesday after saying demand for rooms in October was less than stellar. That leaves Hilton shares down 20% over the past year.
Shares of rival Starwood Hotels (HOT) surged amid reports that the hotel chain is the subject of separate takeover attempts from rival Hyatt as well as three different potential suitors from China.