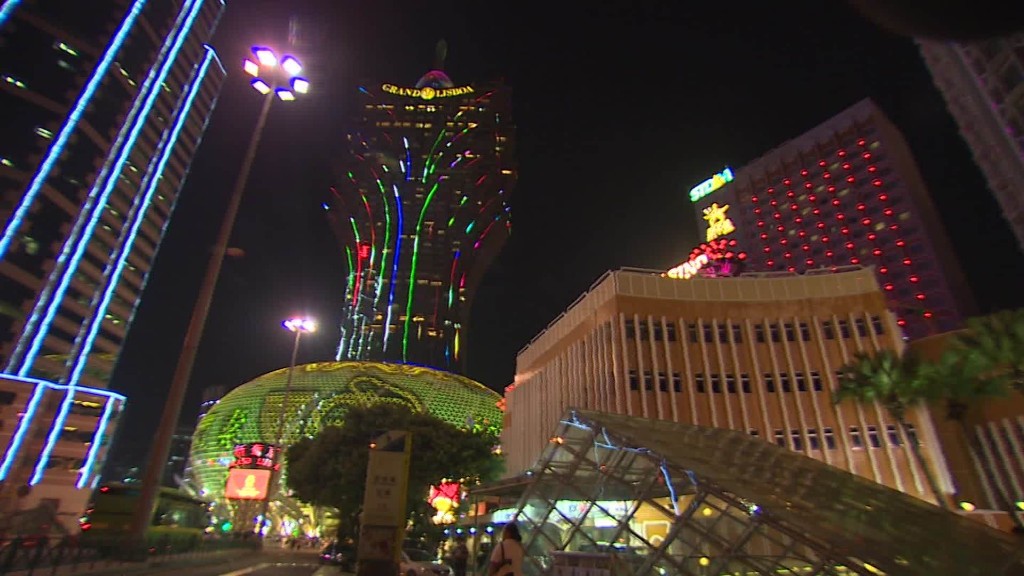 Macau is trying desperately to diversify its economy away from gambling, but a leading casino magnate says the territory should be careful about going too far.
"As bad as it sounds, I don't think there's a future for just a pure non-gaming resort in Macau," said Lawrence Ho, who opened his latest multi-billion dollar Macau resort on Tuesday.
The resort, called Studio City, is located on the territory's Cotai Strip. Ho said that only 5% of its facilities are dedicated to gambling, but baccarat and blackjack are still the lifeblood of his business.
"The truth is: gaming is really the financial engine," Ho said. "Yes, you can have these great integrated resorts, but without the gaming component the math doesn't work."
Macau, like Hong Kong, is a Special Administrative Region of China. It is also the only place in China where gambling is legal. Since 2002, its casino industry has grown to dwarf that of Las Vegas.
Related: Macau's gambling industry dwarfs Vegas
But now, VIP gamblers are avoiding Macau because of an intense anti-corruption campaign in Mainland China that has made them wary of visiting casinos. The industry is also taking a hit from new government rules.
Macau's government has put a cap on the number of tables allowed at new casinos. The hope is that casino operators respond by adding entertainment and leisure options, which currently lag far behind the glitz, glam and family fun offered in Vegas.
The table cap has drawn sharp criticism from industry heavyweights, most notably Wynn Resorts founder Steve Wynn, who called the policy "preposterous".
Macau, meanwhile, is mired in recession, and plunging gaming revenue has made its economy the world's worst performer this year.
But Ho and business partner James Packer, who have plowed more than $10 billion into Macau over the past nine years, aren't phased.
"We've reinvested nearly every cent," Packer said. "We've taken out maybe $30 million in dividends over 10 years. And we want to keep reinvesting."
Their bet is clear: Macau has had a rough ride, but the glory days aren't a thing of the past.
Related: Macau desperately needs to diversify