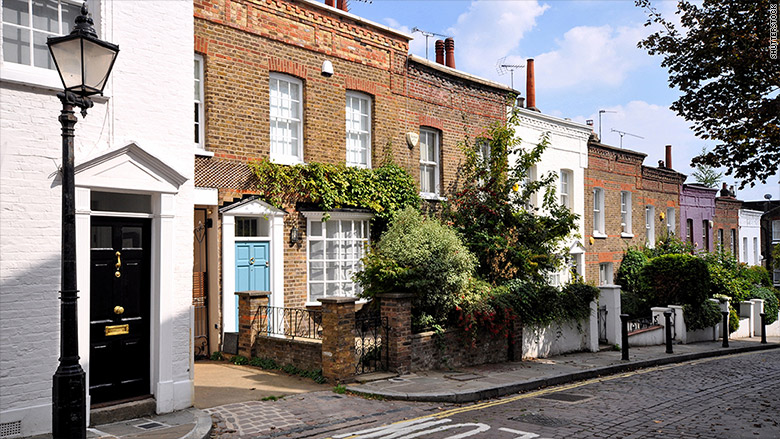 If you like the idea of buying a house in London, be prepared to pay up.
The average house price in London reached £499,997 ($766,053) in September, the U.K. government said. That's 9.6% more than a year ago, and twice as much as anywhere else in the U.K.
London is struggling with rising housing prices, making home ownership difficult or even impossible for many average Londoners. Median annual salary in the British capital was just over £34,000 ($52,106) last year, official data show.
The population is growing rapidly -- it surpassed the pre-war record of 8.6 million people in February, and is expected to continue expanding. The population is forecast to reach 9 million by 2021 and 11 million by 2050.
Related: Who owns London's landmarks?
Developers are not able to keep up with the growing demand. Analysts say around 50,000 new homes need to be built in London to satisfy the demand. But data from London authorities show that less than half of that was built in both 2014 and 2013.
An influx of foreign buyers is adding fuel to London's property boom, with Qatari, Chinese and Russian investors among the big spenders.
London isn't the only global city becoming unaffordable. The average price of an apartment in Manhattan climbed to $998,000 in the third quarter -- a nearly 10% increase from a year ago, according to the latest report by real estate appraisal firm Miller Samuel for Douglas Elliman Real Estate.