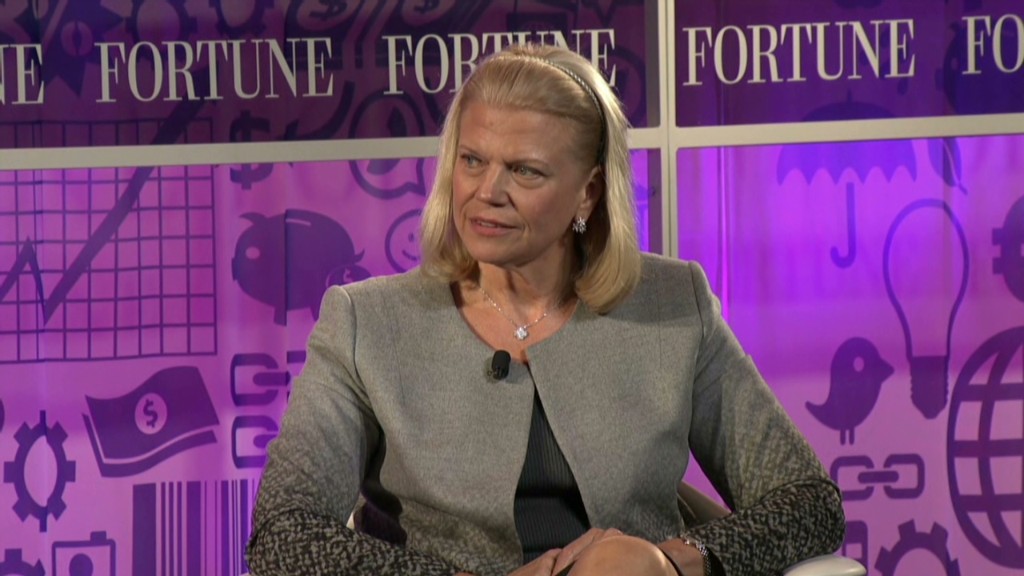 IBM and the Weather Channel. A match made in ... huh?
Hang tight. It actually makes sense.
IBM announced Wednesday that it has purchased the Weather Company. It is essentially buying everything except the actual TV network. IBM is taking the Weather Company's digital assets, including the uber-popular Weather Channel mobile app, weather.com, and -- most crucially for IBM -- all the company's forecasting data and technology.
"Big data" may be a buzzword, but it's IBM's bread and butter. And the Weather Company has boatloads of it.
Weather data isn't as trivial as it seems. It's one of the most-looked-up pieces of information that businesses and consumers rely on. You obviously care about what to wear every day. But many businesses rely on weather data to maximize profits.
Drug companies and pharmacies rely on weather forecasts to predict when to increase supplies of allergy medications. And agriculture companies use weather data to maximize crop yields. Monsanto (MON), for example, purchased weather data company Climate Corp. for nearly $1 billion in 2013.
Having access to the right data could mean millions of dollars in increased sales.
Related: Sam Champion loses show in major Weather Channel shakeup
Through a business unit called WSI, the Weather Company licenses its data to businesses across many industries, including media, aviation, energy, insurance and public utilities. It also provides weather data for Google and Apple (AAPL). And it owns the largest commercial meteorological database in the world, along with massive facilities that collect radar, satellite, and other weather information.
WSI says it processes 100 gigabytes of weather information each day.
Data processing for corporate customers? Large-scale information-collecting machines? Sounds like a job for IBM!
IBM's love affair with weather isn't new. The company partnered with the U.S. National Oceanic and Atmospheric Administration in April to bring weather information to provide forecasting and climate change data to its customers. Google (GOOGL), Microsoft (MSFT) and Amazon (AMZN) have also partnered with NOAA.
The Weather Company is owned by two private equity firms and Comcast's (CMCSA) NBCUniversal division. They acquired it for $3.5 billion in 2008.
The cable channel has struggled with low ratings in recent years, and the company announced a new digital-first strategy in September. Star weatherman Sam Champion lost his morning show, and the channel culled 50 jobs.
The Weather Channel television network will continue to be owned by Bain Capital, Blackstone and NBCUniversal. It will operate as a standalone business that will license weather forecast data and analytics from IBM.
"We believe a bright future lies ahead for the television business as the most trusted source of weather information," said Dave Shull, head of The Weather Channel Television Network
Interestingly, Weather Company CEO David Kenny spoke Monday at a big data conference ... hosted by IBM.
The two companies entered into a partnership in March. The Weather Company shifted its data services to IBM's cloud platform, and IBM began to use Weather Company data to provide insights for data scientists, business professionals and software developers.
On Sunday, IBM (IBM) and the Weather Company announced a partnership with Twitter to gain weather insights from social media.
The companies did not disclose the financial terms of Wednesday's deal.