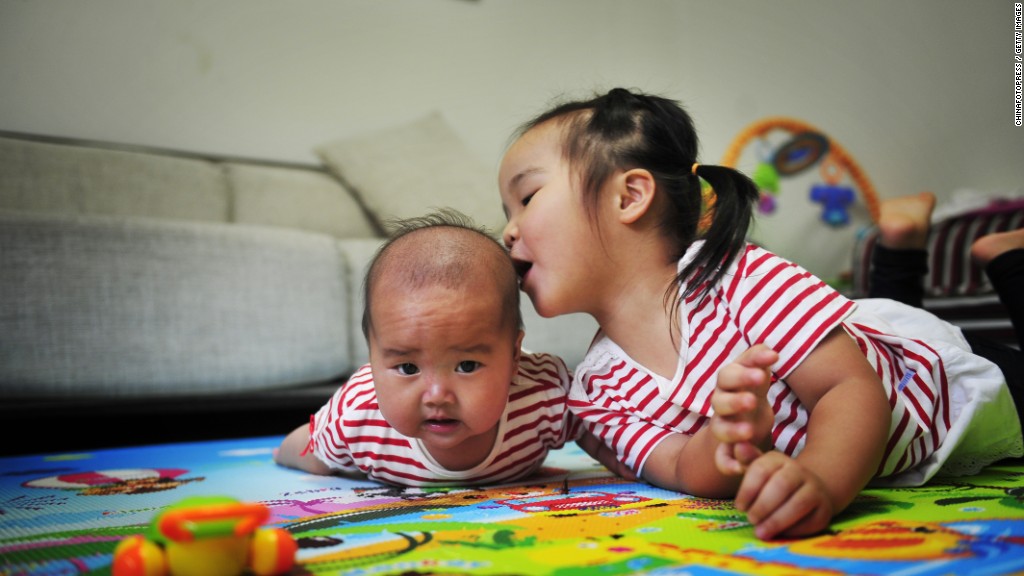 More babies in China could mean a lot more babies drinking baby formula.
And that could be great news for Mead Johnson Nutrition, the company that makes Enfamil -- one of the leading baby formula brands in China.
Shares of Mead Johnson (MJN) rose 4% Thursday after China announced it was ending its one-child policy.
Mead Johnson generates nearly a third of its sales from China, making it the company's biggest market. About a quarter of its revenue comes from the United States.
But sales in China have slumped recently though due to the slowdown in its economy.
The Chinese government has also been encouraging more mothers to breastfeed their children.
Sandra Yu, Mead Johnson's general manager for China, said during a conference call with analysts last week that price discounts from competitors was another reason for the weakness.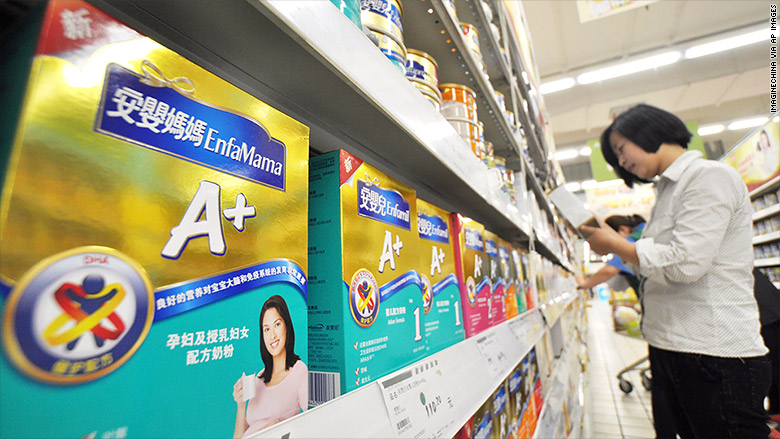 Related: China ending one-child policy
But she added that this won't last forever. She said Chinese consumers have tended to pay a premium for brands they trust -- especially since there have been several cases over the past few years, where the safety of Chinese-made baby formula has been called into question.
"Chinese consumers will continue to be willing to pay a high price for high quality products," Yu said. "Price discounting activity should continue in China, given the softening economy and heavy competition. But over the long run, this should subside over time."
Related: Why China's two-child policy is no silver bullet for its economy
A spokesman for Mead Johnson said the company "will be carefully monitoring" the new developments in China. But the announcement did not take Mead Johnson by surprise.
"It appears to be just a natural next step in the gradual process of relaxation of China's one-child policy that we have seen over the last five to eight years," the spokesman said.
Mead Johnson competes with European food and dairy giants Nestle (NSRGF) and Danone (DANOY) in China as well as several domestic makers of baby food.
So Nestle, which has also reported sluggish sales in China lately, and Danone could benefit from China's new two-child policy.
According to estimates from research firm Euromonitor International, baby formula sales in China are expected to double in the next five years -- from $19.9 billion this year to $40.6 billion in 2020.
"Consumer goods companies can benefit from an expected baby boom in the coming years," wrote Euromonitor analyst Media Eghbal in a blog post Thursday morning.
Other companies that could see a boost? Diaper makers Procter & Gamble (PG) (Pampers) and Kimberly-Clark (KMB) (Huggies.)
China is the second-largest market for both of them, but these consumer product giants are much more diversified than Mead Johnson.