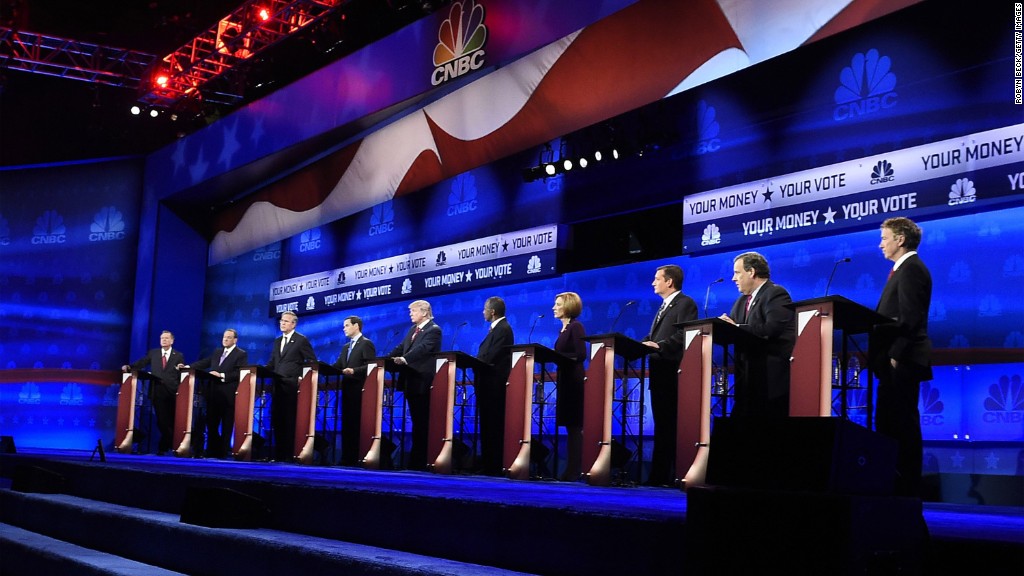 Among the fiercest critics of CNBC's debate telecast on Wednesday night were its rivals at Fox News.
Fox is hosting the next GOP debate, on November 10, on its smaller sister channel Fox Business.
Implicit in some of the criticisms was a marketing message: "We'll put on a better, fairer debate."
As the CNBC moderators hobbled to the finish line, Fox Business anchor Neil Cavuto, who will be co-moderating the next one, asked people to retweet him "if you think Fox Business and WSJ will put on a better debate than this."
He picked up 1,600 retweets -- exponentially more than he usually gets.
Complaints about the CNBC production gave Fox an opportune moment to promote its upcoming forum.
"After this biased CNBC debate, when Americans want business news, they'll watch Fox Business," Fox morning host Steve Doocy tweeted.
"Bring back Fox News," the network's White House correspondent Ed Henry wrote.
Of course, there were plenty of people outside Fox saying the same thing on social networking sites.
Both Fox and CNN were praised for their management of earlier GOP debates in August and September.
Related: CNBC's debate fell well short of Fox and CNN in the ratings
CNN has another debate on December 15. Fox's chance is coming much sooner -- it's less than two weeks away.
Fox Business is younger and smaller than CNBC. The channel is trying to grab market share from CNBC, and the dueling business-oriented debates could help.
Cavuto, Maria Bartiromo, and Journal editor in chief Gerard Baker will moderate the prime time debate. The invitation criteria came out earlier this week.
Here are some of the comments from Fox hosts, reporters and commentators during the CNBC debate: