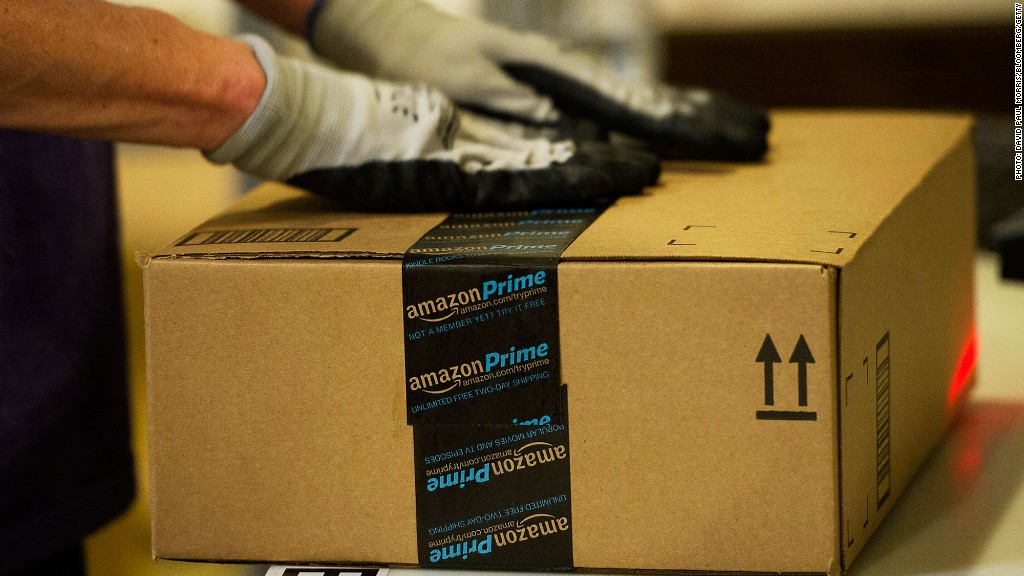 Meet the new Fab Five: Apple, Google, Microsoft, Amazon and Facebook.
These tech giants are every bit as phenomenal as the fabled University of Michigan basketball team from the early 1990s. (I miss the baggy, yellow shorts and black socks!)
They are now collectively worth $2.2 trillion.
Apple (AAPL), Google parent Alphabet (GOOGL) and Microsoft (MSFT) are the three most valuable companies in the United States.
Amazon's market cap is now neck and neck with GE (GE).
If Amazon passes GE, it will become the sixth most valuable company. Facebook is not far behind Amazon and GE either. All three are each worth slightly less than $300 billion.
Facebook reports earnings on November 4. If they're as good as the results from Apple, Alphabet, Microsoft and Amazon, the stock could easily surge to new highs.
Related: Big Tech gets its sexy back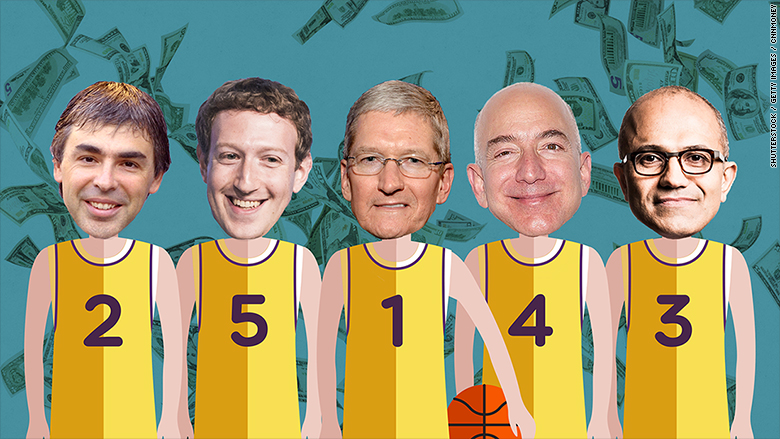 So let's assume, for the sake of argument, that Facebook and Amazon both top GE soon. Even though GE is having a solid year, Amazon and Facebook have more momentum right now.
Who would be next for Amazon and Facebook to pass?
Exxon Mobil's (XOM) market value is currently about $346 billion while Warren Buffett's Berkshire Hathaway (BRKB) is worth nearly $340 billion.
Could Amazon and Facebook surpass them to move into the top five anytime soon?
It's possible -- especially if oil prices don't improve soon and Buffett's investment portfolio -- loaded with market dogs like IBM (IBM), American Express (AXP), Procter & Gamble (PG) and Walmart (WMT) -- continues to lag the broader market.
What does it say about our nation's economy if we wind up with five tech stocks as the most valuable? Should investors be nervous that this is another bubble about to burst like in 2000?
Perhaps.
Facebook is not yet in its tweens. It was founded in 2004. Google (birth date: 1998) is a surly teenager that just changed its name. And Amazon is barely old enough to be of legal drinking age. It turned 21 in July. (Yes, I'm anthropomorphizing stocks. Deal.)
Still, there is no denying that Apple, Google, Microsoft, Amazon and Facebook are among the five most important companies for many businesses and consumers.
Related: Apple's profit soars 31% thanks to strong iPhone sales
And their market valuations aren't so out of whack with reality when you look at their expected sales -- as well as their pristine balance sheets.
These five tech giants are expected to post combined revenue of nearly $600 billion in their next fiscal year. They have more than $406 billion in cash (granted, half of that belongs to Apple) and very little debt.
But it's also worth remembering that things have a tendency of changing in the market and economy. Sectors and companies fall out of favor.
Ten years ago, Microsoft was the only tech company among the 10 most valuable in the United States, according to data from FactSet Research.
Some of the other firms that were in the top ten in 2005? Citigroup (C), Bank of America (BAC) and AIG (AIG).
So tech's Fab Five are going to have to keep innovating and growing to stay among the market leaders.