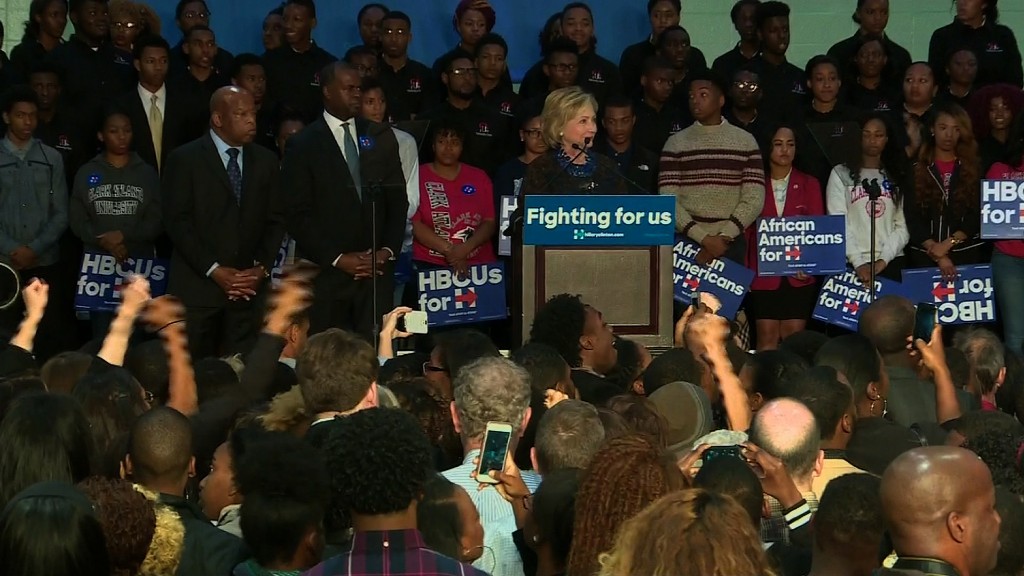 Hillary Clinton is moving closer to the left on issues of criminal justice reform, but it may not be enough for activists in the Black Lives Matter movement who say they want more than rhetoric from the presidential candidate.
Clinton took to Twitter on Friday to post quotes from a speech she had given to kick off an "African Americans for Hillary" event at Clark Atlanta University, where she called for reforms including a end to private prisons "Protecting public safety...should never be outsourced or left to unaccountable corporations." Clinton tweeted.
Racial justice advocates had criticized Clinton's campaign after it had been accused of accepting contributions from private prison lobbyists. Aurielle Marie, a black activist and founder of the racial justice group #ItsBiggerThanYou, said activists raised the issue at a private meeting with Clinton earlier this month. Clinton's campaign has agreed to stop accepting such contributions.
On Friday, stocks for Corrections Corporation of America (CXW) and Geo Group (GEO), two of the largest private prison companies in the United States took a tumble.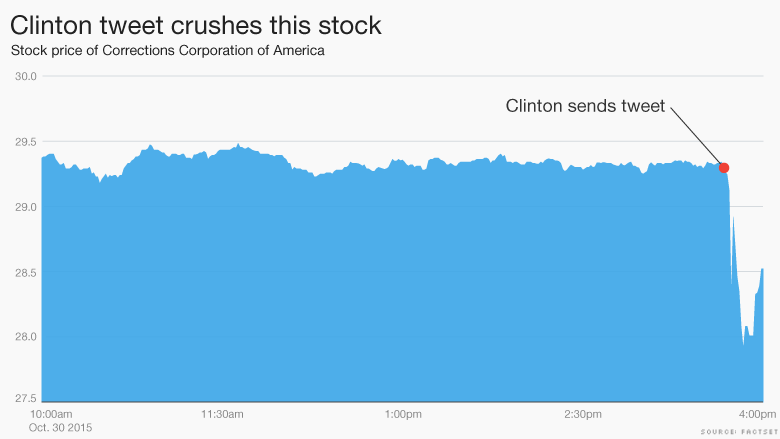 Clinton's announcement came one month after Bernie Sanders and other Democratic leaders in the House introduced a bill to ban private prisons all together.
"We cannot fix our criminal justice system if corporations are allowed to profit from mass incarceration," Sanders said in a statement introducing the bill.
On Friday, Clinton also tweeted about ending "the era of mass incarceration," eliminating "the disparity in sentencing between crack and cocaine, which disproportionately impacts African Americans," and supporting legislation that would prevent employers from asking about an applicant's criminal history, commonly known as "ban the box."
Despite language that shows that Clinton is getting the activist's message on racial justice issues, Marie and other activists were hesitant to throw their full support behind the Democratic front-runner.
"Rhetoric does not save my life. Rhetoric does not protect our children from being assaulted in the school system," Marie said. "What we need from Hillary Clinton is a dedication to the issues that Black Lives Matter has brought to her feet."
Marie said she hoped to see Clinton introduce legislation around issues including criminalizing racial profiling and mandating cultural competency training for police officers around the country.
Marie also said she supported the protesters who interrupted Clinton's speech on Friday. "They are trying to escalate and accelerate the conversation," Marie said of the protestors who began chanting "black lives matter" a few minutes into her speech.
Johnetta Elzie, an activist with the group Campaign Zero, said that many of the issues Clinton spoke about, including racial profiling and ending private prisons, had already been addressed by other candidates. On Friday, Elzie tweeted that Clinton's "baby steps towards addressing racial justice in a real way aren't working. She's lagging behind her competition, Sanders."
Patrisse Cullors, an activist and co-founder of the #BlackLivesMatter hashtag, said that while Clinton's position on mass incarceration in black communities was "important and necessary, I'd like to hear her speak about the issues affecting all Black people not just a focus on Black men."
Cullors called for a specific focus on how police brutality and mass incarceration impact Black gay and straight women and the black transgender community. Cullors said she hoped that the Democratic National Committee would "finally sanction" a Black Lives Matter debate. According to the Washington Post, both the Democratic and Republican National Committees said they would support a town hall to address issues important to the activists but declined to alter their formal debate schedule.