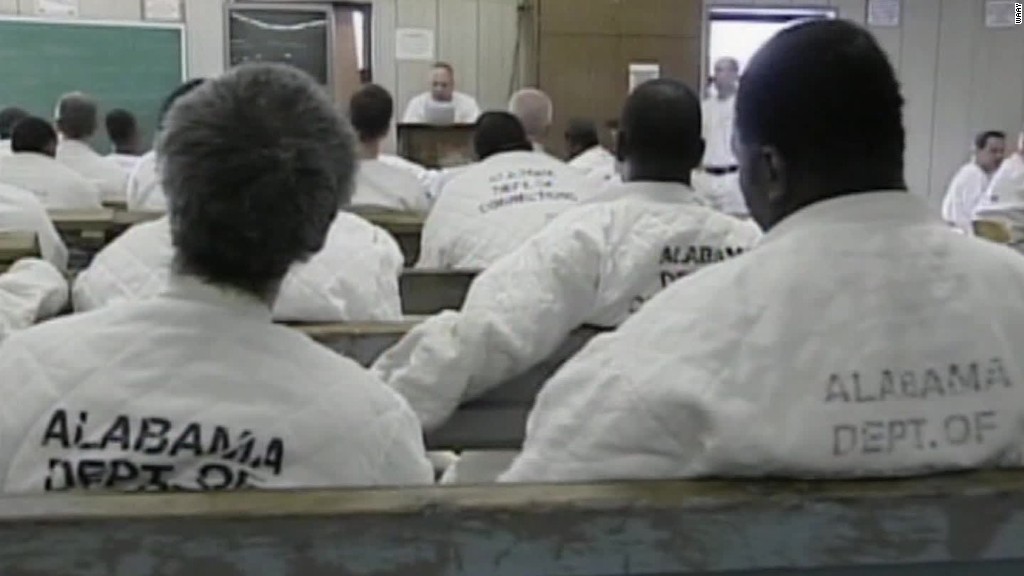 Over the next few days, the Federal Bureau of Prisons will release nearly 6,000 inmates from prisons across the country in an effort to help decrease overcrowding and reduce the time served for those who were given harsh sentences for drug-related crimes.
But once on the outside, many of them will join the growing number of former inmates struggling to find work and get ahead.
"We have a problem that is so huge, this is like Hurricane Katrina," said Michael Hannigan, the president and co-founder of Give Something Back Office Supplies, a company that hires ex-offenders. "Normal market mechanisms are not going to be enough to help all of these people that are coming out of prison [to] transition."
Former inmates often face enormous challenges finding work after they've been released: not only have many of them been out of the workforce for years, but often their criminal record prevents them from even getting their foot in the door in the first place.
A recent survey by the Ella Baker Center for Human Rights found that 76% of former inmates said finding work after being released was difficult or nearly impossible. Nearly two thirds of the respondents were unemployed or underemployed five years after being released from prison.
Imprisoned by "the Box"
At 41, John Jones has spent one third of his life behind bars. His first bid came at the age of 16, when he was sentenced to eight years in a prison for young offenders for being in a car during a drive by murder. He was released in December 1998 and within two weeks he found a job working as a warehouse shipping clerk.
For Jones, a big part of landing that job was being able to meet the hiring manager in person. "When you have the opportunity to sit down face-to-face for an interview, you have more of an opportunity to get a job," Jones said.
But in July 2012, after Jones served five years in prison on an assault charge -- his second stint behind bars -- he faced another hurdle: the box on the online job applications that told employers he had a felony conviction in his past. While he had seen the box sporadically on applications in the past, it was now everywhere he applied.
Jones applied for jobs as a shipping clerk, forklift driver, retail associate and even contacted multiple temp agencies desperately looking for "any type of job."
No one called him back.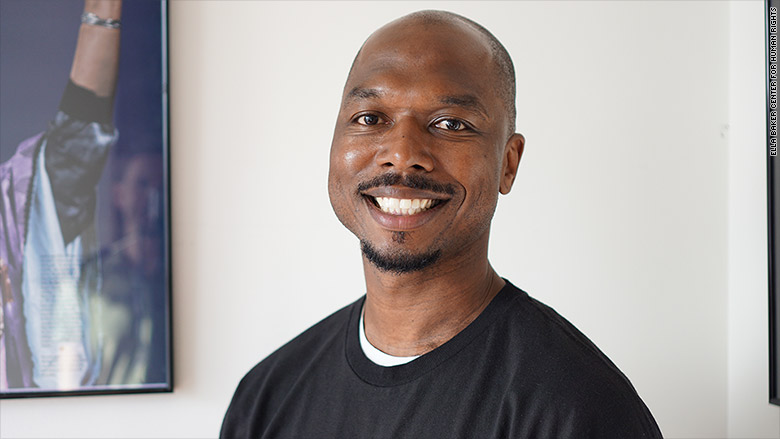 Jones was unemployed for 18 months doing "whatever it took," to get by, even occasionally "going back to hustling," he said.
He finally landed two part-time jobs, one working security at a fast food restaurant and another as a server at an Indonesian restaurant. In February, he had just started working at a non-profit organization with victims of violent crime when he was arrested again for a parole violation -- one that Jones says he was not aware of.
In August 2015, soon after he was released, Jones started working at The Ella Baker Center as criminal justice advocate.
Many employers have a mental block against hiring people with criminal records, said Philip Genty, the director of the Prisoners and Families Clinic at Columbia Law School. "You can almost look at incarceration as a contagious disease," Genty said. "Once somebody has that taint, they are just looked at differently. It's not even at the rational level."
Hannigan of Give Something Back Office Supplies said many employers "assume that everybody that comes out of prison is Charles Manson," when the opposite is often the case.
Researchers from the Harvard Kennedy School who followed 122 men and women who had been released from the state prison in Massachusetts found that six months to a year after their release, just over half of the group had found a job. Data from the New York State Division of Parole showed that only 36% of able-bodied parolees who had been out of prison for 30 days or more were employed in 2014.
Related: Costly prison fees are putting inmates deep in debt
The issue of finding employment for those with criminal histories is further compounded by race, especially because black and Latino men represent 59% of the 1.6 million men in U.S. prisons.
In addition, research by Devah Pager, the author of Marked: Race, Crime, and Finding Work in an Era of Mass Incarceration, showed that white job applicants were more likely than blacks to get a response from an employer, regardless of whether the white applicant had a criminal history. Perhaps most striking was the finding that whites with criminal histories were more likely to be called back by an employer than blacks without a criminal history.
Over the past few years, efforts to ban questions that ask about a job applicant's criminal history, collectively known as "Ban the Box," have gained bipartisan support and steady momentum around the country. So far, 19 states, including New York and California, have implemented policies prohibiting employers from asking about an applicant's criminal record.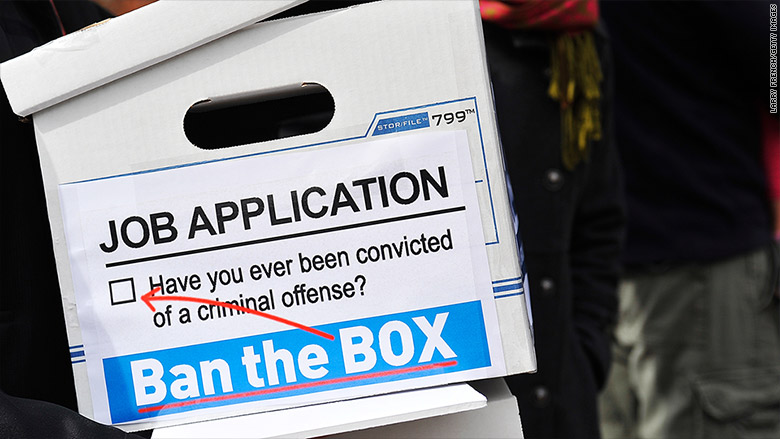 The efforts are mainly directed at getting people with criminal backgrounds to that critical face-to-face interview before a background check is conducted and weeds them out of the running.
Criminal justice advocates, including Jones, say it's an opportunity that many people with criminal records find hard to come by today. Having a criminal history can sometimes make it feel like "your application goes into a black hole," he said.
Broadly, employers cannot discriminate against people with criminal backgrounds, said Michelle Natividad Rodriguez, a senior staff attorney at the National Employment Law Project. But if a former inmate feels they have been discriminated against because of their criminal history, they may have a hard time filing a lawsuit against the employer unless they can prove a racial bias, Rodriguez said.
Related: Biloxi accused of running a "modern-day debtor's prison"
In 2013, the Equal Employment Opportunity Commission filed a lawsuit against BMW alleging that black workers were being disproportionately screened out of jobs at the auto maker's Spartanburg, South Carolina, production facility due to criminal background checks.
After hiring a new contractor to take over logistics at the facility, BMW required the contractor to perform criminal background checks on all employees who reapplied for their jobs, the EEOC's investigation found. The screening excluded from employment anyone who had been convicted of either misdemeanor or felony crimes no matter how long ago the conviction took place. Roughly 100 workers failed -- and nearly 80% of them were black, the EEOC said.
In September, the EEOC announced a $1.6 million settlement with BMW. The luxury car maker has since voluntarily changed its criminal background check guidelines.
Another route out
For some former inmates, the answer to getting ahead after prison is to bypass the interview process altogether and start their own business. Defy Ventures, a New York-based organization, offers formerly incarcerated people training on how to become entrepreneurs, including everything from basic etiquette to how to do a cost-benefit analysis, said Catherine Hoke, Defy's founder and chief executive.
Participants then compete for funding in a "Shark Tank"-style pitch session. Hoke said the program aims to help formerly incarcerated people "transform their illegal hustling skills into a legal hustle using entrepreneurship as a tool."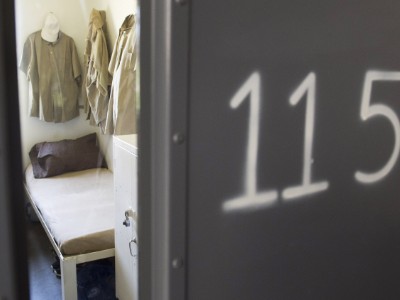 At a recent Defy pitch session in a New York City loft, Ilene Terrell, who served five months in prison, stood in front of a panel of tech executives and entrepreneurs and pitched her business idea: a food truck selling gourmet waffle sandwiches. Gerald Alvarez, who served two and a half years, wanted to start a hair weave distribution company. Eric Jarvis, who served six months, had an idea for a shuttle service that would help transport families visiting loved ones in prison.
The judges listened intently to nearly two dozen pitches. They offered advice on how to make the pitches stronger and pressed participants with questions like what they expect in revenue and how their business would stand out against competitors. Such no-nonsense training has helped Defy build and get funding for 112 businesses, said Hoke.
Related: Obama to offer Pell grants to prisoners
While not all Defy businesses succeed, Hoke said, "the majority of our businesses succeed on some level." While some Defy graduates need to hold down another job while running their business on the side, others are able to live off of the income their business generates and some are able to hire employees, said Hoke.
One of the biggest success stories to come out of the program is ConBody, which offers fitness bootcamp classes. ConBody was created by Coss Marte, a 29 year old former drug dealer and Defy Ventures graduate who modeled his fitness program on the workouts he did while in prison. Like many Defy graduates, Marte employs other ex-offenders as trainers.
"That's what gives me the most joy," said Marte, who has been running his business for 20 months. Yet, he admits, running a business can come with its own set of challenges -- especially for some former inmates who may not have the discipline needed to keep their business going. "It's not for everybody," Marte said. "Some people just need a job."