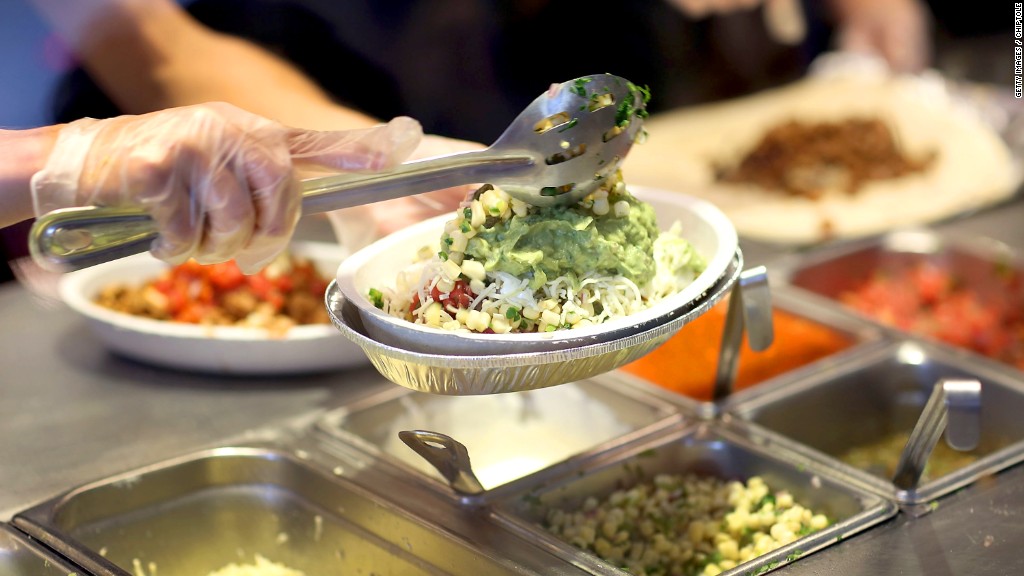 Chipotle temporarily closed dozens of its restaurants in Washington and Oregon to help stem the damage from an E. coli scare.
Chipotle's stock fell as much as 5% after the stock market opened on Monday.
There is no timetable for when the stores will reopen, which means Chipotle (CMG) could lose some sales and customers in the Pacific Northwest.
Twenty-two cases of E. coli were reported in Washington and Oregon. Eight people have been hospitalized, according to the Washington State Department of Health.
Six Chipotle locations were linked to the outbreak and the chain chose to close 43 of its locations in the two states.
Related: Chipotle closes dozens of stores related to E. coli scare
"We immediately closed all of our restaurants in the area out of an abundance of caution," said Chipotle spokesman Chris Arnold in a statement.
The store closures come at a time when Chipotle grapples with slowing sales growth. The restaurant chain reported its worst sales growth in over two years in October.
Sales grew 12% in the third quarter, compared to a much faster clip of 31% in the same period of last year.
Sales at Chipotle restaurants open for at least a year -- called same store sales -- rose only 2.6% in the quarter, their lowest point in two years.
The 43 restaurants that remain closed now in Washington and Oregon make up just 2% of the total of 1,931 Chipotle locations nationwide.
But the greater risk is that the scare will keep customers away from Chipotle restaurants in other states too.
The stock peaked at $758 in early August, and now it's down to $616 a share.
Investors have been concerned about how pricey Chipotle's stock is. Its price-to-earnings ratio is 36, higher than McDonalds (MCD) (24), Panera (PNRA) (30) and some other restaurant chains.