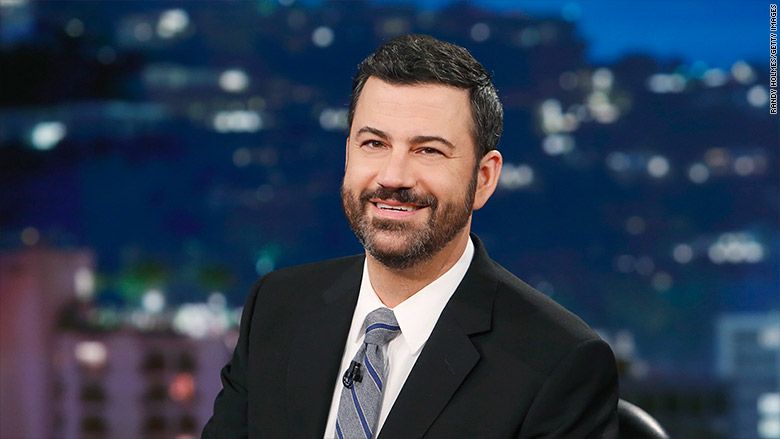 Audiences will get two Jimmy Kimmel's for the price of one on Wednesday night.
Kimmel will host his late night show, "Jimmy Kimmel Live," from his Los Angeles studio while at the same time beaming himself via hologram to the Country Music Hall of Fame Theater in Nashville, Tennessee, ABC announced on Tuesday.
For those in Nashville, Kimmel will show up in the theater as a hologram during his monologue. Those watching at home will see the shots from Nashville and L.A. go back and forth between jokes.
Kimmel will then interview Seth Rogen from his L.A. set, which those in Tennessee will be able to watch on screens in the theaters.
However, Kimmel won't be the hologram on Wednesday night.
The Band Perry will perform live in Nashville and show up as a hologram on an outdoor stage in Los Angeles for Kimmel's West Coast studio audience.
Related: Donald Trump cancels 'Jimmy Kimmel Live' appearance
The ABC broadcast will be utilizing a sixth generation Intel Core processor in order to transport Kimmel and The Band Perry.
Kimmel's use of hologram technology is another way to help the host stand out in the crowded late night marketplace that already has Jimmy Fallon on NBC's "The Tonight Show" and Stephen Colbert's "Late Show" on CBS.
Another example of Kimmel planting a flag in late night happened when the host did a week of shows from the Brooklyn Academy of Music in Brooklyn, New York, last month.
The ABC broadcast from New York had a star-studded lineup of guests that included Michael J. Fox dressing up as time traveler Marty McFly on "Back to the Future" day, radio shock jock Howard Stern, and the newly crowned National League Champions, The New York Mets.