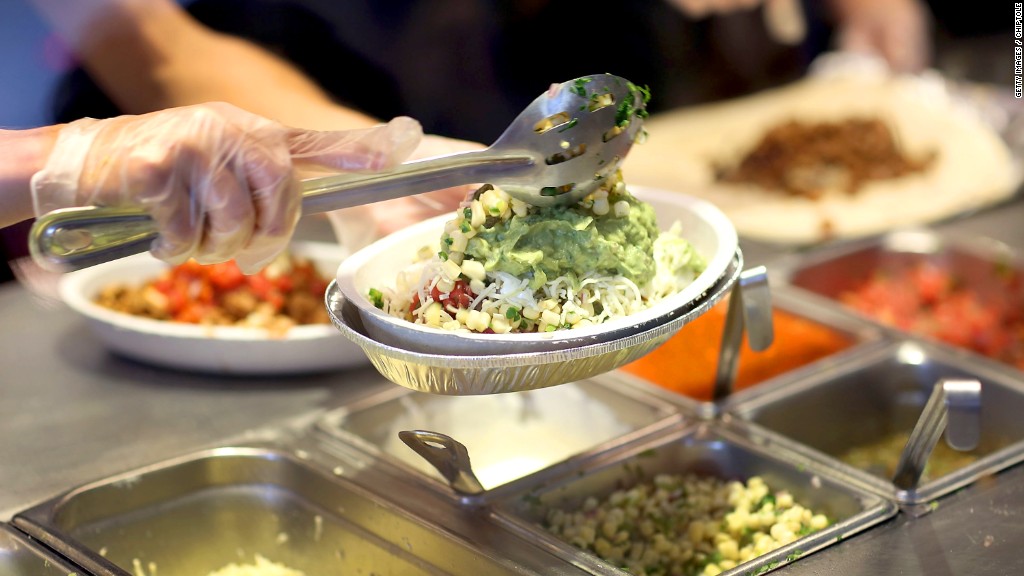 Chipotle has been sued by a customer who says she was sickened with E. coli after eating a burrito bowl.
Charmaine Denise Mode, a pharmacist from Kelso, Washington, sued Chipotle in federal court on Monday.
Chipotle Mexican Grill (CMG) has closed 43 restaurants in Washington and Oregon after state health officials linked 22 cases of E. coli to several locations. Eight people have been hospitalized.
Mode ate at a Chipotle restaurant in Vancouver, Washington, on October 21 and started feeling nauseated four days later with "severe diarrhea," according to the lawsuit.
"The next day, the diarrhea became bloody and far more intense," the suit said. She went to the hospital, where she "endured a painful rectal examination," said the suit.
The next day, local health officials linked her to the Chipotle outbreak, according to the suit.
Chipotle spokesman Chris Arnold declined to comment on the lawsuit but said the Vancouver store named in the suit is one of the locations that closed, along with all of the other Washington Chipotles.
Related: Chipotle closes dozens of stores in Oregon and Washington
The lawsuit says it will seek damages of at least $75,000. Mode's lawyer Brendan Flaherty said it could be more, considering "there are very real concerns about her long-term health."
Another sickened customer, Chris Collins of Portland, Oregon, told CNN affiliate KATU that "the excruciating pain in my abdomen was something I've never experienced. It feels like your guts are being ripped out."
The stock has fallen more than 5% in the last week, even though the closed restaurants represent only 2% of the 1,931 locations nationwide.
E. coli is short for Escherichia coli. The Centers for Disease Control says the bacteria is usually harmless, but can sometimes make toxins that cause bloody diarrhea and kidney failure. The CDC says E. coli is transmitted through water or food, or through contact with people and animals.