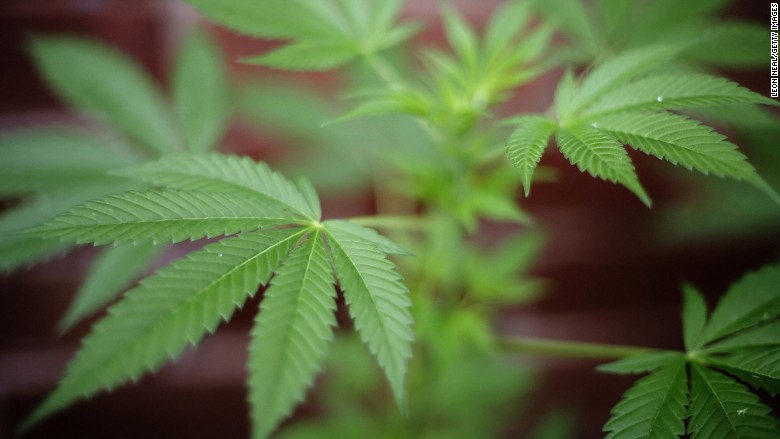 Ohio's refusal to legalize marijuana is barely even a road bump for the legalization movement, which is gathering momentum heading into the 2016 presidential election year.
Ten more states are in some stage of trying to bring legalization before voters or state legislators next year. Nevada, California, Massachusetts, Michigan, Arizona, Vermont, Maine, Florida, Missouri and Rhode Island.
All of them are trying to legalize recreational marijuana except for Florida, which is trying to legalize medical marijuana. All of the states that are trying to legalize recreational marijuana already have medical, except for Missouri.
"When you look at 2016, you are seeing the potential for another watershed year for the industry," said Taylor West, deputy director of the National Cannabis Industry Association in Denver, Colo.
She said the last "watershed year" was the presidential election year of 2012, when Colorado and Washington legalized recreational cannabis. It has since been legalized in Alaska, Oregon and Washington, D.C.
Nevada and California are the furthest along in the process of being the next to legalize recreational pot. Nevada has already approved the wording of its ballot initiative, while California has filed a ballot initiative that is backed by Sean Parker, co-founder of Napster and former president of Facebook (FB).
Related: Sean Parker backs California pot initiative
Legalization advocates are gathering signatures to get recreational marijuana on the ballot in Maine, Arizona, Massachusetts, Michigan and Missouri. Advocates in Florida are gathering signatures to get medical marijuana on the ballot.
"It could be huge and the people are very interested and very supportive," said Matthew Abel, executive director of the NORML chapter in Michigan, where medical marijuana was legalized in 2008.
He said that legalization could support thousands of jobs in Michigan. It could also bring a whole new crop to urban farming in Detroit.
Related: Colorado gets ready to spend marijuana tax money
Vermont and Rhode Island are also states where's there's a legalization movement. But state laws require that it has to be approved by the state legislators, not the general voters.
"I think Vermont is the most likely to be the first to do it through the state legislature, as the governor and the speaker of the house have said 'let's do it,'" said Tom Angell, chairman of the pro-legalization group Marijuana Majority. "In Vermont, they're ready to go now."
Angell said the advocates who are trying to get legislation on the ballot for next year are unlikely to repeat the mistakes of "the amateurs of ResponsibleOhio," the group that failed to get its legalization ballot initiative approved by voters on Tuesday.
"You don't campaign with a marijuana superhero mascot; you don't write in a naked money grab of an initiative," he said.
Even the supporters of legalization were divided over the ballot initiative backed by ResponsibleOhio, which only would have allowed commercial farming on 10 plots of land owned by the same investors who financially supported the ballot.
They also had a green superhero mascot called Buddy, which was unfavorably compared to Joe the Camel of Camel cigarette fame.
"Ohio voted down a bad piece of public policy," said Adam Orens of the Marijuana Policy Group. "I don't think personally that this turning down of this vote [in Ohio] hampers the winds of legalization nationwide."