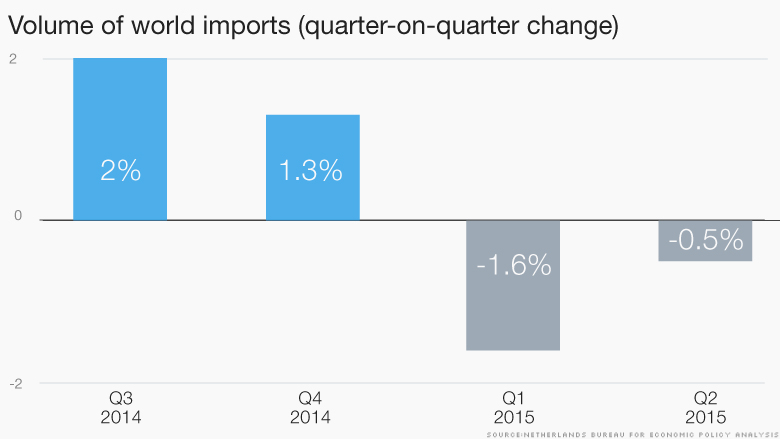 Global trade is faltering again just as the world economy needs a shot in the arm.
And unless the world's biggest economies speed up efforts to make it easier to trade, the slowdown could get worse.
The top 20 developed and emerging countries have even added a few more obstacles this year, particularly in agriculture.
"The number of trade-restrictive measures that have been introduced remains a cause for concern," said World Trade Organization Director-General Roberto Azevêdo said this week. "The G20 should show leadership by eliminating existing trade restrictions."
His warning comes as leaders of the G20 prepare for a summit in Turkey starting Nov. 15.
The G20 includes the United States, Germany and the United Kingdom, as well as China, Russia and Brazil.
The WTO says the introduction of new trade barriers between May and October this year was no greater than in recent years, which it sees as a moderate success, but existing barriers aren't going away fast enough.
Despite much fanfare surrounding the recent agreement to create a Pacific free trade zone, the recent trend is to slow down trade liberalization, the WTO said.
World trade recovered from a slump in the immediate aftermath of the global financial crisis, but annual growth in volumes has not reached the levels seen in the decades leading up to the market meltdown.
And trade volumes shrank in the first half of 2015. That could spell more trouble for global economic growth, already hampered by a slowdown in China and other emerging markets.
"World trade is shrinking and is facing several headwinds," said Raoul Leering, the head of world trade research at Dutch bank ING. "The coming months could bring further bad news if the recent turmoil in financial markets feeds through to the real economy."
The volume of world trade grew by 13% in 2010 but has faltered since then. The WTO has just lowered its forecast for growth in trade volumes this year to 2.8% from 3.5%, well below the average of 7% seen in the two decades leading up to 2007.
Cyclical problems are taking their toll. The eurozone countries account for one third of global trade, and sluggish growth there is a big reason for weak trade figures. Then there is the slowdown in China, which once sucked in huge numbers of imports, and the decrease in trade between Russia and the West because of the chill in relations over Ukraine.
Despite the turmoil, ING's Leering still expects a moderate rebound.
"We assume that the turmoil in stock and exchange markets is short lived and the world economy doesn't enter into a serious downturn, we expect world trade to recover gradually and outpace GDP growth."
But stubborn structural challenges such as long established barriers will continue to restrain world trade in the medium term.
Janet Yellen: The U.S. economy is 'performing well'